Week 9 – Christmas
It was another quiet week in Tagaytay.
Monday brought us to the gym and a much needed workout, and the diversion of visiting with my expat 'friends'. There are about five of us regulars (at least at the 11:00 a.m. time slot – I have no idea who comes and goes the other 15 hours a day Fit-FX is open). These fellows are all in their 60s (but look much older than I!) and the common denominator is a Filipina wife or girlfriend, and possibly the argument that their money goes further in The Philippines than it does in Washington, or Ohio, or Netherlands. It is troubling to me to see up close and personal the cliché of the old white guy and the Filipina girlfriend. At least in these cases the women are age appropriate, not the exploitative version so many of us think. I will have more to say about this topic in a future post. 
I should also report that I have also forged some friendships with Filipino patrons of Fit-FX. I'm unsure of their marital status but I doubt they have white wives. I wouldn't want you to think I am segregating myself. They are all amused that I struggle to say a few words in Tagalog, but they all speak English much better than my Tagalog.
After I had recovered from the gym we ventured out Monday afternoon to Hypermart for 'supplies' for the Christmas party Tuesday: Fruity wine, a case of San Miguel Lite, and a 1.5 litre bottle of Alphonso, a sort of brandy imported from Espana. Talaga, a litre and a half?!?
And then the big day itself, a strange and troubling mixture of a new sort of Christmas Eve celebration for me. Let me first describe my traditional Canadian [Protestant] experience: a quiet evening, maybe some hors d'oeuvres, a few glasses of wine, sacred readings: Luke 2, The Night Before Christmas, King John was not a Good Man (A.A. Milne), Hoodoo McFiggin's Christmas (Stephen Leacock); lay out the gifts under the tree and then early to bed, and waiting for the main event, Christmas Day. I know that Catholic tradition is much more focused on Christmas Eve: Midnight Mass, gifts and feasting afterwards till 3:00, but that was not my tradition. 
I divined that Catholic Philippines would be a lot more like that, Christmas Eve oriented. Carmen, being 'born-again' Christian did not do Midnight Mass, but had told me Christmas Eve was the focus and had wanted to invite her family for a gathering. I readily agreed; I wanted this to be a much more positive time for her than the bleak Christmas she must have faced a year ago. I was a bit concerned about what/how much family this meant. I rented a suite at the Bayleaf Hotel in General Trias as this was easier for her family to get to than to Tagaytay. I did the math: Carmen and me; Celca, husband Rickie and three kids; GR, wife Mylene and one kid; Olice husband Rian and two kids; maybe eldest son Jule, wife and one kid: altogether maybe 17 people. Okay, doable. Nobody from her sister Trefela's family, which would be at least another 20 people! But then I kept getting signals from people I met at church on Sunday that I would see them on Tuesday! Don't get me wrong, I like these people, but the numbers in our little suite was now beginning to overwhelm. As it turned out, many of the 'other' invited guests didn't come but a few surprise guests did. All in all we had 18 people.
Carmen and I booked in around 1:30; Carmen suggested I take a nap but I missed the signal and didn't. Family started arriving around 3:00.
The hotel has a beautiful pool and the kids were on high anticipation to use it. They tired of waiting for the 6-year-old cousin to arrive and when they heard he had a cold and wasn't going to be going into the pool anyway they were off: 12-year-old Andrea, 11-year old cousin Jasmine, and 9-year old brother, Charles, supervised by 19-year-old step sister, Denise, who looks 14 and was mildly insulted when I suggested that to her.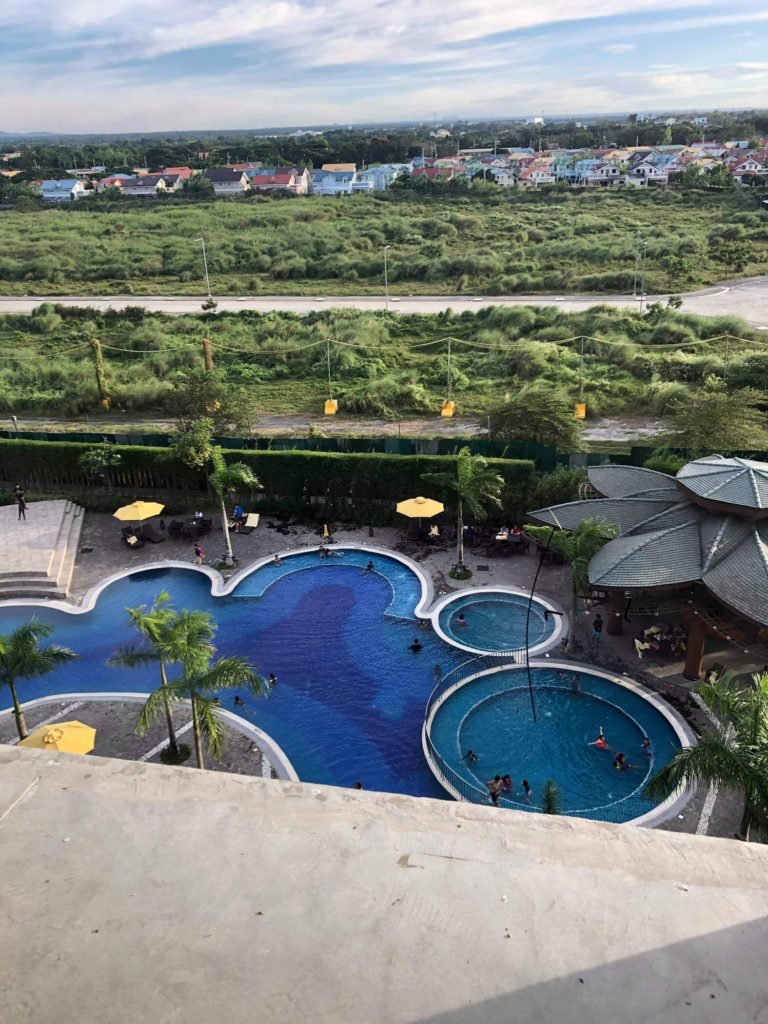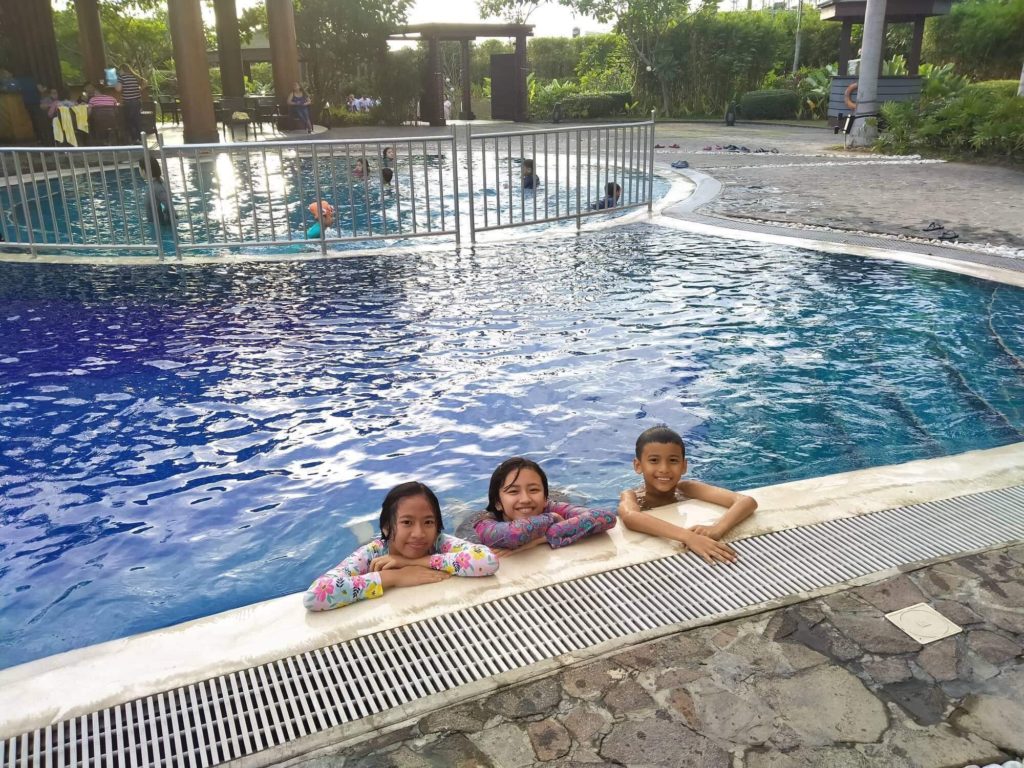 90 minutes later the water-logged threesome emerged from the pool, starving.
Food, so much food: Carmen brought four buckets of JollyBee chicken; Celca five extra large pizzas from New York Pizza, and some buto bumbong, a Filipino sweet only at Christmas; Mylene brought a huge tray of Korean maki she made herself, and a large platter of pancit, and Japanese bread; GR brought two roasted bangus (a Filipino fish), nuts, chips, and I don't know what else. Much was eaten, much was taken home the next day.
Christmas music played in the background: I had brought my i-Pad and tuned it to an internet radio station from Toronto! Bizarrely, an obscure Johnny Mathis tune came on, When a Child is Born, and I began to cry. It was a song I had included in the playlist for my Mother's funeral. I think the emotion of it all just swept over me, so far from my own traditions in Canada, and even more so, my own long past family traditions since Marlene's illness.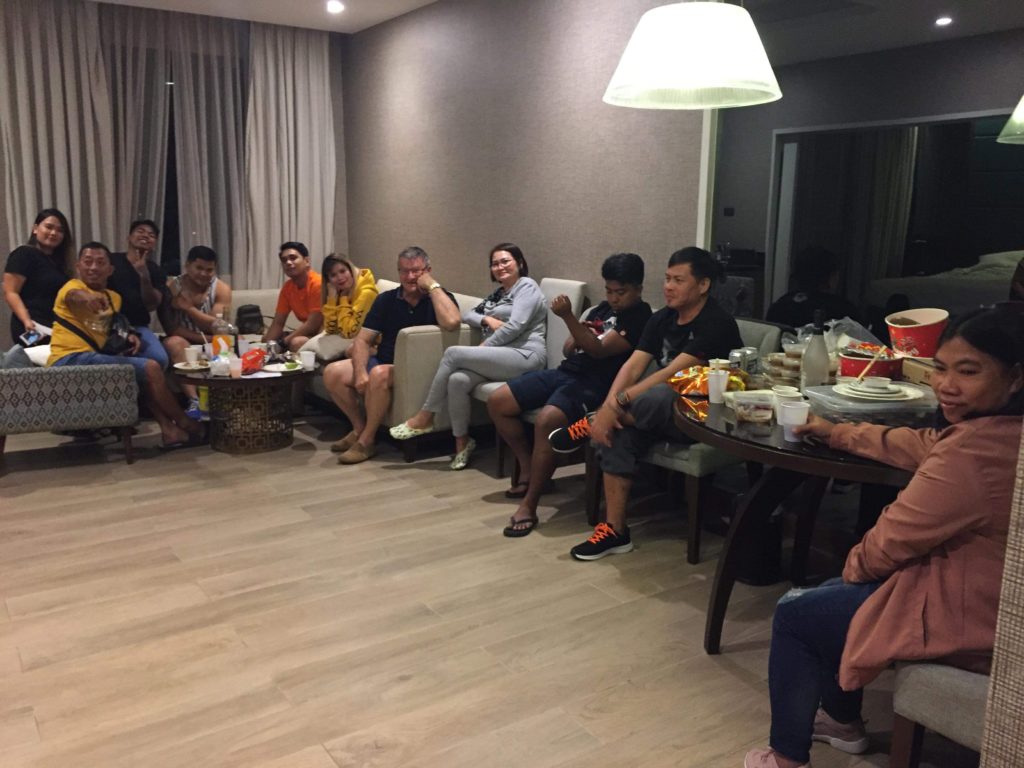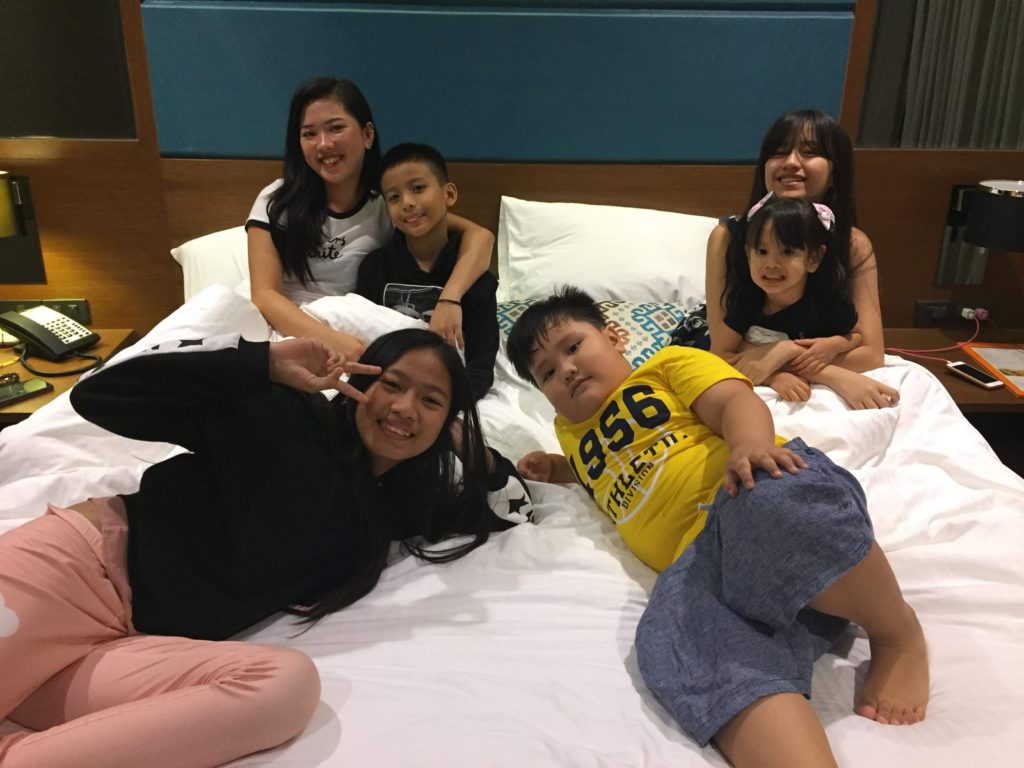 By about 10/10:30 the games were done and I was done. Carmen was in bed with a bunch of kids; quiet conversations of 2-3 took place in various parts of the suite; the boys were making a huge dent in that bottle of Alphonso. When were these people going home? But I was to learn, in Philippines, Christmas Eve is celebrated a lot like we do New Year's Eve – waiting for midnight. I got my second wind and tried to keep up. At the stroke 12, GR began to go around the room kissing and greeting everyone with Merry Christmas, Maligayang Pasko. All the sleepers were revived. Time for more eating and gift exchange. Gift exchange was a very modest thing, but apparently much better than last year, everybody was a lot more prosperous. And that was something to be very grateful for.
By about 1:00 Carmen suggested if I wanted to go to bed, Go. So I did. People began to disperse some time after that, but the boys had had too much Alphonso to drink and the ladies wouldn't drive home with them and risk their kids' lives! Rickie drove GR and Rian home in his tricycle while the women and their kids slept over in our room. On the couches, on the floor. Good thing we had a suite, and lots of pillows; room enough for all, but not what I had expected.
I was awake at 7:45, answering the call of nature; not a creature was stirring, not even a mouse. Next thing I knew it was 9:15 and everyone was gone and the suite tidy as it could be after a big party. Amazing. Carmen and I showered and went to the restaurant for breakfast. Too late, breakfast finished at 10:00! It may have been Christmas Day but it was a Wednesday, and no variation from routine.
Around 11:00 daughter Celca and husband Ricky, courtesy of a neighbour's Toyota, arrived to transport us back to Tagaytay, Rickie looking no worse for wear; but first a quick stop at SM Mall to pick up some things at Watson's Pharmacy. Amazing, the mall was packed. No such thing as closed for Christmas in the Philippines.
As we made or way up the hills of Cavite to Tagaytay it began to rain, gently at first. This was the beginning of Typhoon Ursula as it moved into our area.
My planned Christmas dinner (roast beef!) at our local American-style restaurant, Bag of Beans, was stymied by Ursula – while not as intense as Tisoy, it did pour rain. I kept vigil by our 15th story window, promising Carmen it would let up soon. Carmen, more experienced than I of course with typhoons, was doubtful, and she was not too excited about walking to the restaurant in driving rain. And it didn't let up soon. We noshed on leftovers and I promised I would take her to the restaurant on Boxing Day. We were in bed by 9:00 and listened to the rain lash the windows constantly, watching water collect in the sill. I woke up about three hours after, as is my usual pattern but not sure that was the case this time. What may have disturbed my sleep was the quiet. The rain had stopped, the wind had stopped and the roosters had stopped. I spent the next two hours recycling serotonin, and sms-ing daughter Shannon in Markham.
There was a solar eclipse on Thursday afternoon, apparently. I had missed the notice, if there was one, and wasn't prepared for it and in any event it was pretty overcast all day in Tagaytay from remnants of Ursula. The Ring of Fire would have appeared over Borneo (latitude 0.9619° N) and so evidently, (see picture borrowed from the Philippine Star) fairly complete in Balut Island (latitude 5.3977° N) located just below Mindanao.  It would have partially complete over Tagaytay, (latitude 14.1153° N) but I didn't notice it any darker through the clouds, attentional deficit I guess. Apparently the next one is December 14, 2020, almost an annual event in Philippines it seems.

Regardless, there was a spectacular fireworks show Boxing Day evening, practically just outside our window, presumably carried over from Christmas night.
Saturday we journeyed back to Trece so Carmen could visit with her sister Trefela as we had not seen her Christmas Eve as originally planned. (I'm not sure why we didn't go to see her but I've learned that plans change from hour to hour here [I 'm told by Euro & American ex-pats that's a common thing in Philippines], and in Tagalog to boot, and I am the last to know; I've come to just flow with it. A difficult lesson for me, the planner/controller!)
I typically release my latest Travels with Myself post on Fridays, but as that story recounts events of a year ago it puts me back in my state of mind that the time, emotional turmoil, even if returning to the sun. And it occurs to me that my readers may need some relief from it over this holiday season. My draft is entitled, It Will Never Work Out, and 'the question' hung heavy on me last year, and it is still much on my mind a year later. Will Vision Year (2020) provide any better insight?
And with that I wish you all a Happy New Year. I will report on my own in the next edition of The Tagaytay Tribune.