Week 8
It was another quiet week in Tagaytay.
Or maybe this is the way of it in The Philippines and you are a stranger here. The week is rushing towards Christmas and I don't feel the same anticipation, the same mood, the same anxiety. In other times I would be feeling the pressure of preparation for the winter solstice festivities. Not that I had a lot to do before as it was usually Marlene who did all the planning and preparing for the holiday season, her favourite time of year. I only worried about what I'd get her for Christmas this year, and the bills that would start showing up in January. But that was long ago. I haven't seen a 'normal' Christmas for years now.
But this year is different, very different.
Filipinos start celebrations in September, apparently, with decorations showing up in all the malls. When I arrived in Philippines October 25 the Christmas songs filled the airport, which seemed a little early. When Sandi arrived December 2nd there was a three piece band with a singer serenading arriving travellers. So Filipinos take this festive time seriously. They must be stressed, but it doesn't show.
So most of the week was devoted to planning for Christmas week. Wow, that's next week. How did that happen?
Carmen's Church Christmas Party is December 22 (today) and she has been preparing for weeks, maybe even before we left Canada. Appearances matter to Carmen and she was determined to look good for this event: Nails, haircut and colour, new outfit.
Christmas Eve is the main event in The Philippines and Carmen wants to offer her family a nice time this year. I can only imagine what her Christmas last year was like, living with her sister, her own house dark. We might have liked to invite Carmen's family, but not Trefala's family too (too many), to our apartment in Tagaytay but it is just too small for such a crowd. There are party rooms available on the penthouse floor of Tower 3, and there are certainly many meeting rooms in the Club House for rent, but Carmen decided the family had not the travel means to get to Tagaytay and back from Trece. It was suggested we might rent a Villa in the resort area of Mount Makiling but that presented the same transportation dilemma. So I suggested we rent the double suite at the Bayleaf Hotel as we had when we first arrived, easily accessible for everybody by Jeepney or tricycle. It may be a bit crowded (especially as the invitation list is getting longer by the day) but it would do nicely. The kids and anyone else who wanted, could use the large resort style pool, every one would bring pot luck something and everything would be fine. We'll see.
The rest of the week was quiet, as I said. Except the closer we get to Christmas the busier it is in Wind Residences and the surrounding restaurants and bars. I am pleased with the nightly fireworks that go off just outside our window at 8-ish each evening but the loud music till 1:00 is distressing. I've gotten used to the constant wind and rattling of the patio doors and windows in my bedroom, and I had almost forgotten about the rooster, but now even the roosters are disturbed by the loud music and complain.

And speaking of roosters, I've located the domicile of the crowers and even identified the main culprit. We visited the latest edition to restaurant row, Dahon@Mesa, right across the street from Wind Residences, and it is located next door to a small set of houses on a very large lot with a large sign that announces, THIS LOT NOT FOR SALE. This little settlement of five or six houses houses a dozen kids, a number of dogs, and, chickens. But on closer inspection from the balcony of Dahon Restaurant, I could discern only one red, orange and black bird, tied by the leg in the yard, and two cooped creatures, white with red cockscomb, in the coop. No chickens in sight; these were cocks.
There are three varietals of chickens in The Philippines, which I learned from Noli Me Tangere: Lasak ( white and red), Bulik (white and black), and Talisain (multicoloured but mostly black with orange contrast, or mostly orange with black contrast, depending on your bias).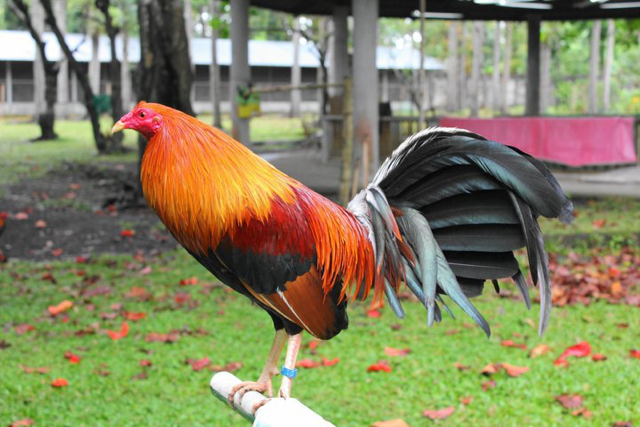 Sarong (cockfighting) is legal still in Philippines, barbaric as it is. There is even an active cockpit not many blocks from our condo complex in Tagaytay but I am in no hurry to take in this particular aspect of Pilipino culture. Our driver Romel has customers who travel from Hawaii to witness and bet on cockfights. I'm sure it isn't just the betting that attracts them. A vicious sharp blade (a tari) is strapped to the cock's leg and the winner of the fight is the one still alive. If both die all bets are off. There are pictures on the internet of retired champions, with only one leg!
My local crowing rooster is a lasak. I know this because when we went to the restaurant next door to the house with the chickens it was the lasak crowing constantly, perhaps jealous of the comparative freedom of the talisain tied in the yard. Come think of it now, maybe our neighbours are not just raising chickens, they're raising gamecocks.
Sunday, December 22 was Carmen's church's annual Christmas Party. It is astounding to me to contemplate it was 53 weeks earlier, and a lifetime ago, that I met Carmen and this little Filipino born-again congregation for the first time.
Our ride arrived at our Tagaytay condo 8-ish and Carmen loaded the back with a large Christmas bag filled with other Christmas bags and wrapped gifts. I had mixed feelings to see all those Christmas bags, last seen in my basement from Christmas's past but now recycled to the Yahweh Christmas Party. I think Marlene would have been pleased. We made two stops on our way to the church: A little shop (actually a franchise of a large chain, Andok's), for rotisserie chicken over open charcoal fire pit (I wondered about carbon monoxide??) and the ubiquitous JollyBee for fried chicken. The drive-through JollyBee we turned in to was the same one I had been through a year before, but somehow, things were different now.
We arrived at the service late but that doesn't seem to matter, people seemed to be always coming and going, handing babies from one to another, shooing cats; I probably wouldn't have appreciated the four piece rock band rocking out O Holy Night anyway. My young preacher was not preaching – in hospital sick with some sort of stomach ailment – but the young substitute was pretty compelling recounting Luke 2, and Matthew 1, in Tagalog! Service always ends with all the congregants greeting one another; the young preacher asked me if I was Baptist but I said no, Unitarian; no point saying I was a born again agnostic. And then people took turns expressing gratitudes before the group. Carmen made a nice speech (but I didn't understand it until explained to me later) thanking the Lord for the blessings bestowed upon her in the last year bringing me into her life. Someone suggested I might speak but I declined. 
Benediction and a final hymn (O Come All Ye Faithful, with increasing crescendo lead by the drummer) and time for lunch. In an amazing display of invisible coordination the tiny narrow room was transformed into a dining hall: chairs were pushed to the walls, tables appeared in the centre and quickly covered with many large trays and dishes: pancit, Fiipino spaghetti, pancit palabok, noodles, rice, and Carmen's chicken; a number of unfamiliar deserts; the Filipinos love ther sweets. Nobody went hungry. Following lunch there were a number of games to loud squeals – especially entertaining were the kids against the adults in a relay race of carrying the lime in a spoon in your mouth. And then it was the mystery Christmas draw and all of Carmen's packages went to new homes.  
We drove home in time for me to have a nice long nap, before I sat before the keyboard to compose this newsletter.  

And last, I am pleased to say there are no new casualties to report in Ottawa. And even more heartening, Bonnie's ailment is a uti and she is responding well to antibiotics and gabapenitin, and to her new diet of chicken and chili. None of this will solve the 3 cm mass around her heart but it may be slow growing and we will likely see her in the spring. For this we shall be very grateful.
And with that best news, I wish you all a very Happy Christmas. I will report on my own in the next edition of The Tagaytay Tribune.