Week 25, April 19, Dasmariñas Lockdown Week 5
It was another quiet week in Dasma.

I'm beginning to see why the Birdman of Alcatraz became attached to his birds. After years of confinement his birds were almost his only friends. And I find in my own confinement in Dasma I look forward to my squabbling and squawking sparrows who seem to have adapted to our clock. They come looking for breakfast around 6:00 am, then are back at noon, and finally last marienda before sundown around 6:00 pm. They complain when there is nothing out for them, and we (Carmen has now been contaminated by my habits) duly seek out old bread crumbs or left-over rice. They are now sufficiently 'tame' that they often don't even fly off when I, or Carmen get out of our chairs to do something. Maybe they associate our movement with more snacks.
But they are only sparrows, poor immigrants like me, not like the exotic native beauties of which I have only seen fleeting glimpses.
The swallows are the most common sightings after the sparrows but they are swift (ornithologists amongst you will get that little joke!). These swallows, likely Pacific Swallows, only show up around 4:30/5:00 in the afternoon swooping and skimming over the pool, scooping invisible insects I presume. If I happen to actually be sitting on the steps of the pool I am in direct flight path of these speeding jets and I have had some close encounters of the feathered kind.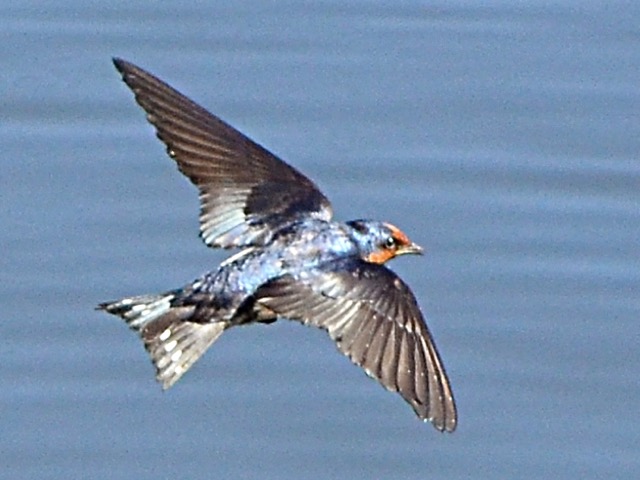 I did spot a munia perched on the bamboo tree just outside the balcony. This finch is about the same size as the sparrow but a lot more striking, especially the white beak.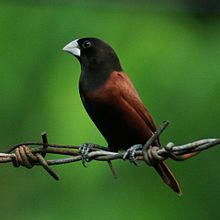 The Chestnut Munia used to be the National Bird of Pilipiñas but was displaced by an act of Congress in 1995 by the Philippines Eagle in a silly act of American envy I suspect.
And just when I thought my bird book would have only four entries but who should visit the palm tree right across from my balcony but a female pied triller busy grooming herself.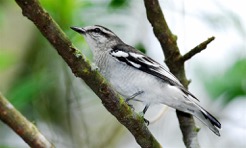 But the pièce de la resistance is the daily serenade of the Black-naped Oriole, very early morning and late evening.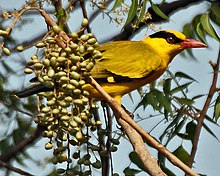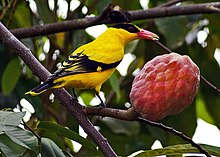 This brilliantly disguised yellow bird hides in the leafy tree nearby and trills. I have spent many a wasted minute looking for her until she flies off, frustrating me once again. I think this is why the female of the human species are also called birds.

I renewed my correspondence this week with Officials in Canadian Immigration and with Philippines Immigration to see if I can get an exemption from both to allow Carmen to leave Philippines and enter Canada. And yet I read in the Canadian papers today that her loyal Deputy Prime Minister has announced further stringent requirements on people returning from abroad for quarantining; so even if we are granted entry we face weeks more of confinement.

Daughter Alison is going to free my potted plants from their own confinement in my garage; mostly roses, these vulnerable plants in pots have themselves been quarantined over the winter. First stage will be to put them in the shade beside the house and water thoroughly. This allows them to 'harden off' and gradually become accustomed to the light. In a few weeks Alison would move them around to the back yard where they would get more direct sun; it has to be a gradual process. With any luck at all Carmen and I will be back on Kanata by June and can still enjoy the spring frenzy of annual planting. This frenzy is less frenetic than it was when I had huge gardens before. Now it is mostly pots, roses and dahlias, and maybe an optimistic tomato, and some yellow begonia around the hosta varietals in the shady border up against the north facing wall. We can only hope.

I have struggled this week with loneliness, and anticipatory endings. I've thought a lot about my very good friend and constant reader, Mr. JFW Weatherill. He has been more or less continuously treated since three years with kidney and bladder cancer. When I had lunch with him last October just before I left for Philippines with Carmen I thought, probably he thought so as well, it might be our last lunch. It was a lovely lunch. And as it turns out, it was our last. Ted succumbed to his disease on Tuesday, April 14. He was 87.
I intend to write a eulogy for Ted, (an elegy would be a test too high for me), as well as for my other dear old octogenarian friend, JC Paquin, who died in January, both exceptional men who added greatly to my life. But at the moment, the words just won't come.
Stay safe. Stay sane. And stay tuned for the next edition of The Dasma Diary.

Doug Jordan Reporting to you from Dasma, Philippines
© Douglas Jordan & AFS PublishingAll rights reserved. No part of these blogs and newsletters may be reproduced without the express permission of the author and/or the publisher, except upon payment of a small royalty, 5¢.