Week 10 – New Year
It was a quiet week in Tagaytay.
Though you would hardly know it from the traffic outside our window on General Emilio Aguinaldo Hwy 410. Tagaytay is a weekend getaway for Manilans and the main road along the ridge of Lake Taal is where all the attractions are – the amusement parks, the restaurants, the hotels, all taking advantage of the views. Every Sunday afternoon beginning around 2:00 and continuing till about 5:00 the road is bumper to bumper, all heading northeast and back to Manila. Much of this road is four lane, two way traffic (on weekdays) and tends to bottle-neck where Hwy 410 makes a traffic circle of itself and heads north east to Santa Rosa and on to Manila; but the Santa Rosa road shrinks to two lanes and traffic backs up into the traffic circle. To make the left turn means merging with the traffic heading southwest from the eastern section of Tagaytay, and managing that left turn circle is challenging, even on a relatively quiet Tuesday morning. To make matters even more interesting, Mahogany Avenue, about a half kilometre west of the Santa Rosa traffic circle, merges with General Aguinaldo Hwy. Vehicles trying to continue west on General Aguinaldo Hwy have to do so against the traffic flowing east on Mahogany Avenue, both directions now trying to turn left against each other; and keeping in mind that in The Philippines there are hardly any traffic lights, well, it's a miracle traffic flows at all. But on Sundays the highway is gorged with cars and trucks and buses and jeepneys and tricycles, but mostly cars. To relieve the weekend melee the master traffic managers turn the four lanes of Mahogany into a one way street heading west, and General Aguinaldo four lanes one way east. The problem with this solution is that when Mahogany and Aguinaldo merge just east of us, the four lanes of Aguinaldo heading east have to meld into two lanes again. And this is what you get: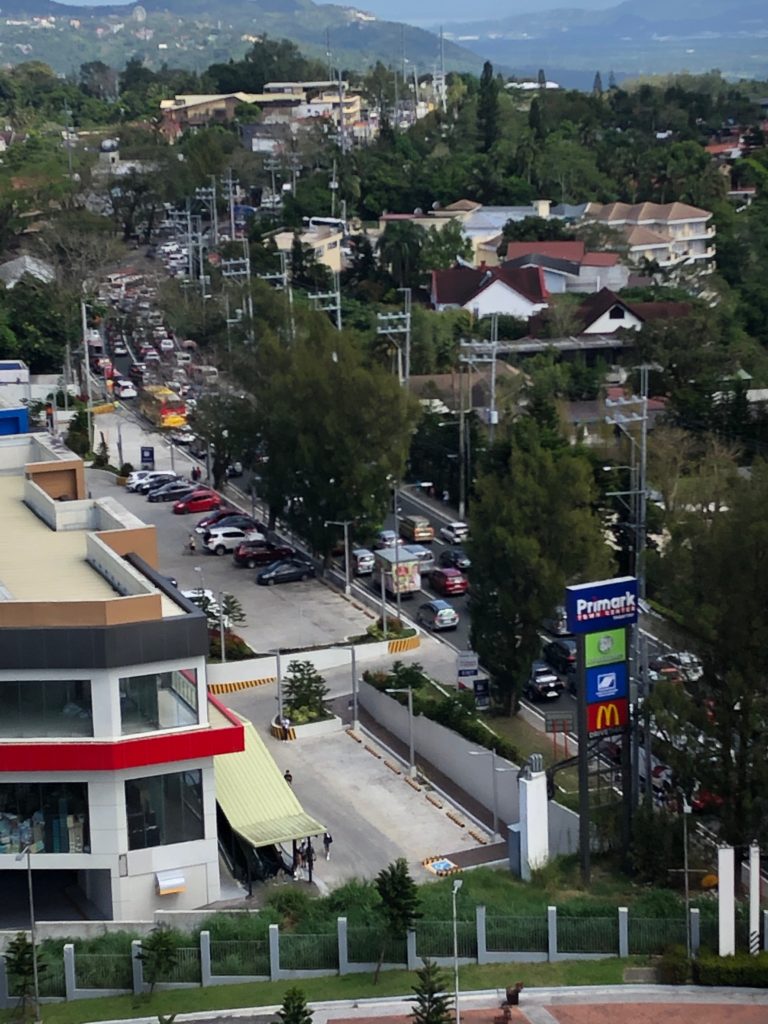 for 3 – 4 hours every Sunday afternoon.
You can see this for yourself on your google or i-phone maps and the solid red patterns: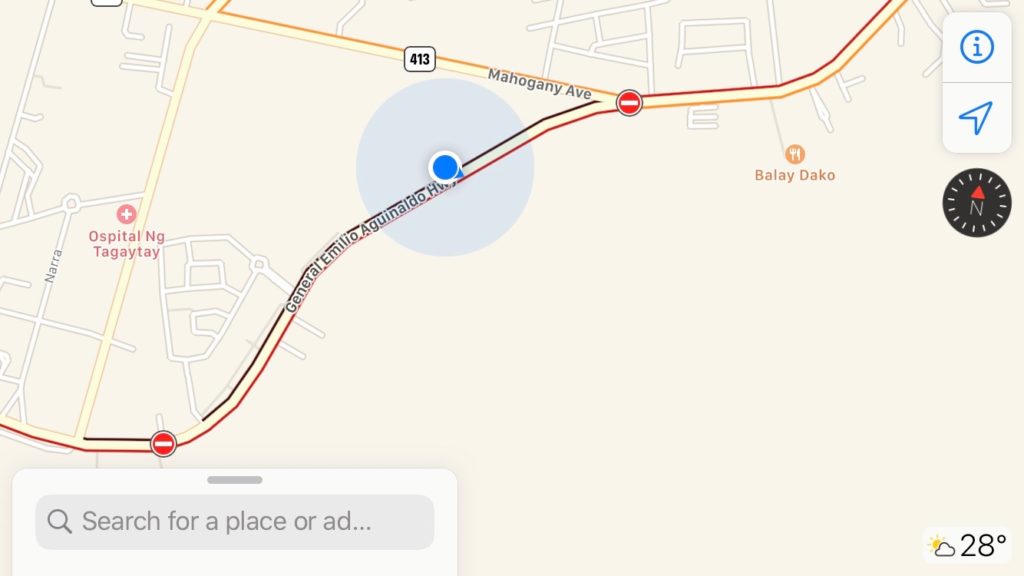 But now it is Christmas holiday week and every day is Sunday afternoon, only more so. The congestion begins around noon, and continues right through till 11:00 pm!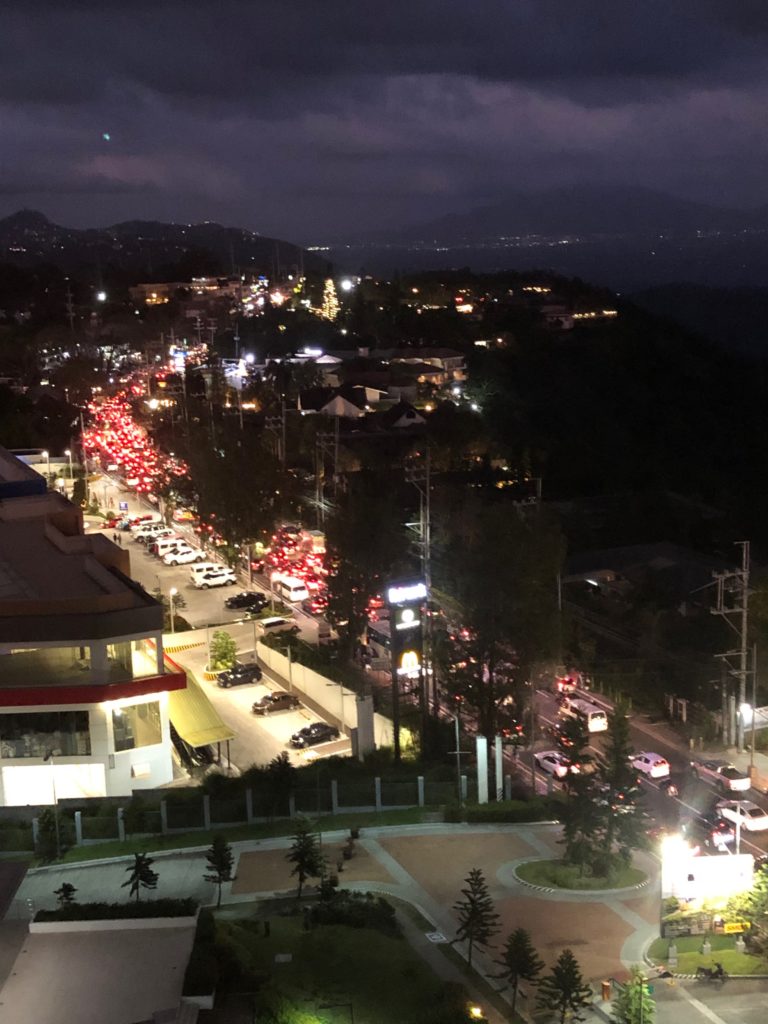 I don't know where everyone is coming from, or going to, but there you have it.
Our condo complex of 5 24-story buildings housing a total of ~ 2100 units is obviously a contributing factor to the congestion, even if only about 1/3 of the units are occupied on any given weekend, judging from the lights. It is evidently easier to build more buildings than to build adequate roads. (And I'll have more to say about Filipino roads in a later edition.)

Surprisingly, New Year's Eve, day and evening, saw hardly any traffic on the otherwise busy road below. I guess everyone had finally got to their respective destinations. The quiet was a bit unnerving, especially as I was already beginning to feel a slight dread of potential ennui and longing for home as the day wore on. I had already felt the disturbing culture clash of Christmas and was mildly anxious about what a Filipino New Year would be like. On Monday Carmen had informed me that daughter Celca and son-in-law were coming to celebrate New Year's Eve with us at our condo. She was bringing Carmen's favourite fish and a bottle of wine! By Tuesday morning this plan had changed! – they weren't coming after all and even though I was trying to accommodate myself to this Filipino condition, it still was a bit of a let-down. So back to Plan A, Carmen and I à deux for New Year's Eve. They showed up anyway Monday morning bringing the fish, but not the wine, and we had a nice visit before we sent them back on their way home. And for this [the visit, not their leaving] I have to be very grateful. It doesn't seem to be a bother for them, it's what you're used to I guess, but to come visit us they rode in Rickie's tricycle (about an hour's drive) to the outskirts of Tagaytay (because tricycles from Trece are not allowed in Tagaytay) and then took a jeepney to our complex. In all, a ninety minute trip, for a twenty minute visit, to be repeated going back.
After they left, and Carmen and I had our workout at Fit-FX, we spent the afternoon passing the time, me plowing through Haidt's book, Carmen doing laundry; a short nap to sustain us through to midnight. I had little doubt I would be up at midnight, even if I went to bed at 9:00, as this was my usual pattern, midnight wanderer. Following a delicious dinner Carmen prepared of prawns (apparently for luck in The Philippines), and rice and okra, and a delightful bottle of a German Riesling, and then an invigorating watch of Mission Impossible, Rogue Nation, it was 9:00 o'clock and Carmen went to bed. I followed her but set the alarm for 11:45, just in case.
I was up long before 11:45 and whiled away the time playing smashing bulbs on my iPad, and looking out the window at the rainy quiet Tagaytay evening. I wrote to some of my family and friends in Canada, wishing them a Happy New Year and noting how strange it was to be 12 hours ahead of them. (And next morning I found myself watching Anderson Cooper bring in the New Year on CNN!) My alarm went off and I went to wake Carmen and let her know her phone was ringing too – her kids calling to wish her masaya ang bagong taon. She stirred and mumbled Happy New Year honey. I kissed her and thought this was an echo of New Year's Eves past with Marlene who rarely made it to midnight. But a few minutes later Carmen was up and joined me looking out the 15th floor patio door window and the light drizzle and cloud hanging over increasingly 'shouty' [noisy] Tagaytay, mostly people blowing horns.
And then it was midnight and all pandemonium burst on the scene. Fireworks were going off in all directions all over the city, and even down the hill to sleepy Talisay; people (mostly families) were hanging out of [almost] every balcony in Wind Residences, blaring those sports horns, and screaming. I mean screaming, screaming their heads off. You'd think it was The Beatles on the Ed Sullivan Show. The riot raged for about 20 minutes. It was amazing. I'm still wondering at it all as I write this, days later.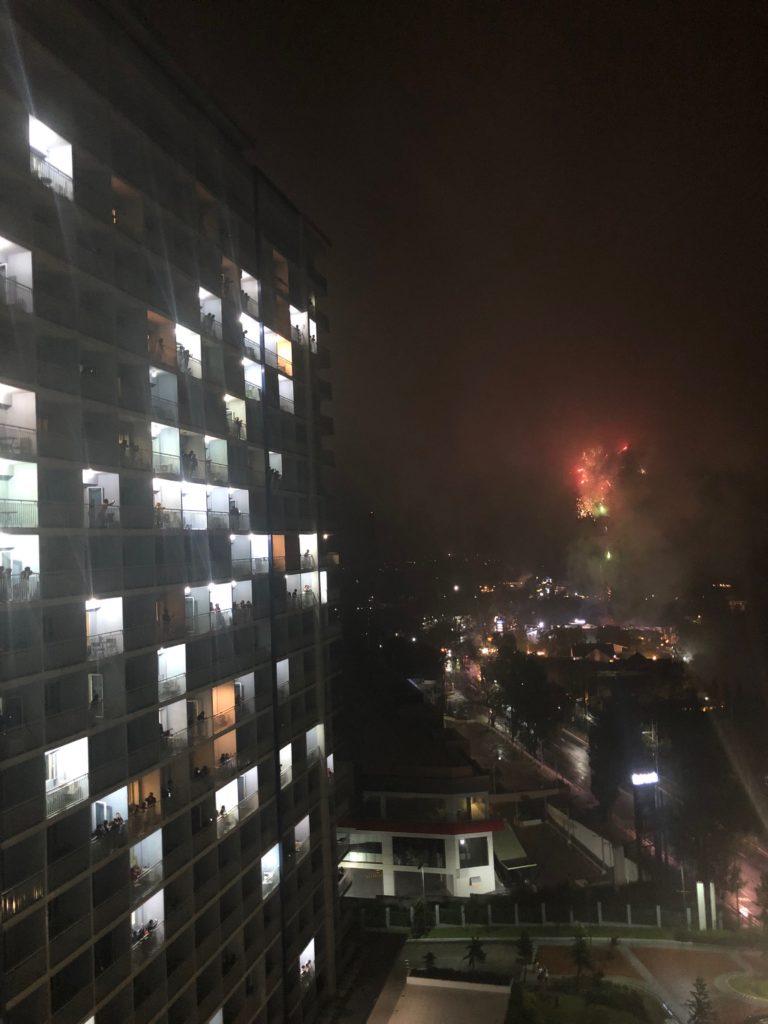 We allowed ourselves to quieten down over the last of the Riesling and a round of brie and then bed. By 1:00 the wind and rain were howling (though not of typhoon proportions) and I thought, how fortunate that the weather held off till after the midnight madness.
New Year's Day was another lesson in cultural difference. It may be the first time in living memory I was not able to watch the Rose Bowl Parade on TV. But wait, I forgot; many sports events on ESPN are rebroadcast in Philippines 24 hours later (13 hours difference in time zone plus 11 hour delay in broadcasting). I could have watched the Rose Bowl (4:00 pm EST Wednesday January 1) on Thursday, 4:00 pm PHT (January 2) but I was at dinner and got home just in time to see it end. Another example of adjusting not only my clock but also my expectations.  

Every year (now for >25 years) during the period between Christmas and New Year I have done an annual business plan (Mission, Vision, Objectives) for AFS Consulting using The Harvard Planner. But since I am a sole proprietor business the plan is a meld of business and personal. I have revenue targets (SWAGs?) and strategies, and expense management actions for my business, but The Harvard Planner prompts you to include Objectives in various personal categories: Health and Fitness, Personal Growth, Family and Friends, Community, Training/Education and Coaching. I evaluate my previous year's plan and then craft a revised plan for the year about to begin. Even though I am in hiatus in The Philippines I undertook to review last year's business plan and produce yet another version for 2020 – The Vision Year? As in most years past, some of my goals were met, or even exceeded, some faltered, and some proved wildly optimistic. It is discouraging, or amusing depending on my mood, that I have always exceeded my goal of getting down to 185 pounds. I find the most interesting aspect of my 2019 mission was my intention to further develop my publishing business, or more accurately, my further immersion/transition to my identity as an author/writer. To this end I had set up AFS Publishing, and attendant website, in 2018, and then a blog site in 2019 to promote my books. My blog, Travels with Myself, was launched in May of 2019 in some attempt to draw attention to afspublishing.ca and simultaneously describe my own journey of transition (and, it must be said, grief). My overly ambitious goal – to publish five books in 2019 – may perhaps have more accurately reflected my mental derangement last year. I'm still reflecting on my 2020 Mission and Objectives. I think I will cut back to merely four books this year. And simply cherry pick on coaching and consulting assignments, perhaps even wind-down AFS Consulting altogether, leaving more time to writing, though that produces precious little revenue.  What seems obvious however, while I am still in transition on many fronts I am unwilling to go quietly into retirement.

And last, I heard on December 31 (but morning of December 30 in Ottawa) that my very good friend and long time colleague from AECL, JC Paquin has died. He suffered from a number of ailments, principally COPD, and his quality of life was not great; but his mind was sharp. And that might be a curse. I went to see him in October before I left for The Philippines, fearing the worst might happen while I was gone. And the worst has happened. My heart goes out to Yolande, his long loyal wife. And to myself. I'm peculiarly glad Marlene is not here to suffer through the loss and pain of her friends.
And with that I wish you all a happy and fulfilling 2020.Carpe diem.

Doug JordanReporting to you from Tagaytay, Philippines
Please visit AFS Publishingfor all past issues of The Tagaytay Tribune