It was another quiet week in Tagaytay.
And if you recognize that riff on a Garrison Keillor book, good on you, and you'll know that something is coming anyway.
I've decided I will make this a weekly journal rather than an occasional report, and I should have no trouble finding material. I'm sure there is more going on here than I can actually report in a brief newsletter. I've also changed the name of this newsletter from Manila Memos to Tagaytay Tribune. It's a fraud to suggest I am reporting from Manila. I started with that because I figured none of you would know where Tagaytay is, but I suppose few of us know about Lake Wobegon either. So the tagline is Tagaytay and Tribune because it starts with a T.
Week 4 came with the realization that this was indeed week four and any thoughts of this being just a long vacation were finally out of my mind. Not that I was feeling out of my mind (cira olo) exactly, but the sense of isolation in a foreign land, and alien culture and an unfamiliar language, has been enervating. Carmen is my only friend here, but she has all of her family, all of it, plus a number of close friends, and I have, well… I began to appreciate even more the sense of being cut-off that Carmen must have felt when she first came to be with me in Canada. Except she had her mastery of voip apps, and a long phone book. I have you, dear readers.
The antidote for the sense of isolation is, stiff upper lip of course: this is the bread I buttered so i just have to lie in it.
But British bravado is not enough to overcome ennui: what's needed is activity, and establishing a routine of daily living, isa isa.
One of my strategies was to go to the gym, as often as I can. I miss my boxing gym at home but walking to Fitness-X three times per week meets 2 – 3 objectives.
The Languages of The Philippines
Another strategy is learn Filipino but that takes far more discipline than I have been prepared to give so far, beyond a few bits of vocabulary, and some expressions, talaga. It is a fraud of course: Tagalog may be the official language of The Philippines but in fact it is only one of perhaps twenty native languages, and dozens more dialects. Tagalog became the 'official language' because it is the dominant language among the tribes in and around Manila, the centre of the Philippines universe. I'm sure people in the other regions of The Philippines archipelago must have shrugged, though in Mindanao it may be more than a shrug, more like Quebec. My former cleaning lady from Cebu speaks Ilongo,and probably some Cebuanese, and passible Tagalog. Carmen speaks Waray, native to Samar and Leyte, and learned Tagalog when she married and moved to Manila and English from her husband, the international language of commerce. English is an echo of the hundred year American hegemony in Philippines. It is taught in schools from Grade 1 and is becoming the default national language, not 'Filipino'. Here's a map of the prevalent languages in the Philippines:
The language is entirely unlike anything I've studied before, except perhaps Latin. Sentences typically begin with the object, verbs come last and the pronoun is almost non-existent. They're included in the verb form and gender is established by context, so you really have to pay attention to the antecedent. Is it he or she? When you are conditioned to european languages you expect the first word to be the subject, but in Tagalog that's not the case and you spend the rest of the sentence trying to find it, losing the everything else. Of course they speak too fast and all the words run together. I say of course, because anyone trying to understand a new language makes the same complaint. Carmen is thrilled when I use any simple Tagalog word or phrase; her family and friends are very amused. They are positive people and give encouragement constantly. The challenge of learning the new language, apart from motivation, age, and diminished learning capacity, is lack of necessity: almost everybody can speak a least some English, enough that I can make myself understood, though sometimes there is doubt and confusion. Plus, the public language is mostly English, not Tagalog: signs are in English, most of the tv chanels are English (well American actually), I read the Philippines Star everyday (preferred to the Inquirer) and menus are bilingual.

We walk to either of the nearby malls everyday to buy groceries or anything else we might be missing (hardward store, pharmacy). The malls are not far – one is uphill from us and the other downhill, but the either way, there's going to be a climb, though not onerous. But it is obvious that before long Carmen and I will become urban fit, as compared to suburban car flabby.

We visited the large and inviting recreation center that is part of the condominium complex, but I ws disappointed to discover it only has a large indoor pool, two glorious outdoor pools, and an unused triple badminton court. No gym. I didn't really expect a place with boxing equipment but I did expect a weights and machines room. Nope, just a dozen large meeting rooms intended for weddings and conferences.
But there is a fitness gym in the Robinsons Mall just west of us. So Carmen and I signed up for four months. And we trekked uphill to it Monday, and Wednesday for a 11:00 am start, nursed sore ribs on Friday but returned on Saturday (and again today, Monday, Week 5 – but that's for next week.) I really like this sign above the mats, eye-catching because of the model, but memorable for the saying: Fitness begins with motivation, but sustains through habit. I hope to go at least there times a week.
I've already met three sexagenarians at the gym, two Americans and a Dutchman. And the cliché is that all three (four?) of us are here because of a Filipina connection. More on that in a future newsletter, and probably in my blog as well.

Villa Escudaro
My routine is rounded out by my daily writing regime: I usually at my keybord by 8:00 (I'll explain that in a minute) and till 10:30, longer when I don't go the gym; lunch, return to the keyboard and then, nap!
Nap used to be a weekend luxaury in my Marlene salad days, but now it is a survival necessity. Carmen is completely habituated to the solar clock. The sun rises around 6:00 a.m. here in the Philippines and sets around 5:30 pm. Carmen is up with the sun, and often an hour before sunrise (she had this habit in Canada too!) and talking on the phone with her Philippines family and friends by 6:00! Consequently she is fading fast by early evening, ready for bed by 8:00 pm, and it's lights out by 9:00, or even 8:30. I hang on for a while longer but can't seem to read in bed for long and I'm asleep myself by 9, 9:30. And wide awake at midnight. Ruminating, and having murderous thoughts. If I had a small cannon I'm sure I would train it on all the mufferless Jeepney buses that are still running till 1:00 am., and if I knew where that insomniac rooster lives I would cheerfully garotte the thing. I never realized quite the bonus value of thermal pane windows in Canada – sound insulation.

Not to give the impression that our week was all boring Lake Wobegon.
We had the pleasure of discovering a wonderful driver/come tour guide. Our plan was to travel to Lake Laguna and visit the famous Pagsanjan Falls, first alerted to me by good and much traveled friend, Maurice Dubras. But Romel advised we were not dressed for it (we are bound to get wet!) and proposed we drive around Mt Makiling volcano, through San Pablo and thence to Villa Escudero. He is a good guide and had method in his method: first we drove through the industrial park of Santo Rosa, a very modern series of factories, business parks, shopping centres and walled communities, quite unlike the miles and miles of squalor that is the usual Philippines vistas. Many of the Japanese and Korean electronics and cars and appliances establishments are here. Romel explained that trained workers from Korea or Japan, and their families, come for six months at a time, their rents are paid, the food is prepared and the transit is provided. This way the workers can put in 'full days' without the lost time from commuting, unlike the local workers who routinely spend four hours per day on public transit.
Our tour to Villa Escudero crept past a series of volcanos, some of them active (well I suspect all of them are latent and can't be trusted!) through and around San Pablo to this exotic old Spanish ranch, in the family for more than 200 hundred years. Originally built as a sugar cane plantation but now a buko (coconut) plantation and a tourist destination. The hacienda was off limits but the chapel/museum is de rigour as are the rides on the caraboa wagons. The place was occupied by the Japanese during WWII which explains the tank, cannon, and zero on the front lawn. The family constructed their own power dam in the '20s and '30s to supply all the plantation's electricity needs – they never suffer the usual brownouts the rest of the country experience fairly frequently. But the most amazing thing was lunch, served in the stream below the dam!
So here are your next thousand words: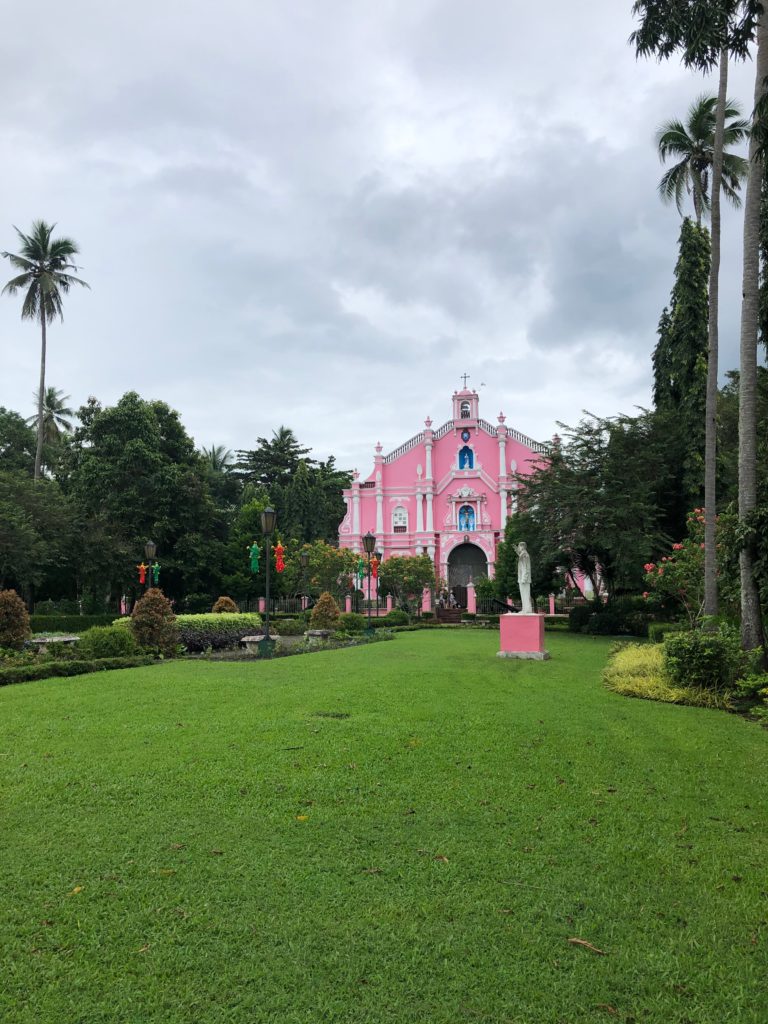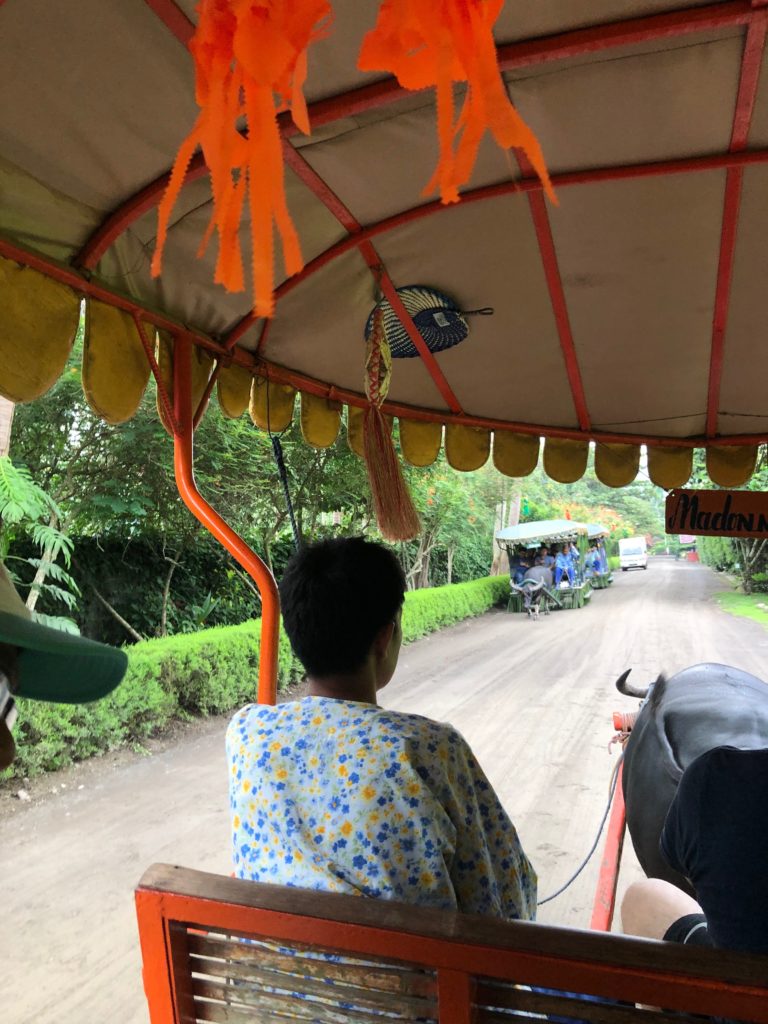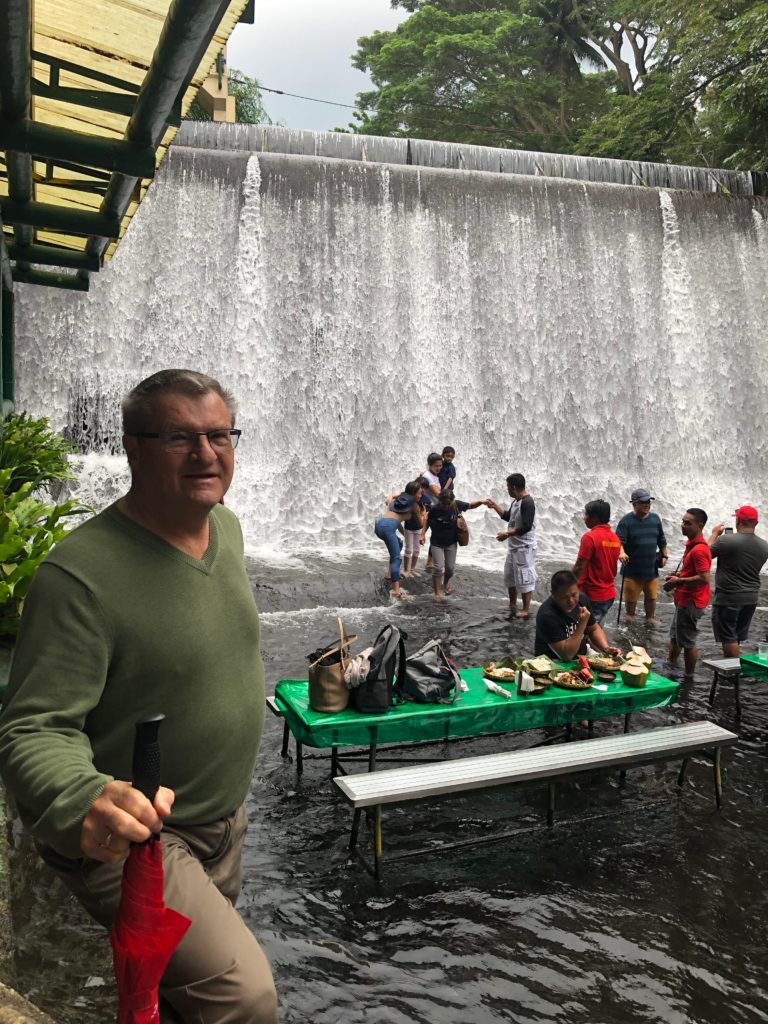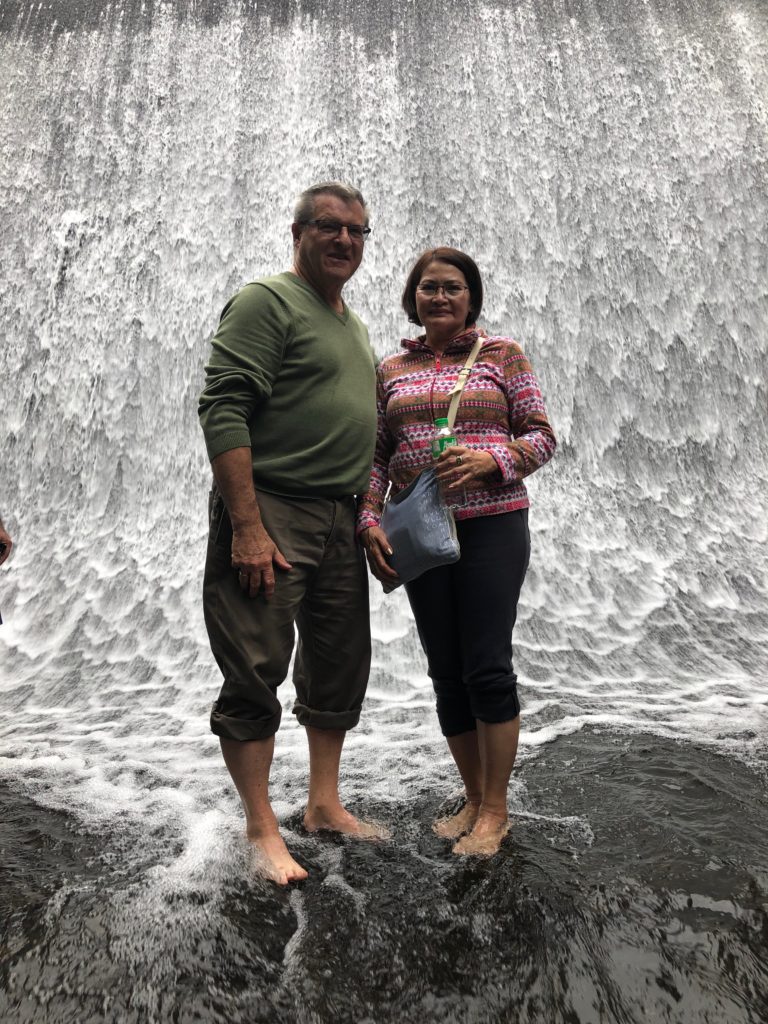 Return to The Christian Church of Yahweh
Sunday Romel took us to church in Trece Martires, where most of Carmen's extended family, outside Samar Province, is domiciled. I was delighted to meet again the young minister, 23-year-old scholar, Adette, and listened intently to her sermon, in mixed English and Tagalog, on the Tower of Babel. The highlight of the service however was the dedication of grand-niece Kaycee's baby. This was very moving to me as I met Kaycee last December on my first visit to The Philippines and I wondered then what her future was to be. Well I guess her future is still in front of her but now includes baby Kayjan and boyfriend Jason.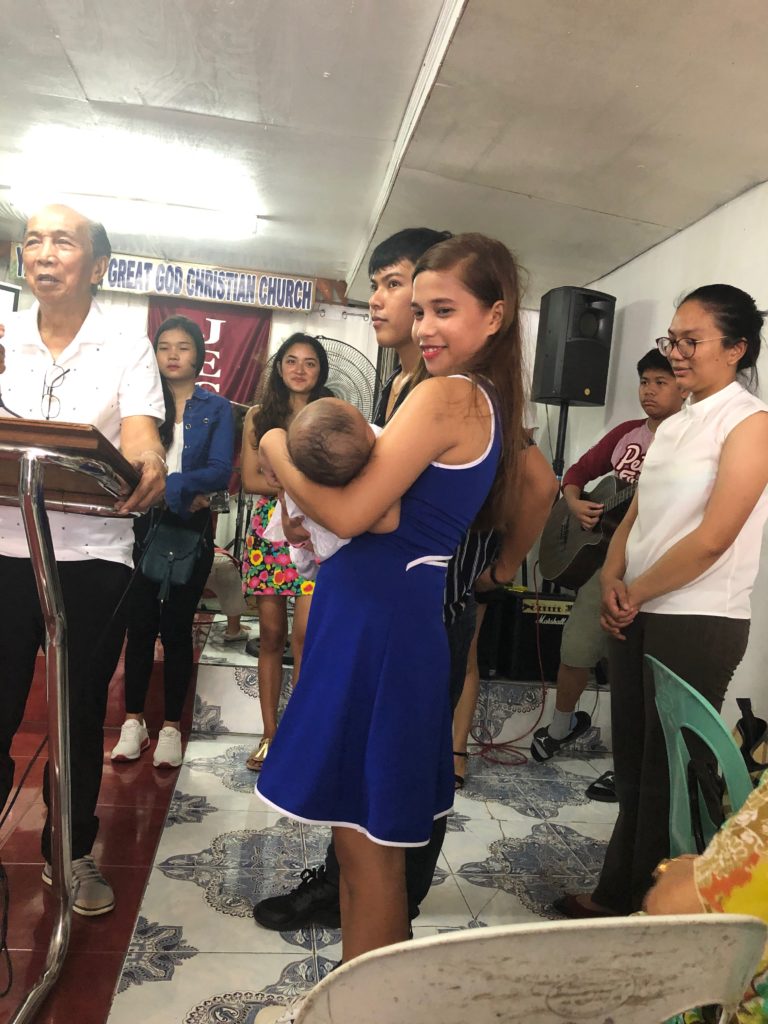 Following church Romel drove a dozen of us to a local [chain] restauant and we had a sumptuous lunch of filipino food, for 20, and it cost me only 7000 PhP.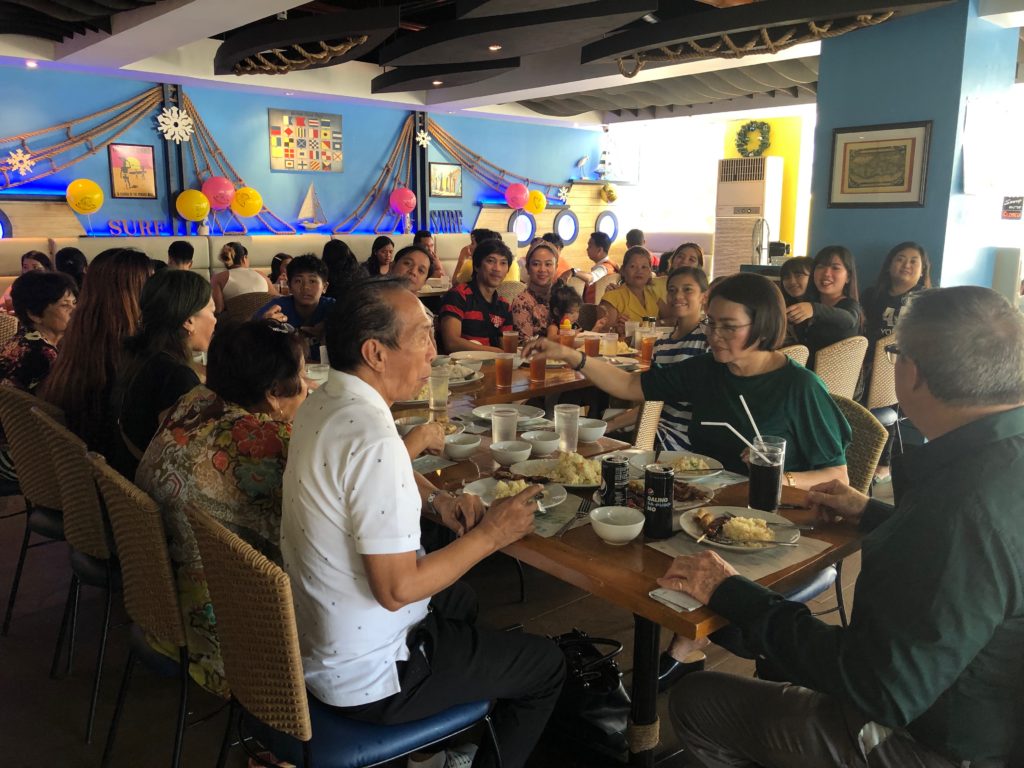 And with that I bid you, Maganda gabi (beautiful evening)