Week 12 – Tagaytay
It was a very quiet week in Tagaytay.
Or at least I assume it was very quiet. We had evacuated our 15th floor condo apartment on Monday and by the end of the day all residents had been evacuated. All that remained in that massive complex was Security. All the other hotels and commercial operations were closed as well, so no traffic jamming General Aguinaldo Highway, no jeepneys with there blasting exhausts, no buses nor trucks nor cars beeping and blaring horns, and no roosters crowing nor dogs barking, I presume. As much as I had wanted to strangle those roosters before, I now hope they actually have survived the volcanic dust that has settled over Tagaytay; that will depend on whether the little family that lives on that property across the road from Wind Residences have evacuated the city (not all locals have left, resisting instructions from the authorities, and if they refuse they are obliged to sign a waiver absolving the government of obligation) and whether the family took their dogs and roosters with them. Tourist town Tagaytay was now a ghost town.
In many ways however, Tagaytay has been less affected than many other towns in the area. Talisay, the little town down the ridge from Tagaytay on the shore of Lake Taal is covered with ash and has been at risk all week of further destruction from a potential tsunami across Lake Taal should the volcano have a catastrophic eruption. It has been forcefully evacuated by the authorities, as of course have the 1500 residents on Lake Taal Island itself. The horses have been left to fend for themselves, a hopeless prospect.
Towns and cities east of Lake Taal – San Pablo, Tanauan in Laguna Province – have many cms of ash and dust covering roads and roofs, trees and crops. West of Lake Taal has also been buried in sand and soot but worse there has been significant damage from the 701 volcanic tremors, even though these tremors were minor on the Richter scale, not more than 4.1. The towns in that area of Batangas – Taal, Temery, San Nicholas, Agoncillo, Lairel in Batangas Province – have fissures in the roads and damaged houses and schools. In some ways this is not surprising as this whole area is built on unstable effluent from the massive eruption of Taal Volcano in 1754 which actually created the isthmus separating Lake Taal from Batangas Bay. The current eruption is nothing like 1754, but nevertheless it may take several years to recover the land, and the lives of many thousands.
It is a very sobering thought, and in some ways a selfish one too, to think that Carmen and I, and our friend Sandi visiting from Ottawa, traveled all through these towns and villages only a month ago. Tourists such as we were may not be back for a long time.
In our haste and optimism as we were urgently leaving Wind Residences, Carmen and I only packed for a week – three days for our evacuation to Qubo Qabana Resort and Hotel (!) in Damas, Cavite Province, about 35 km north of Tagaytay and well beyond the 14 km exclusion zone, and our four days vacation in Singapore. We assumed this little Taal calamity would have returned to normal by the time we got back. Now that seems very unlikely. Even though Tagaytay, and Wind Residences, have escaped only slightly scathed it may still be some weeks before power and water will be restored. Even so Carmen has declared she is not going back to that 15th floor apartment.
So this whole 'calamity', as the Filipinos call any natural disaster – and we've now seen three of them in the short time we have been in The Philippines – has put a damper on our short excursion to Singapore. I won't take the time to recount all of our experiences in Singapore – there is nothing so torturous as to watch other people's travel photos! – but let me paint this little picture for you, which some of you may apprehend if you have read the latest posts in the Travels with Myself blog.
Singapore
Last January when I came to visit Carmen in Manila for the second time in a month, I arrived in time to celebrate her birthday, January 16. By March we were building a case for her to get a visa to travel to Canada, not a simple assignment as Canadian Immigration have fairly demanding requirements. One set of qualifying criteria is to demonstrate that the applicant Filipino has visited at least three other countries. But few other countries grant Filipinos entry without a prior approved visa; Hong Kong and Singapore are two. Singapore is a familiar and common destination for Filipinos; there are many OFWs working in Singapore and a number of Carmen's immediate family have lived, worked in or visited Singapore. Carmen has never traveled outside The Philippines; she only had her first passport a year ago and she was keen on collecting stamps in it. For all these reasons Singapore was high on her list as a place she wanted to visit. When we arrived for our Philippine sojourn in October we reflected on how much had happened to us in a year. And this led naturally enough to what the future held in store. I looked at Carmen, wryly I suppose, and suggested we needed to take things one day at a time, isa isa. I didn't think I could plan for much beyond her next birthday. And that's when I proposed I would take her to Singapore, for her birthday.
It has proved to be an odd experience for us. Carmen is not much of a planner, and seems not too interested in history or sight-seeing. It's almost as if, for her, the simple fact of being in Singapore, for her birthday, was enough. 'I  can't believe it!', she would say. She might have been happy to fly back to Manila the next day. I, on the other hand, am a curious traveler. I want to get my bearings and see the sights, absorb the history, and aspects of the culture. And there is a long British story to Singapore that interested me a lot: Sir Stamford Raffles, the famous Raffles Hotel and the equally famous Singapore sling, The fall of Singapore to the Japanese in 1942. To be fair to Carmen, the language of Singapore is English, and she finds it exhausting to try to keep up, especially when the English spoken is heavily accented Chinese or Indian or Malay. And there is a lot of walking, and it is very hot in Singapore. We ended up spending our afternoons in the hotel. But that is a lovely way to spend an afternoon, in quiet seclusion, away from traffic, in the converted British Army HQ, Hotel Fort Canning, dress for complimentary cocktails and canapés at 6:00, and decide where to go for dinner at 7:30. I could have spent a month here if I had the money. Enough narrative. Lets let pictures fill in a few thousand words for you.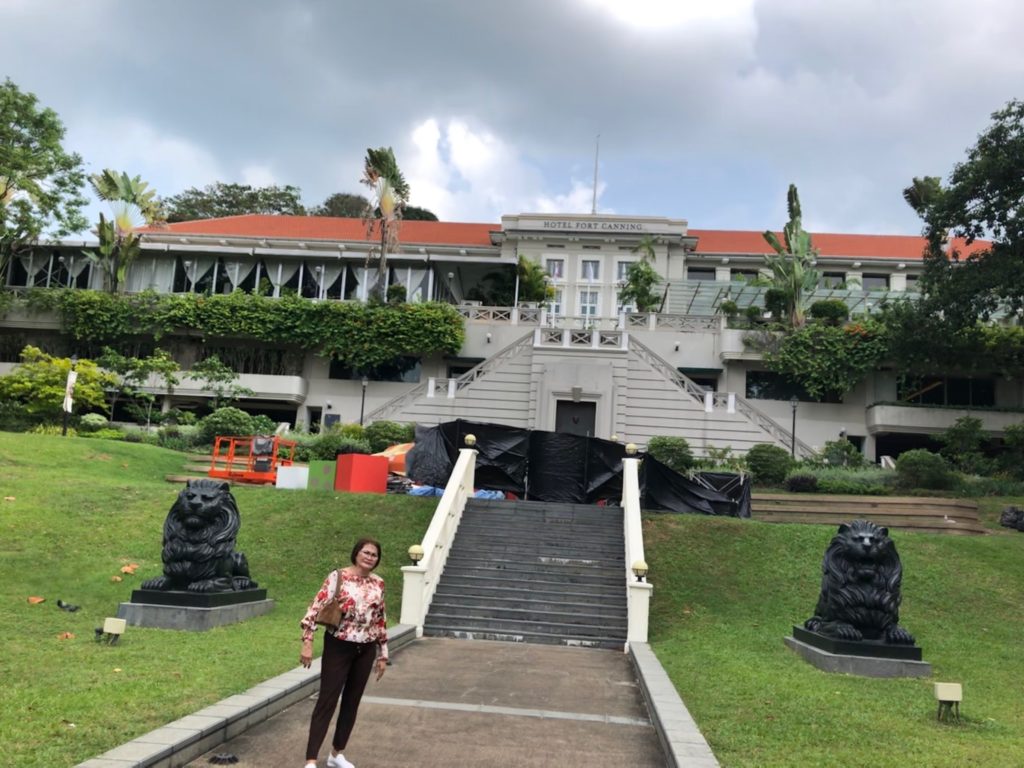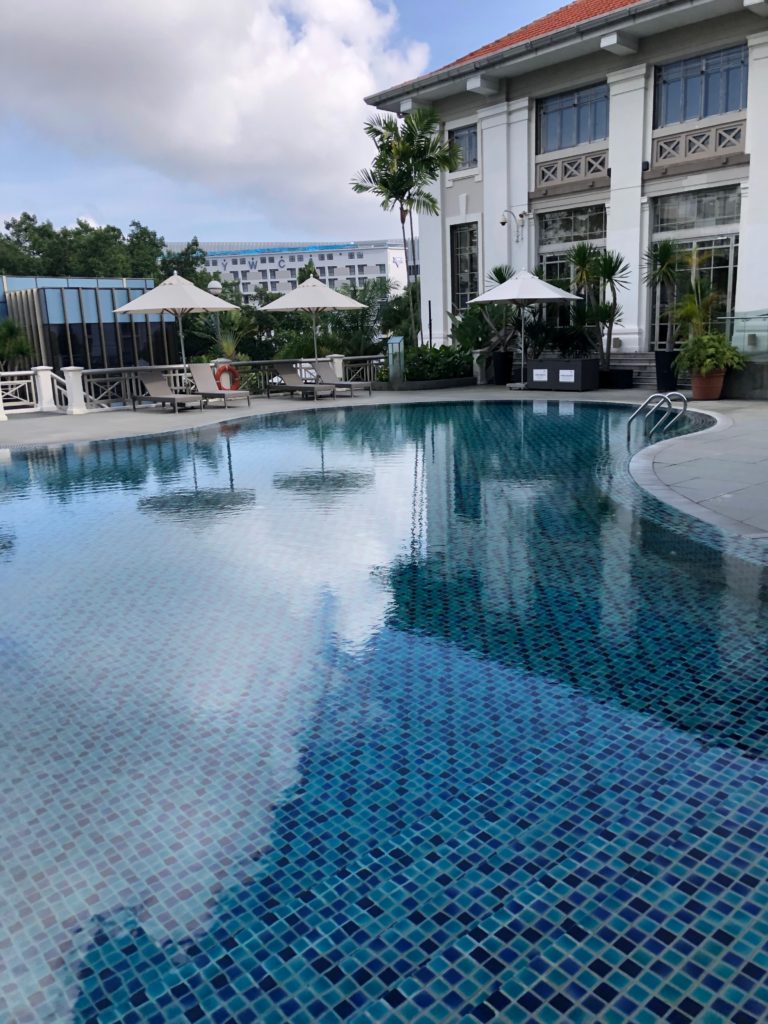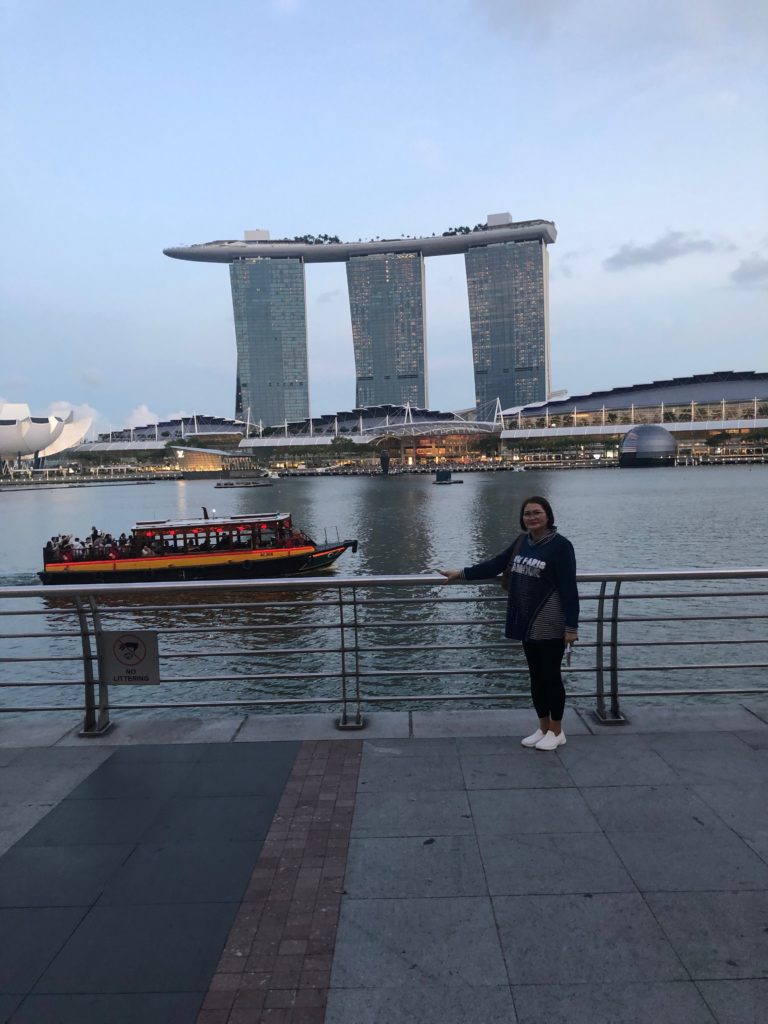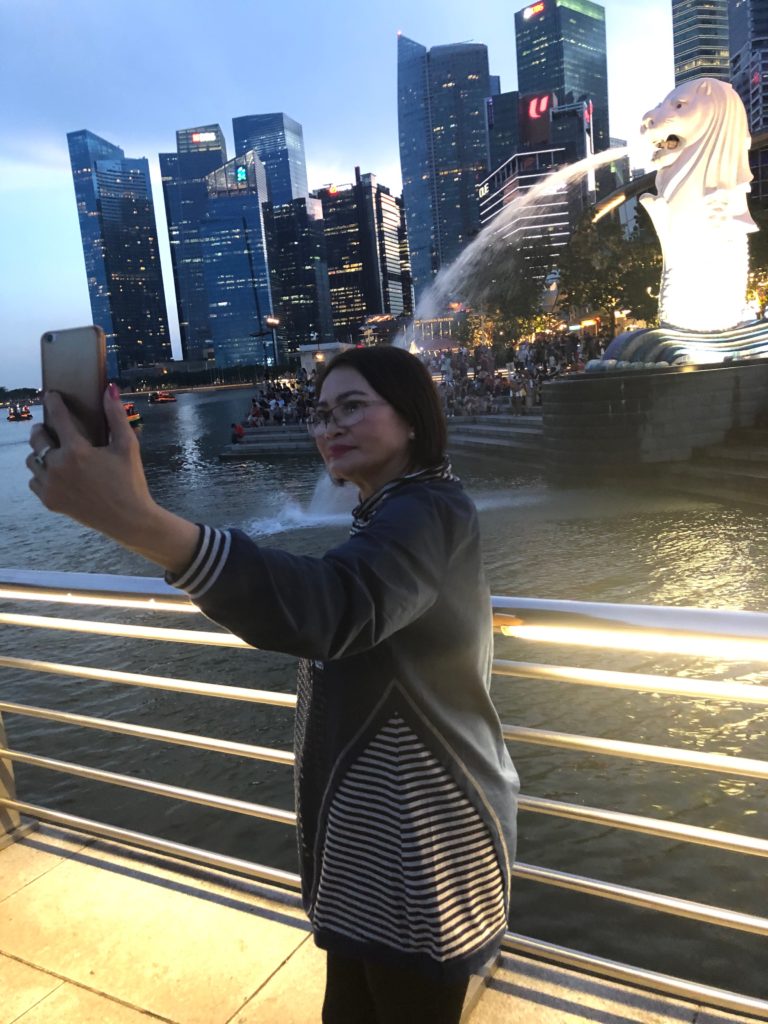 In The middle of all this Carmen's 'second favourite' pamangkin's husband suffered a stroke and died two days later. He was only 48. It is a stark reminder that life is uncertain, and everything is temporary.
And now we fly back to Philippines and to an uncertain future

It may have been a quiet week in Tagaytay, but it was very unsettling for everyone else.