Week 20, March 15, Dasmarinas
It was a quiet week in Dasma.
Or at least it was until this COVID-19 virus took over the world. And one has to wonder if it is the virus that has taken over or social media madness. Is this just another case of the fragility and irrationality of the human species shifting to self-preservation panic mode?
In any event, until Tuesday, my preoccupation was not corona virus but with the increasing heat and humidity of the now Philippines 'hot season'. I was warned of how dreadful this tag-init can be. I'm not a fan of hot and humid weather and so this sojourn in The Philippines, serendipitously, was during the tag-lamig (cool) season, sandwiched between monsoon season and hot. In reality of course, every season is hot in The Philippines, it's that some are hotter than others. Which is one reason why we had planned to spend our time in Tagaytay, and look how that turned out.
So as Dasma hit a daily 33o+ and the breeze had blown away, I stared at the limp palm trees outside my air-conditioned QQR room and began to think of Canada. My time in The Philippines was nearing its end and I was feeling ready to go home. Normally I hate endings. I want the activity to just go on and on, that is, at least, when I'm having a good and contented time. But this paradox of a country with the ongoing frustrations, with its delays and confusion, was losing its charm; I even worried that I might be at risk of becoming Filipino myself, with a relaxed, 'oh well' attitude. (To be fair, not everyone is so afflicted, Ma'am Carmen can be quite 'strict'.) I suspect the heat was becoming the metaphor for my disenchantment with The Philippines generally.
Wednesday morning, early, we had a short sharp shower and the temperature dropped to a more agreeable 29 for the day, and more importantly the breeze returned to the QQR. I returned to my balcony to enjoy my daily pursuits, reading and internet. Typing my journals remains an indoor activity.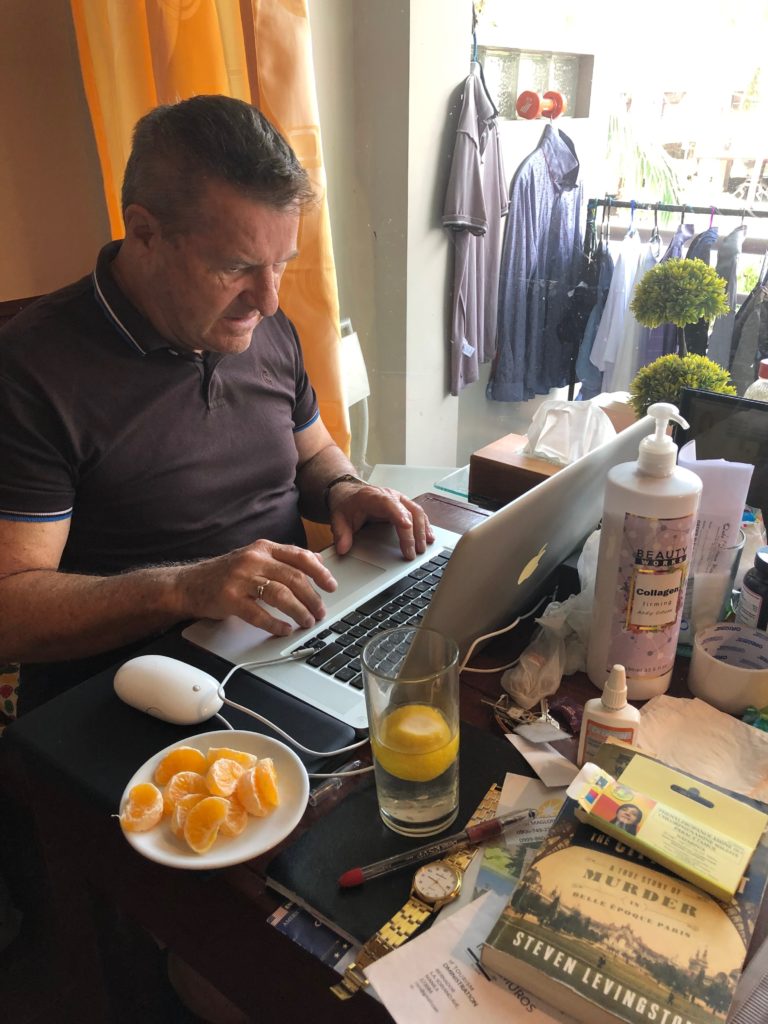 Our organizing and packing activities resumed, and our plans for farewell parties and family visits continued to take shape.
Thursday was a bright and breezy day, but did coolness bring a harbinger of doom? Talk here in tropical Pilipiñas was turning rapidly to 'the virus, the virus'. (Think Conrad if you like; you might also consider Love in the Time of Cholera, a truly painful book, not worth the read, imho. Of Human Bondage, same theme, was much better, or worse, depending on your point of view.)
COVID-19 exploded across the internet and became all-consuming. We had been living with this potential existential threat for a number of months but now the exponential growth was being noticed everywhere. Officials vacillated between rational assessment and alarmist avoidance, but with increasing panic amongst social media mavens alarming legions of the rest of us, and the sensationalist press, self-servingly disguising their alarmism as a public service, officialdom had to respond.
President Duterte went on national TV to announce actions to contain the spread of the virus here in the Philippines – Manila was being locked down for a month, from March 15 to April 14, though subject to day to day review. All domestic flights were canceled and ground travel would be strictly prohibited in and out of Manila. This left lots of questions: what of the hundreds of thousands of Manila workers who lived outside Manila? What of food and goods supply chains into the city? International flights were on still, depending on the carrier, but how do the passengers get into Manila if they are somewhere else in Philippines, such as Dasmariñas?
I decided that, since the circumstances were out of my control, and my personal situation was not dire, I would defer a decision until more information became available. We would either be returning to Canada on the 23rd as planned, or we would be staying in The Philippines for a while longer.
But the immediate plan was to go to Manila to see the Philippines Philharmonic Orchestra at the Cultural Center of the Philippines. And stay at the iconic Manila Hotel. The tickets had been bought, the hotel prepaid. These things were high on my list. I didn't want to miss this experience. I have seen symphonies in many other cities (mostly in Canada admittedly) and I was excited to 'feel' the halls and walls where Douglas MacArthur walked in the Hotel's heyday. Carmen may not have had the same affinity for MacArthur as I but she seemed excited about this plan, more than anything we had yet done. She says she has had many lunches, and been to gala events, at the Manila Hotel in her wealthy days, but has never been to the CCP, nor seen a symphony. On offer that night was Beethoven's Symphony Number 5 and Gershwin's Piano Concerto in F. What a great introduction to classical music for Carmen. The appeal for Carmen though was that this was a glamorous event, and a place to be seen. So for weeks prior, the preparations began – shopping excursions for an outfit, and shoes, and a matching bag; and mani-pedi, and, and .
Friday arrived so off to Manila we went, the trusty Rommel chauffeuring us into the smog-laden city. Traffic was uncharacteristically light. He dropped us at the door of this iconic place;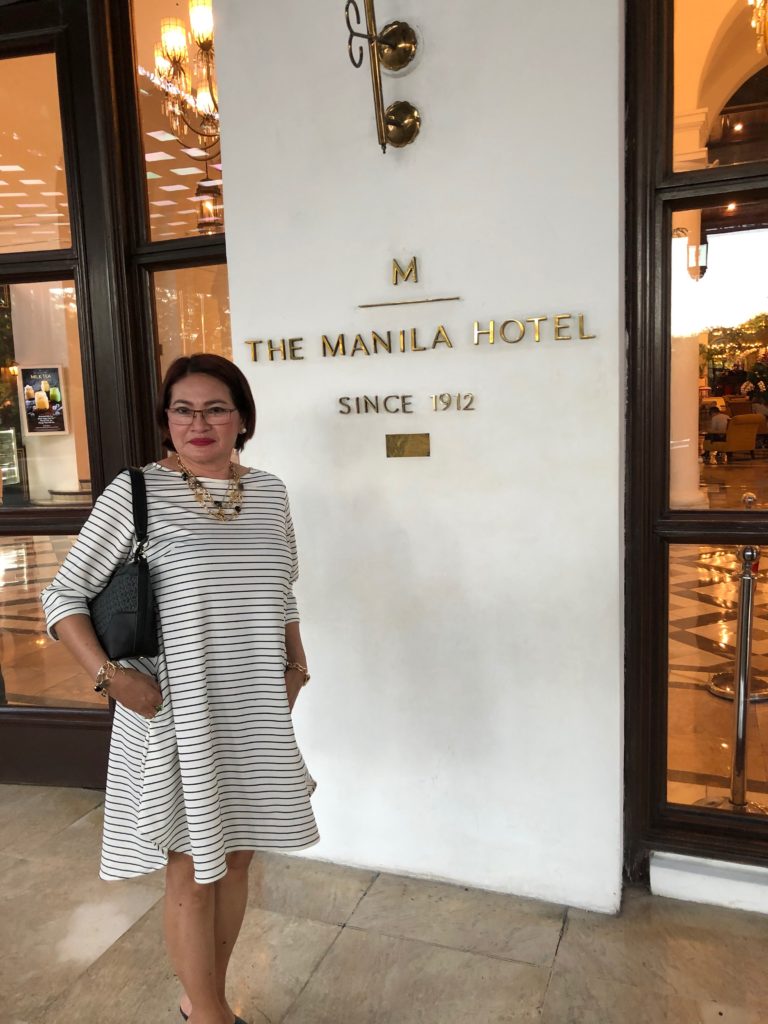 we checked in and revelled in the massive ornate lobby. [Well, to be more accurate, I revelled, Carmen had been here before.]
I asked for the best room he could offer for my price (already discounted by 50%); Peter the Desk Manager smiled, 'of course sir, we're not very busy'. We arrived at our 16th Floor suite with a lovely view overlooking Intramuros.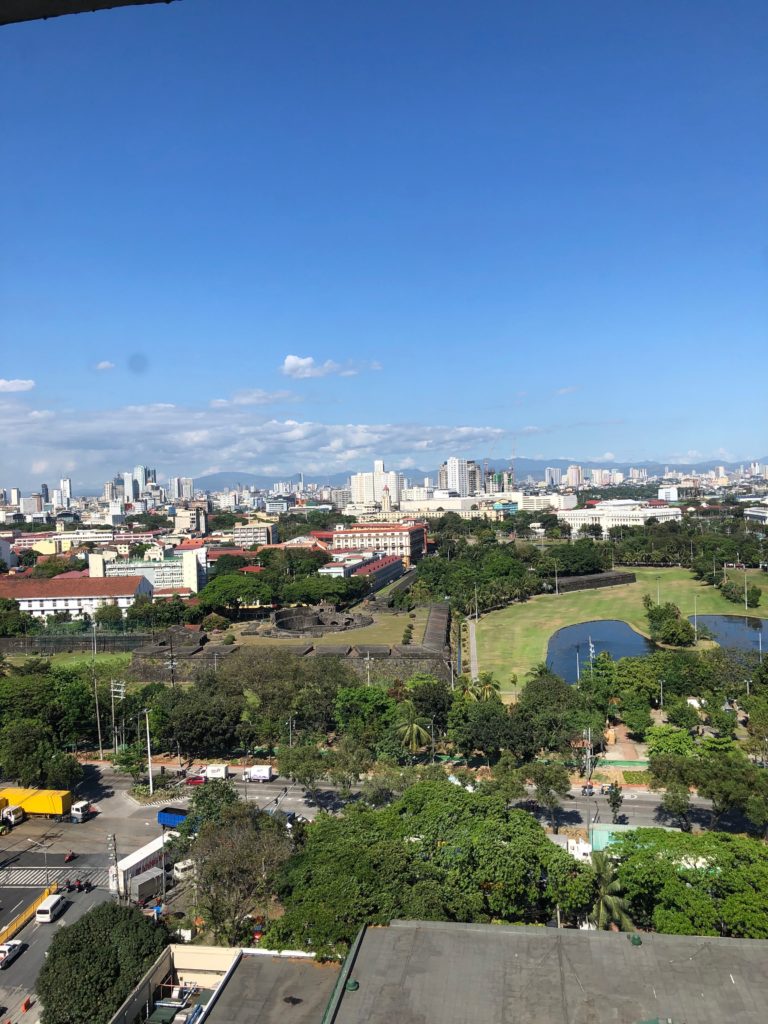 We made a reservation for dinner at 6:00 at the Ilang-Ilang Room (the more ornate and formal Champagne Room only opened at 6:30 and the leisurely pace would leave us late for the 8:00 pm start of the symphony concert). We enjoyed a glass of champagne in the lobby and steak in the dining room and then had the concierge call for a 'Grab' ride to the Cultural Centre of the Philippines. We arrived at the entrance with minutes to spare but I was puzzled at how sparse the crowd seemed. As we passed the security station we were challenged, naturally enough, but not as I expected. 'But sir, the concert has been canceled!' 'What? When?' I exclaimed, alarmed, disappointment rapidly mounting as the reality began to sink in. 'Tuesday, Sir.' 'Really? I've checked the various websites all week for news of this possibility, nothing.' 'Sorry, sir.' And that is yet another story of the Philippines. There are websites, and 'internet of things', as the techies like to say, but they are not updated.
Oh well, nothing for it but to go back to the hotel and enjoy its wonderful ambiance. And wouldn't you know it, a classical sextet – violins, bass, piano and flute – were playing in the lobby. I spoke to the lead violinist about our recent disappointment not seeing the PPO. As we settled into our couch with a sambucca on the rocks the band broke into a jazzy version of the First Movement of Beethoven's Fifth Symphony! The rest of the evening was great too.
As we checked out Saturday morning Peter advised that the lockdown of Manila was to take effect at midnight that night. Rommel arrived to drive us back to Dasmarinas, AM talk-radio broadcasting non-stop interviews with government officials trying to explain how this massive quarantine would work. This began to feel like WWII.
Does that mean we should scramble to pack and move into Manila to await our flight?!? As we drove past NAIA I speculated with Rommel whether he might just drop us off – we already had an overnight bag with all our meds; we could travel light back to Canada. Rommel gently asked if we would be required to self-quarantine when we arrived in Canada. For that matter, would Canada even allow Carmen to enter? (They had to let me in; as Frost said, home is that place when you go there they have to let you in.) (And for more on 'home', be sure to read the latest entry in my other blog, Suburbia.) I thought about this for a few minutes. If we were quarantined in my Kanata home, and, respecting our pledge for social distancing, no opportunity to shop, we only had canned food in the pantry, and maybe only a week's supply of toilet paper! The horror, the horror.
I decided we would not put ourselves through that and we should wait for developments, even if we waited for another month. After all, we were only going back March 23rd so Carmen could experience a bit of Canadian winter and snow. 
As we arrived at Qubo Qabana we met the Manager of QQR, Edita, and the desk clerk, Jaylyn, and were advised the hotel was no longer accepting foreign guests, nor anyone who had just come from Manila. Smiling, she said she would make an exception in our case.
But there was a silver lining. The qubos and the pool for day visitors was being closed until this COVID scare was resolved. The week ended as it began, quiet.  

Doug Jordan Reporting to you from Dasma, Philippines