Week 19, March 8, Dasmarinas

It was a quiet week in Dasma.
It was a quiet week in Dasma, but that allowed me time to catch up on my reading, sacrificed the previous week from our travels in Ilocas.
I took two books with me to Ilocas, bought two more at a bookstore in Manila, and had two others unread me on my iPad.(If you're interested in seeing what I'm reading, and what I've read, check out my page on Goodreads.) I think I should count it as a small triumph that I only read four pages of Damasio and maybe 12 pages of McCall Smith. Week 19 was shaping up as make-up for lost time.
And time is now my preoccupation. Or more accurately, continues to be my preoccupation. I've always worried that there is not enough time to do all the things I think I need to do. (I say that mindfully, what makes me think I 'need' to do those things?) I have trouble relaxing, and when I do 'relax' it's usually with a book, and even then I am already thinking, what I will do when this unproductive relaxing time is over?
When I came to The Philippines last October I wondered and worried about what I would do with all this time on my hands. I really should be at home drumming up business for my consulting practice. I wasn't retired, I wasn't a snow bird. I wasn't ready for that.
I had to remind myself that life was for living, and having experiences, experiences I'd never had before and may never come again. My time in The Philippines was unlike anything in suburban Kanata, or even urbane Ottawa. Living in my head is not living my life either. Not that I've been idle in Philippines, lounging on a deck chair, feet up consuming yet another book, whiling away the hours. I did that of course but we called it research, mental stimulation, an examined life.
I also reminded myself that I was transitioning to be an author, and a sojourn in a tropical country, thousands of miles from home, was just the thing for incubating ideas. Why, many authors had done that. Maugham in Singapore the prefect example. So I have been busy writing, not only with this weekly newsletter, but also weekly instalments of my other blog, Travels with Myself. And thinking about books in the mill, even at the press.
My time has not been wasted. And yet, and yet… I still have a sense that I am running out of time. When am I going to start on that book about the 12-year-old boy, growing up in 1962 in a little Southern Ontario village?
Time may be my chronic preoccupation, but now, more accurately, the remaining time. And not just of my life, but of my time in Pilipiñas. In two weeks we will be winging our way back to Canada. This quiet week in Dasma was became increasing filled with our preparations for departure and visits from family.
The Week Fills Up
Carmen had her denture installed on Monday and she is very happy with it. By Friday she had forgotten it was inserted except to clean it. 'Do they have Polident tabs in Canada?' she asked, innocently.
And speaking of Polident tabs in Canada, I reminded Carmen there was no need to bring all the stuff we had accumulated in Philippines back to Canada. In fact, half the stuff she had brought from Canada did not need to go back with us. So we spent some time surveying all the bags and suitcases and piles of clothes and stuff that had accumulated in our little room, and considered all the stuff we had already transferred to her little house in Trece, and began to organize for Canada. It looked like a daunting job to me. 'Don't worry Honey, I can manage,' she said. We agreed to set aside March 17 for this. Every day after that was taken up with family events.

Rogelio's Birthday. We travelled to Trece Wednesday afternoon to help brother-in-law Rogelio celebrate his 79th birthday.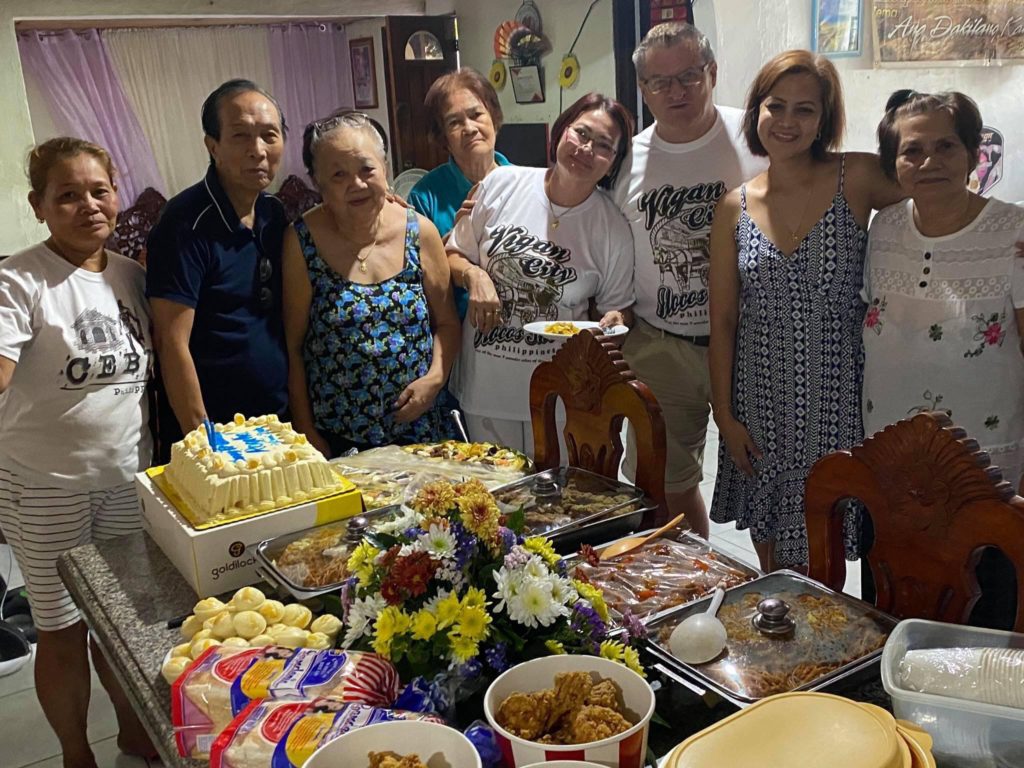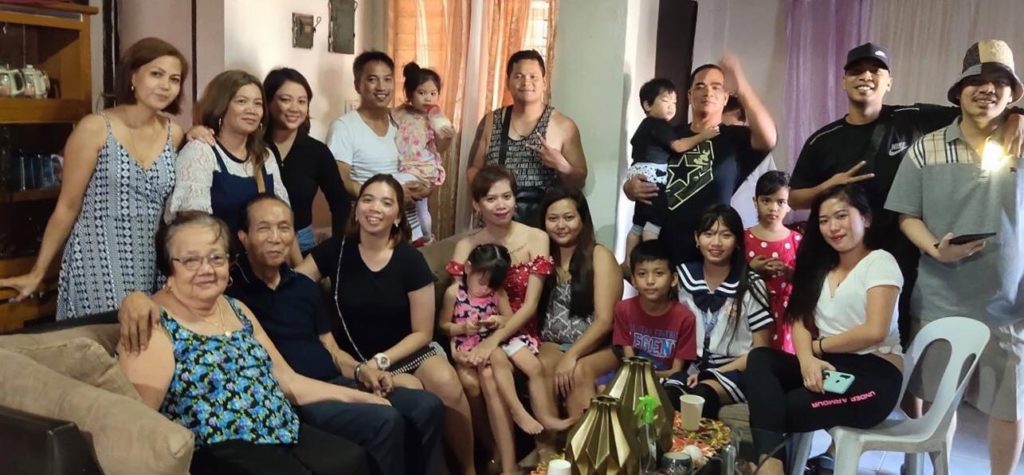 There was many family and it was very hot. I was reminded that March is the beginning of the hot season in Philippines and it seemed to be right on schedule. (You might be amused to know, or not, that there is very little talk of Global Warming or Climate Change in the Philippines. It's three seasons are the same as they have ever been: tag-init – hot (and dry) season (March to May/June), tag-ulan – rainy season (July to October/November), taglamig – 'cool' season (December to February) (Cool? It's still 30o in Manila; in elevated Tagaytay it got down to 18 at night in January; mountainous Baguio got all the way down to a record low of 10.2 on February 19.) There is no Winter in the tropics of course, but neither is there Spring or Fall.)

Arlyn's car was failing us – it had no power climbing hills. 'Bent compression,' I diagnosed but suggested to Arlyn that she get a second opinion. I would pay for it. I was grateful that she was willing to drive us wherever we needed to go locally (Rommel was still our long distance tour guide) and it pleased me that we compensated her generously for her gas and her effort. But I needed a reliable car and many a trip in the 12-year old Mitsubishi Lancer was an adventure I really didn't enjoy. I think much of that compensation went to keeping it on the road. Arlyn has a husband, Loloy, who is an engineer on a tanker, plying between Kuwait and where ever. She doesn't see him for 9 months or more at a time; he's due home in September. Now that certainly gives one pause. I'd never known a sailer and it is an occupation we desk jockeys rarely think about. Turns out Filipinos have been sailing the seven seas for their employers for hundreds of years, mostly for the Spanish, in the early days from The Philippines to Mexico, and, after the Suez Canal was built in 1869, all the way to Spain in the other direction. Then came the Americans and the trips were across the Pacific again, but now to California, or through the Panama Canal to New York. Thousands of Filipino and Filipina OFWs now work the oceans, many on cruise ships; and with the recent corona virus scare, many have been stranded. Last week I asked Arlyn where her husband was now. 'Switzerland, Tito.' 'Switzerland?!? There are no deep seaports in Switzerland, nor even shallow ones.' But he was in Switzerland as a tourist while his ship was being emptied in Rotterdam.
Arlyn gets a monthly allowance from Loloy's employer but I don't think it goes very far, and almost certainly not far enough to cover major repairs to the car. So Wednesday Carmen and Arlyn coaxed the Lancer to her mechanic for yet another round of inspection. Evidently the recently replaced ignition coil had fallen quite short of its six month warranty. But now it seems the connector to the onboard computer is damaged and a new one needed be installed before a complete diagnosis could be done, and that meant an electronic technician had to be called in. But that is no problem for the ever-resourceful Filipinos. The electrician did his thing, the mechanic did his and Arlyn got her car back on Saturday afternoon; and we are only out 7000 PhP. Imagine what that might have cost in Canada.

Family Day at Qubo Qabana. Saturday was not a quiet day in this otherwise quiet week. Saturday is family day at Qubo Qabana and Filipino families started arriving around 7:15, a.m., and The Happy Birthday song was already thumping away on the poolside loudspeakers. I knew it would be a long day.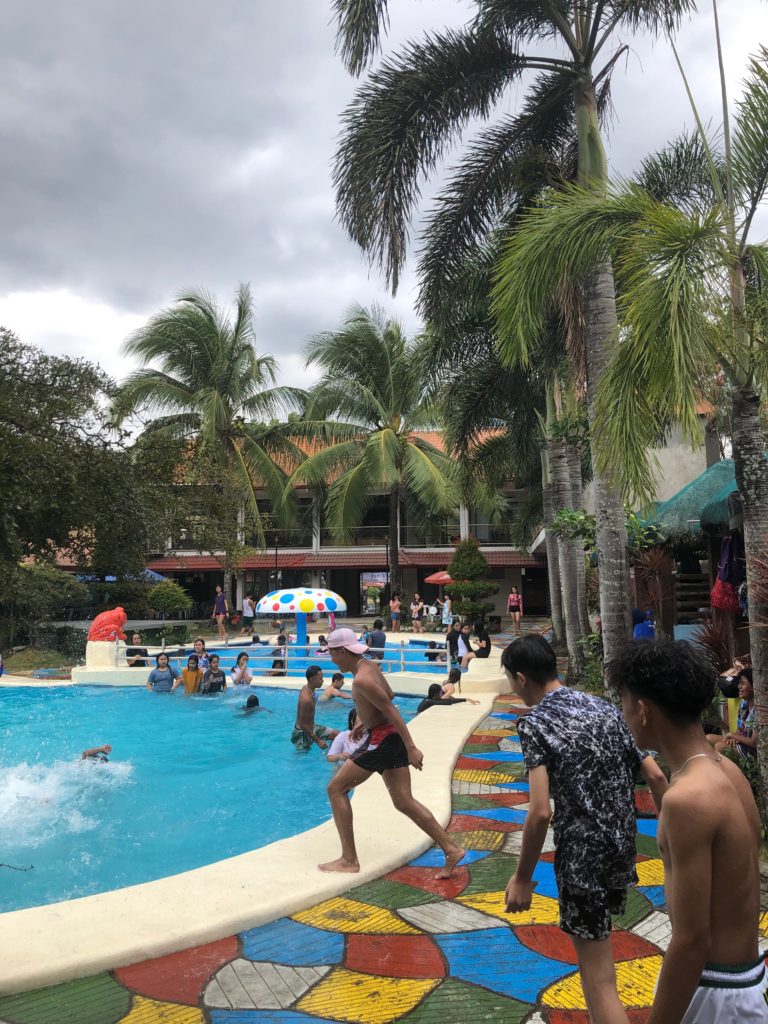 And then Ms Espino announced that some of her extended clan were coming for a day of feasting and swimming. These were not even her own immediate family but pamangkins and second and third cousins. My inner Introvert leaped in my chest. 'How many?' I asked. Not many, she replied. But one of the cousins owns a huge jeepney bus capable of holding 24 people, comfortably. When it pulled into the QQR front parking area around 9:30 and only 13 people got out, well, I suppose I should have been relieved. Carmen assured me we were not the hosts and they would not be occupying the hotel inner sanctum. And how could I object? One of the guests was the recently widowed Belinda and her two sons. Carmen suggested I work on my newsletter for a while and join them later for lunch. And that is what I did. Around 11 I marshalled my latent extroversion and went to face the family. Half of them were in the kiddy pool and the other half in the Qubo preparing lunch.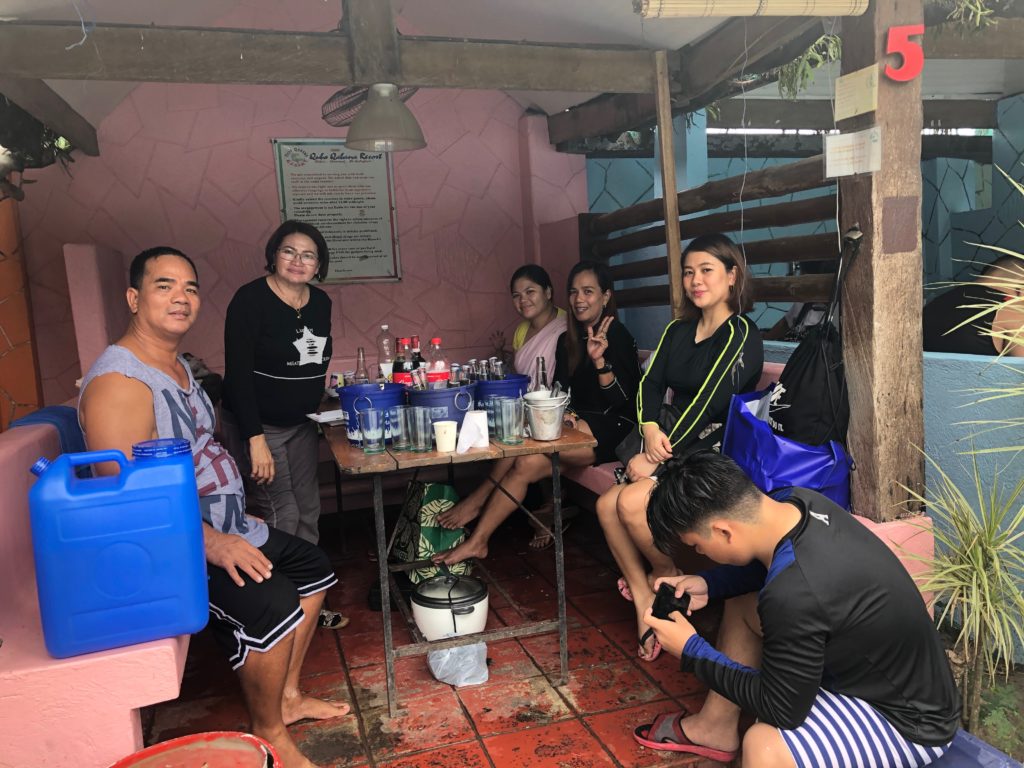 But lunch is mostly rice and cassava and fish. I had no appetite for this menu but rather than offend Filipino sensibility I claimed I'd just had breakfast of bacon and egg and it was too early for lunch. At 12:05 Belinda reminded me that it must be lunch time by now. I accepted a glass of wine (a decent French Cabernet Sauvignon). By 1:00 I argued it was time for my nap and Carmen agreed. No-one seemed concerned that we went off by ourselves to our room. But at 2:00 Carmen's sister-in-law, Ammy, along with a distant cousin Herme, arrived to give Carmen her massage, following which we returned to the party. But it was hot! 32o, and humid. The family left for home around 4:45 and Carmen and I had our dinner on the balcony in the still stifling air.
Sunday was another hot and close day. This was beginning to feel like Heavy July in Ottawa when everybody goes back indoors to air-conditioning.
The Grand Opening
GR, Carmen's' middle child, has bought a business and his Grand Opening was Sunday night. And what a strange business this is – a car wash by day with pool hall upstairs and a resto-bar by night.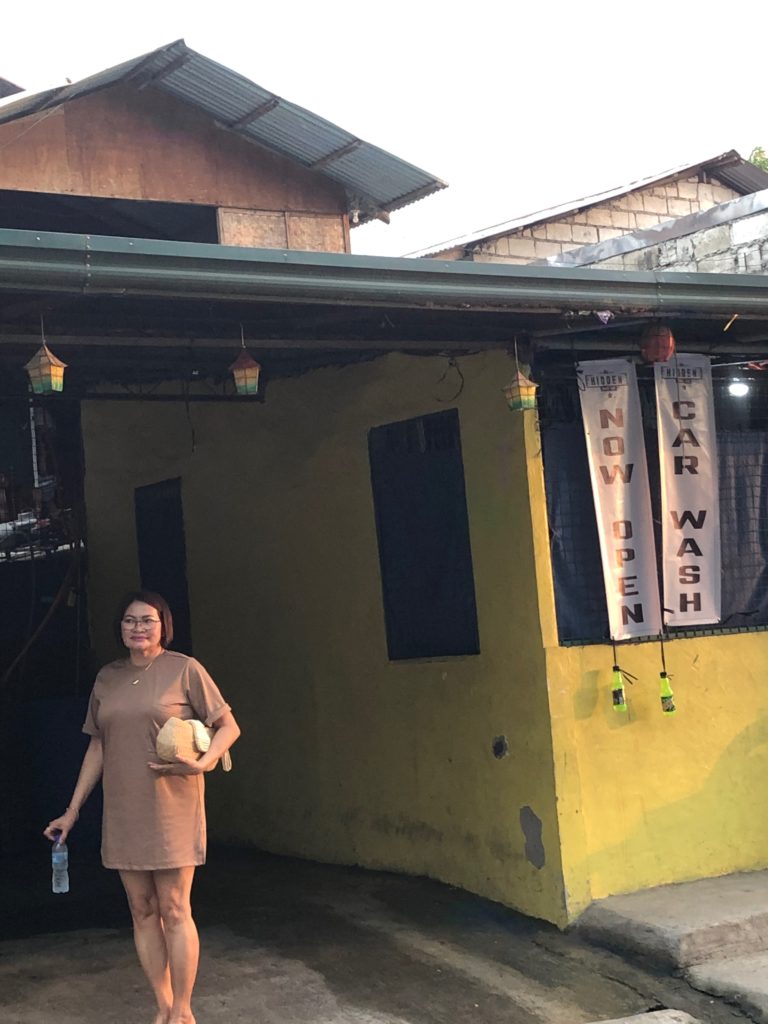 His wife, Mylene, chief cook and washer, will manage it during the day while GR works his day job for Globe Cellular. Then GR shows up as bouncer for the night shift. 'What time do you close, GR?' I asked. '5:00 a.m.' he replied. I instantly thought this was not a workable business model, but they're young and still think invincible. Who am I to throw cold water on entrepreneurial spirit?
Curiously located almost in the countryside of Trece I'm not sure this business relies on the three Rs of real estate: location, location, location, but for all that, it is aptly named: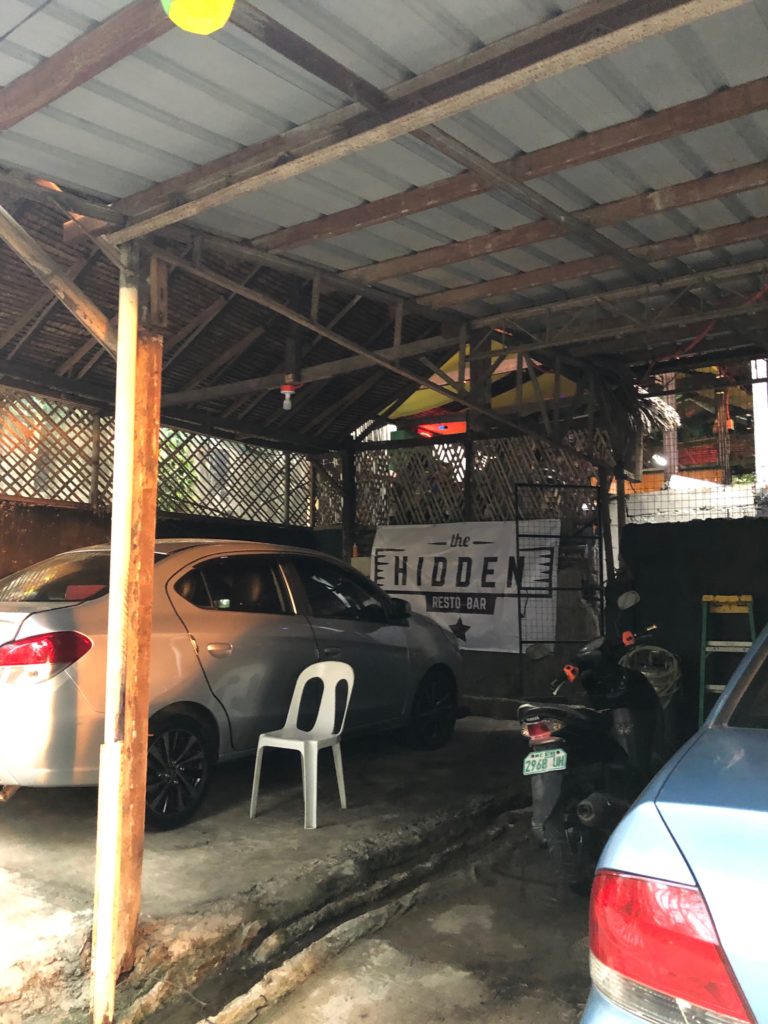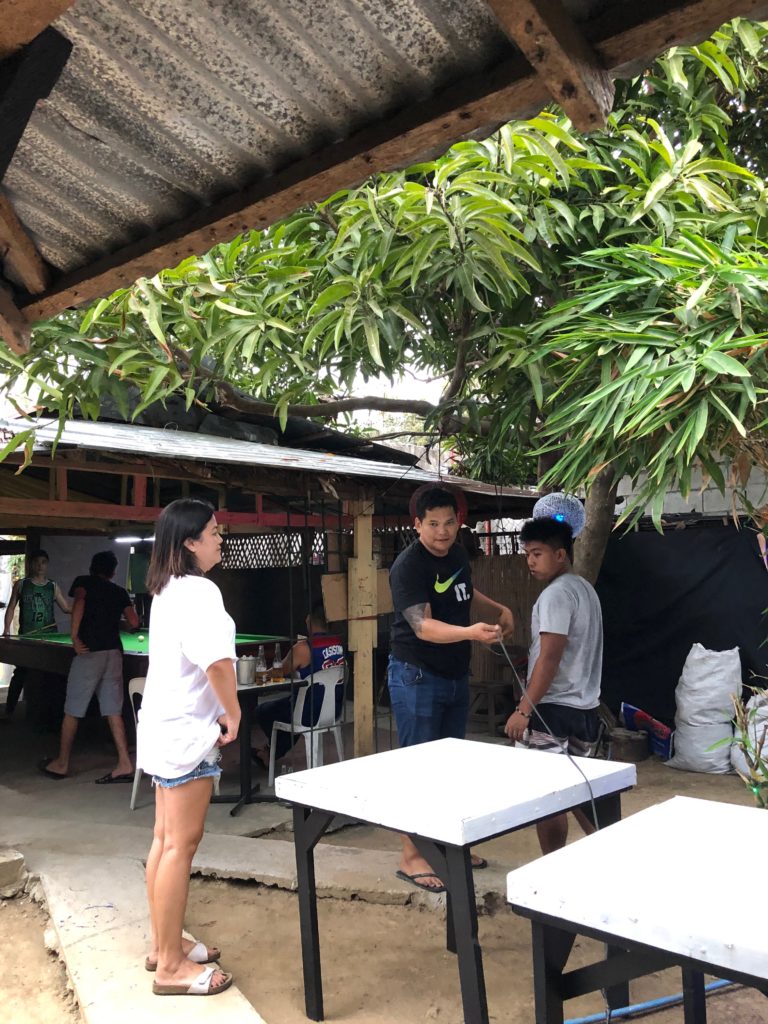 But a number of customers were already in attendance, even before the family arrived. I asked, cheekily, when Gemma (the Mayor) was coming for the Grand Opening (the Espinos are a [former mayor] Sagun family, not a Lobigan family) but the young entrepreneurs advised they do not have all their permits and licences yet so this party was a rehearsal for the Grand Opening.
We ate traditional Filipino dishes, drank quite a few San Miguel Lites, sampled some Red Horse, talked until horse, and 'sang' some old tunes to the beaten and battered karaoke machine. Carmen and I were the only ones on the dance floor.
I hasten to add, Carmen and I did not stay till 5:00 am.

Doug Jordan Reporting to you from Dasma, Philippines