Week 21, March 22, Dasmarinas
It was a quiet week in Dasma.
That's because the whole of Luzon Island is in lock-down and the rest of the country has ground to a halt. At first the perimeter was just Metro Manila but that proved unworkable within a day. Many people who work in Manila live outside metro (Cavite, Laguna, Rizal, Bulacan) and the prohibited entry made operations in Manila untenable. Roddy revised his Metro Manila lockdown to all of Luzon Island, which makes practical sense since it's a lot easier to monitor the ferry ports coming from Samar and Mindoro than block all the roads leading to the City.
The malls are practically empty as most stores and restaurants have closed, except for grocery stores and pharmacies, and probably Jollibee. The government is quite torn between limiting movement and seriously disrupting commerce. This seems to be the case all over the world.
Here in Dasmariñas, only 20 kms from the City, activity has slowed to a trickle. The Qubo Qabana Resort Hotel has only three guests, Carmen and I and a Chinese man. He seems very lonely. He speaks very poor English and no Tagalog. And I am having cognitive dissonance as to what I think about it.
Tuesday we got news that QQR was laying off staff, closing the kitchen, and not accepting any more guests; however, Carmen & I will be allowed to stay indefinitely, thank goodness. So will the Chinaman, apparently. There will be one manager, Charles, and skeletal staff to provide 24-hour security. I offered to take a shift to reduce our rent but Edita, the General Manager, just smiled at me. One nice thing is that, since they won't have a front desk, they won't be collecting my daily rent; just collect from me on check-out, whenever that might be. And that could be in another month. Who knows?
The pool for hotel guests is cleaner than it's ever been. The skeletal staff are busy cleaning everything that doesn't move, and maybe even the things that do move. Come to think of it, I haven't seen the cats lately…
Carmen went out right away and bought a rice cooker. And a hot plate. Our room is not a suite with kitchenette but we had long since set up 'cooking' for ourselves with a coffee maker and small toaster oven. The balcony's become our California kitchen. In a strange way Carmen is actually pleased about this; it's the only thing she really misses about the condo in Tagaytay, a kitchen! We bought a stock of groceries but they won't last long.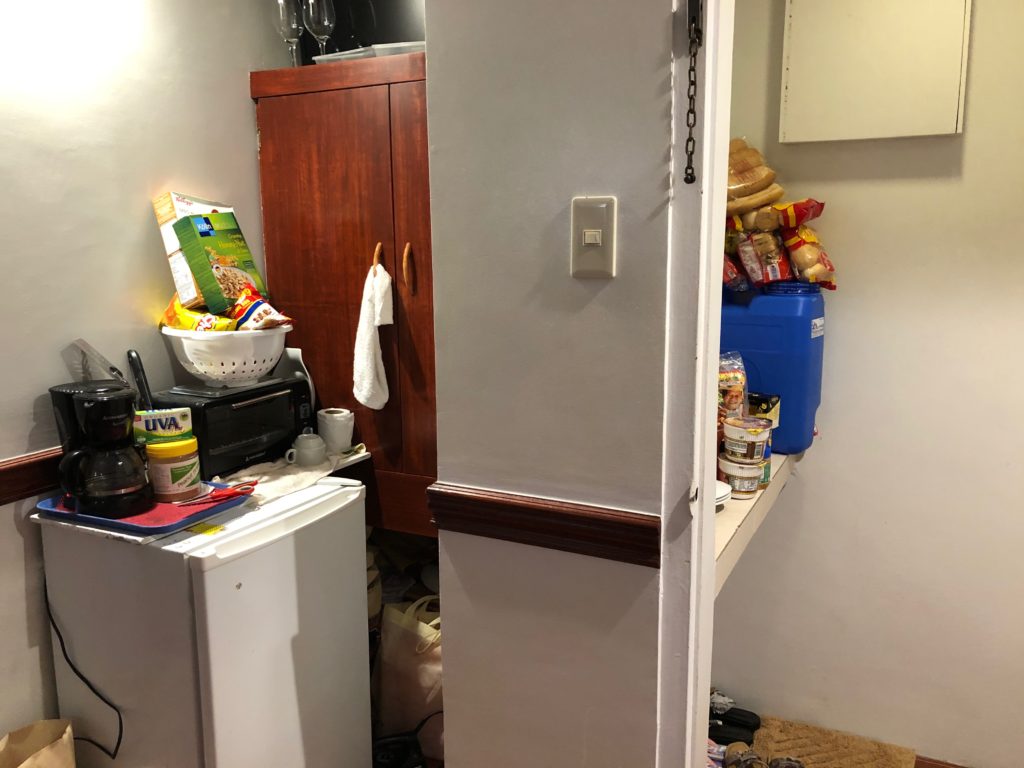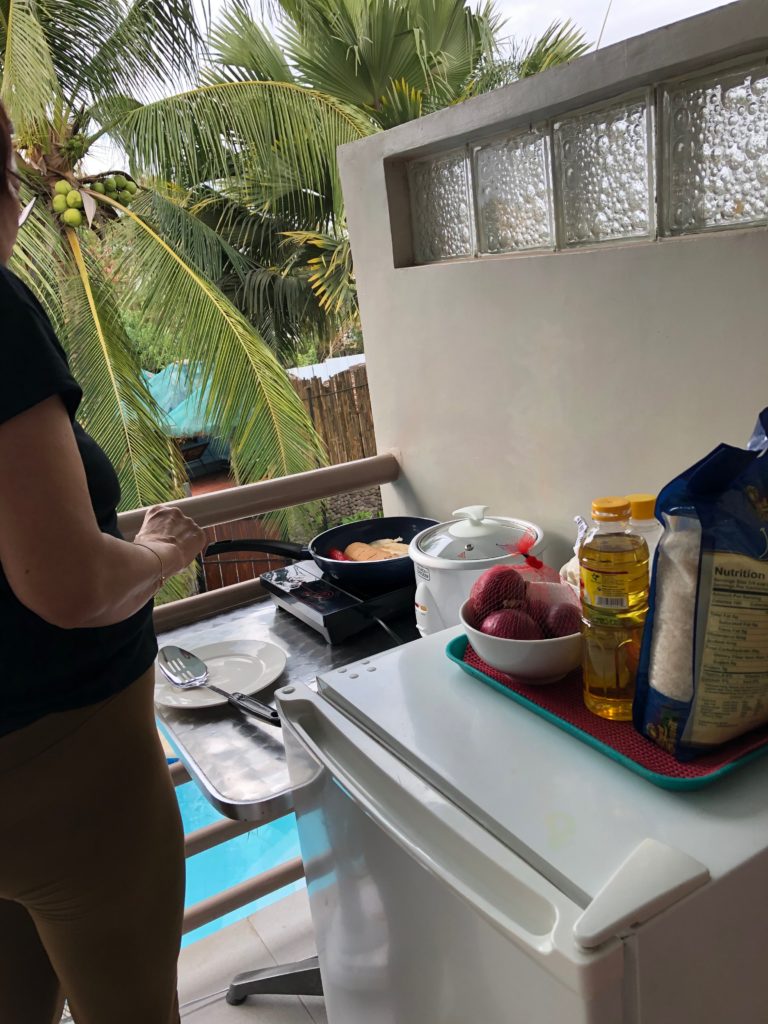 The hotel have asked us not to leave premises of the hotel, just as if we were regular citizens in this national quarantine, or maybe because I am foreign! But what does that mean when we run out of supplies? Ah, so far not a problem. The staff will do almost anything for Ma'am Carmen, whether out of respect or fear I'm not sure. Anyway, they have conspired to raid the QQR kitchen fridges and cupboards till everything that might spoil has been used, and why not? And failing that, one of the 'baes' will make a run to the local markets and pick up items for her!
This was supposed to be our final week in Philippines. Our planned return to Canada was scheduled for Monday, March 23. But these lockdowns and border freezes have completely confused that plan.
The issue for me and Carmen is, will she be allowed to enter Canada? For that matter, will she be allowed to leave The Philippines? The Malacagñan issued an executive order that all Filipinos would be barred from leaving the country and all international fights would be stopped as of midnight Sunday. The flight-cancelling order was quickly reversed, such is the power of the Filipino OFWs. But Carmen is not an OFW so she may still be turned back at Philippines' exit gates. (Yes, they have that at International gateways in Airports here, a Filipino has to show his passport to leave.) And we also don't know whether Carmen will be admitted if we reached Canada.
I've been in email contact with someone at the Canadian Embassy (Immigration) here but they have no answers, only empty standard responses: call your carrier, check local conditions!. And they can't handle the volume because they are short-staffed due to Duterte's lockdown of Manila!
My daughter Shannon worked on the problem from her end (Markham). There may be an exception for Carmen: she has a reentry visitor's visa good to 2022 October and I am her sponsor, her having been in Canada for six months with me last year, and we returned together to Philippines in October. But ….
So we waited the week for an answer. If she can't go I won't leave her here alone. My friends who are up to speed on this question are divided. Some think I should get home, leave Carmen behind till she can follow at a later date. Others argue that conditons are not wonderful in Canada so I may as well wait it out in The Philippines. One of the reasons we had planned on returning to Ottawa in March was so Carmen could see snow, but I've been told there's not much snow left to be seen. Maybe next December.
Did I mention I have a serious respiratory infection now? It feels like a bad cold, of which I have had many in the last two years. Same pattern: sinus congestion and runny nose, bronchial congestion prompting cough, low grade temperature. Rhinovirus? Or is it novel corona virus! I can't get tested for Covid-19 here because there are not enough kits and are reserved for serious cases. Besides, it's ridiculous to test a symptom-free well person because if you test negative it just means you haven't caught it yet. If you have symptons, assume its Covid and self-isolate, as you should with any infectious disease. If I present myself at the airline gate with symptoms, they might not let me pass. Maybe in future we'll all have to tested free from any respiratory infection, as well as take our shoes off. And in any event, as a responsible person, I have to self-isolate!
So we waited.
If my symptoms abate, and the flight is still a go, and Carmen gets a green light, maybe we get on that plane.
But Monday came, the plane left ANIA bound for Taipei, and we were not on it.
And the silver lining: Another edition of the Dasma Diary next week.
Doug Jordan Reporting to you from Dasma, Philippines