Week 18, February 23, Vigan
As I'm beginning to expect, no schedule is certain when driving in Philippines and true to form our ETA Vigan slid from ~4:30 pm to around 6:10. The trip down the mountains from Baguio was predictably slow, yet fascinating for the twists and turns. We hit the lowland plains and headed north. There wasn't much to see, a two lane highway with mile upon mile of tiny residences and roadside stores melding into yet another small town, making any speed even more difficult because of the seas of tricycles… Just as well I slept through most of this part of the journey.
Vigan proved to be a bit of a disappointment. A UNESCO World Heritage Site it may be but the old city is seriously run down and neglected. The 6 – 8 blocks of houses and buildings may be original and hundreds of years old but they lose their charm when they are mostly unoccupied derelicts.
Our hotel was an exception, well appointed entrance, massive staircase of at least 20 steps (good thing we had porters to carry our four loaded bags), entering onto a very large reception hall. This place must have been built to make an impression in its day; still impresses but Carmen was nervous of the creaking floors and creaking rocking chairs. Our room was a small but nicely updated with modern bathroom. Still, nothing like the luxury that the original house probably was.
Vigan was the same sort of let down as our visit to the old town of Taal last December, more promise than actual. Quebec City and Old Montreal are more appealing by a considerable margin. Still we made the most of the evening: Carmen negotiated deals at the tourist vendors, we had a decent dinner al fresco in a courtyard (but yet again no wine list!), and headed back to our room.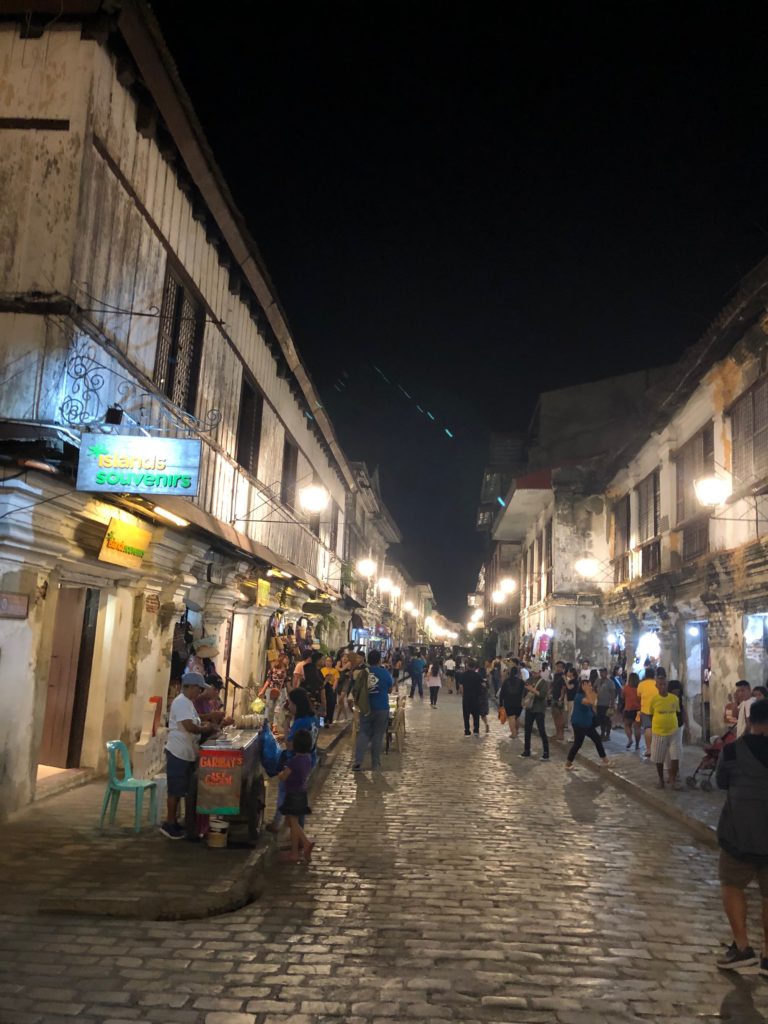 Romel was able to get lodgings in the hotel, as he had the previous night in Baguio: Another cultural learning experience for Doug – drivers' quarters are common at most hotels in the Philippines because many tourists rely on private cars and drivers to get around.
Next morning we contracted a Calesa and took the tour of old Vigan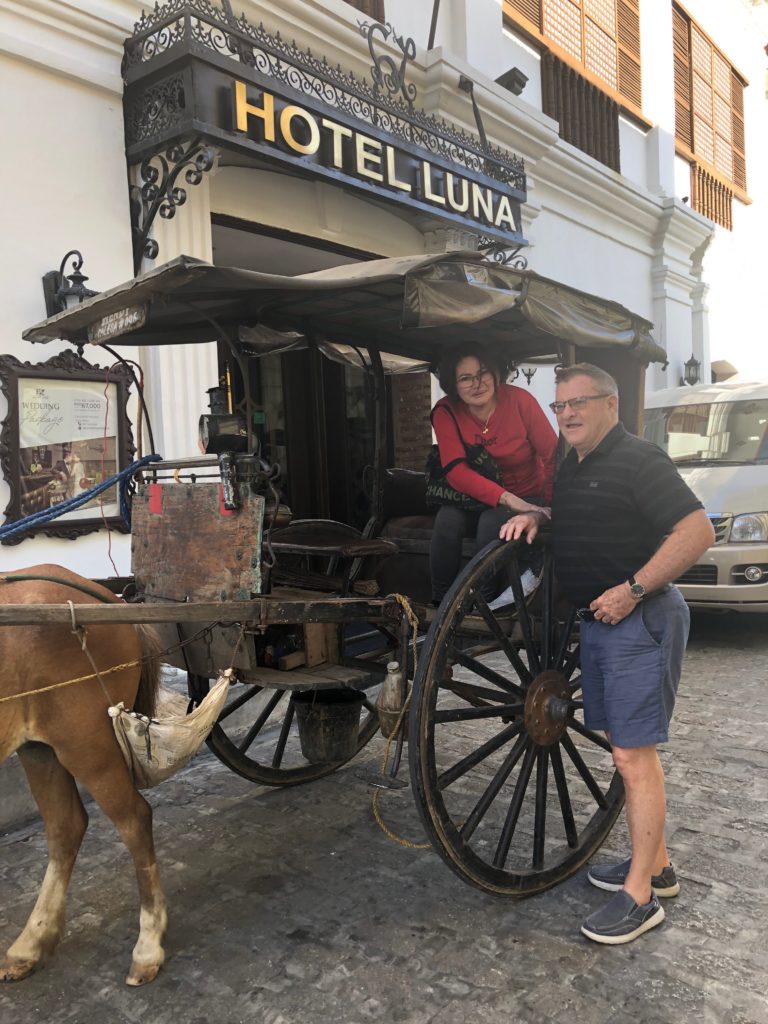 then ventured across the bridge to Bantay. Who knew? Vigan was an island when it was formed in 1572, which offered its own defence, but the sea separation has silted in over the years. Our destination, San Augustin Church and Bell Tower, completed in 1591 and 1593. The Bell Tower served both as the church call to worship and also the town lookout, mostly for Chinese pirate ships (one if by land, two if by sea? – no there are five bells of different frequency: 1 announcing a birth, 2 for baptism, 3 for marriage, 4 for death, 5 for calamity!)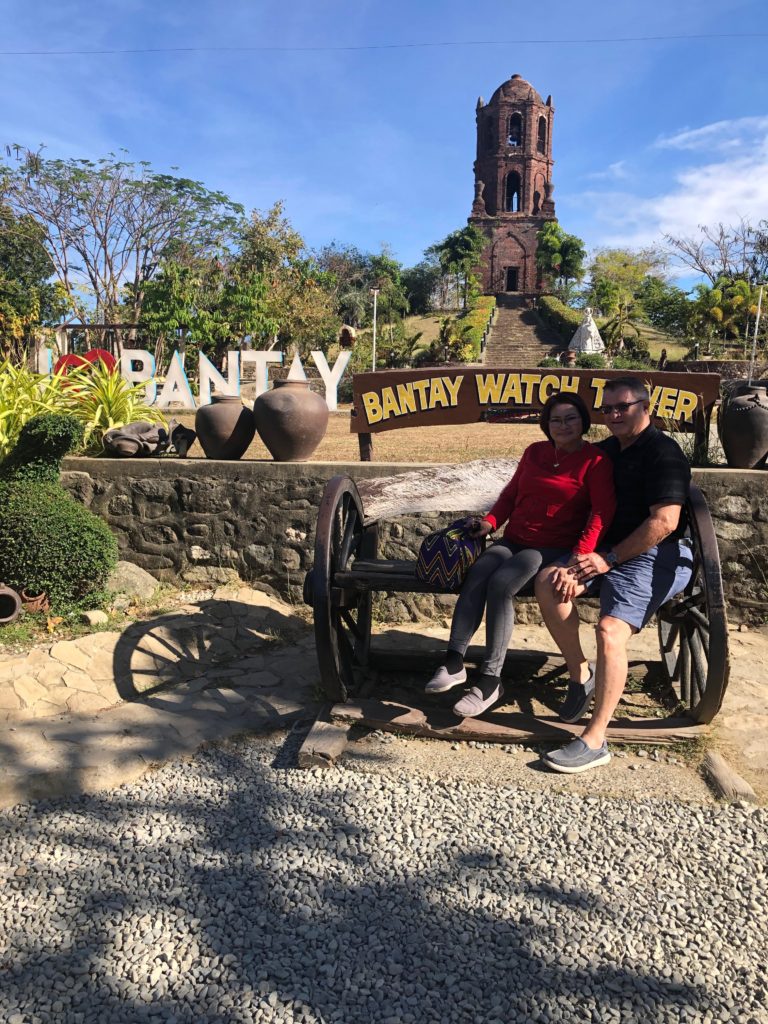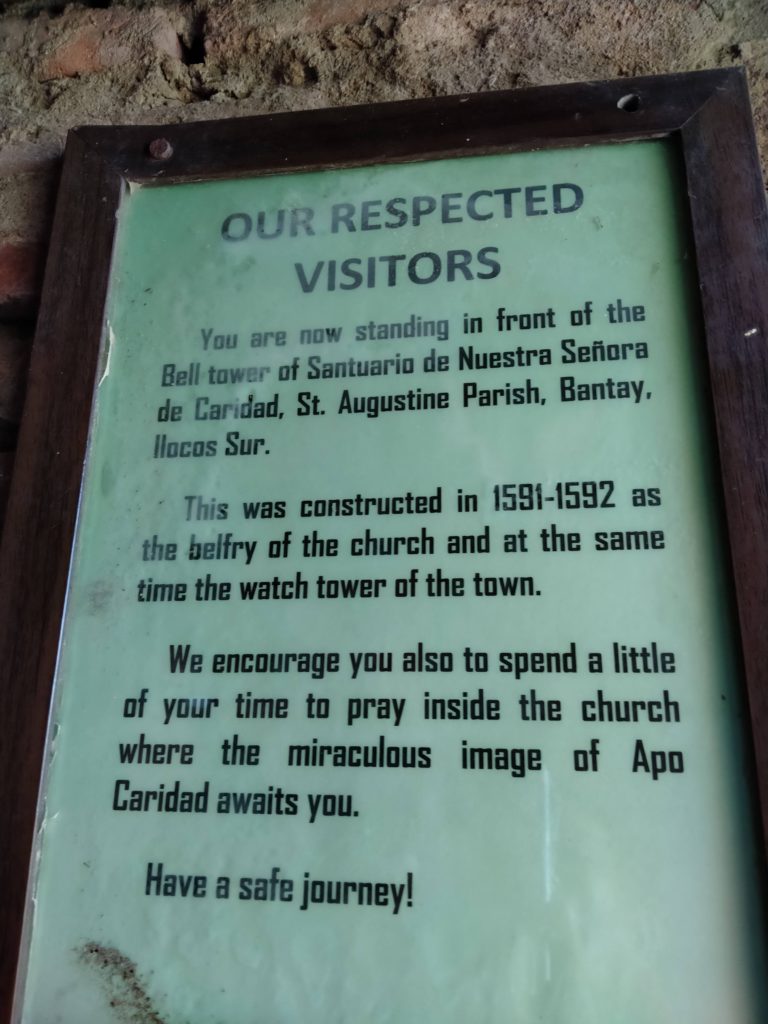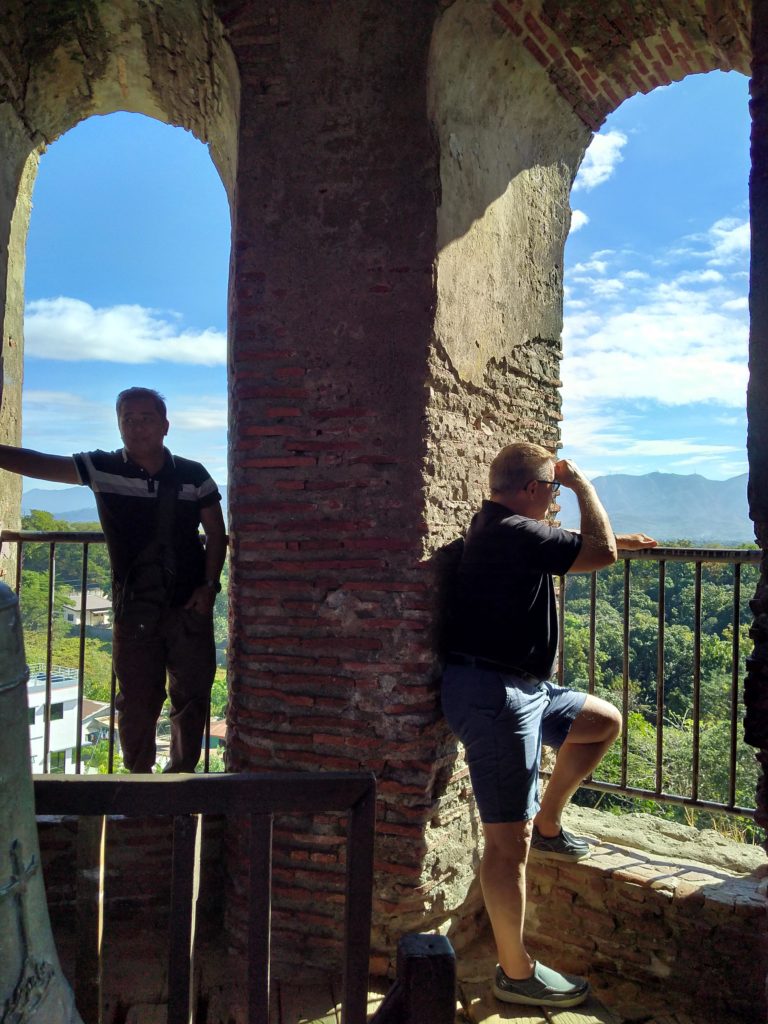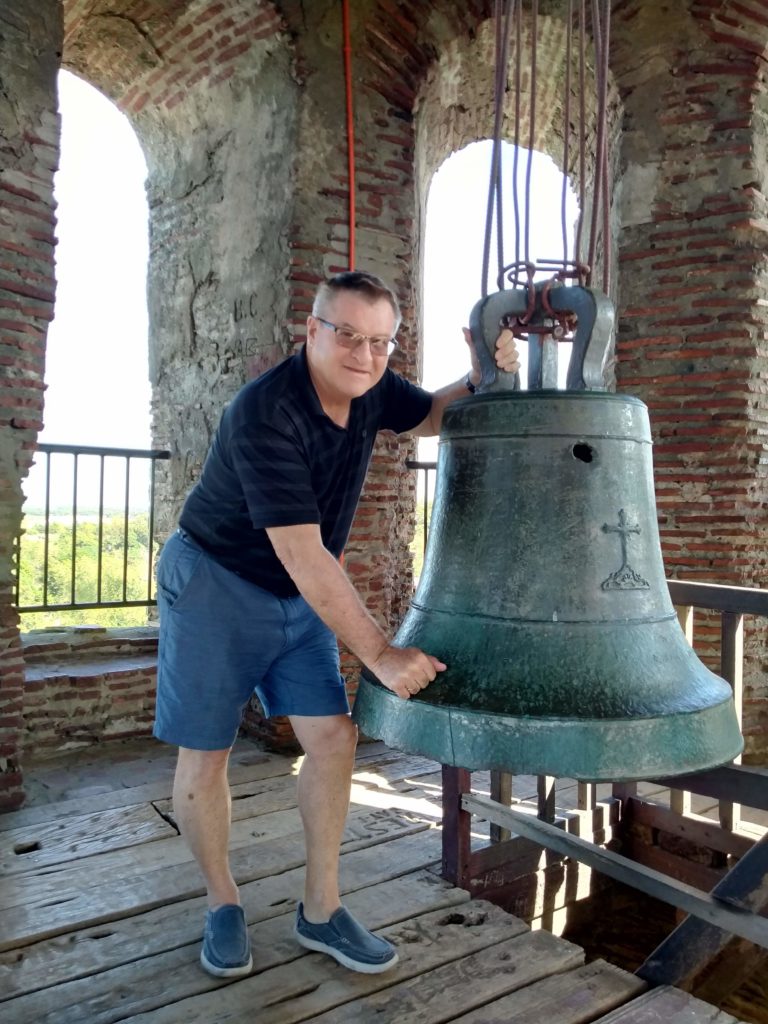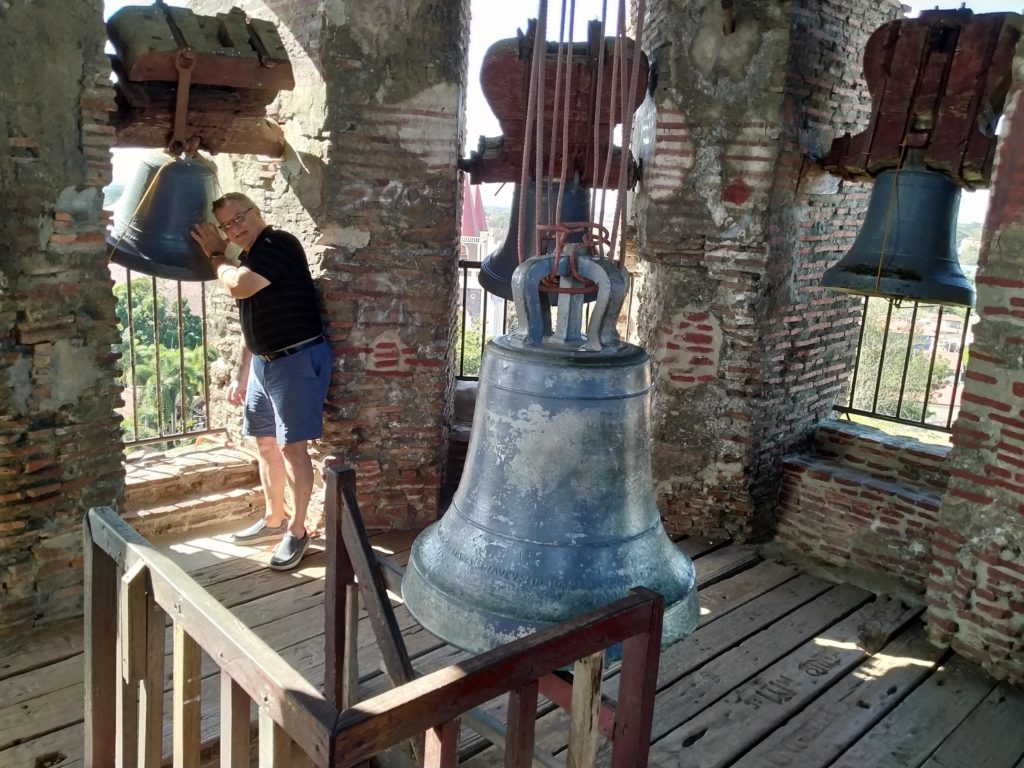 Our Calesa driver took us back into Vigan and we visited a pottery making shop where Doug got a lesson in turning clay.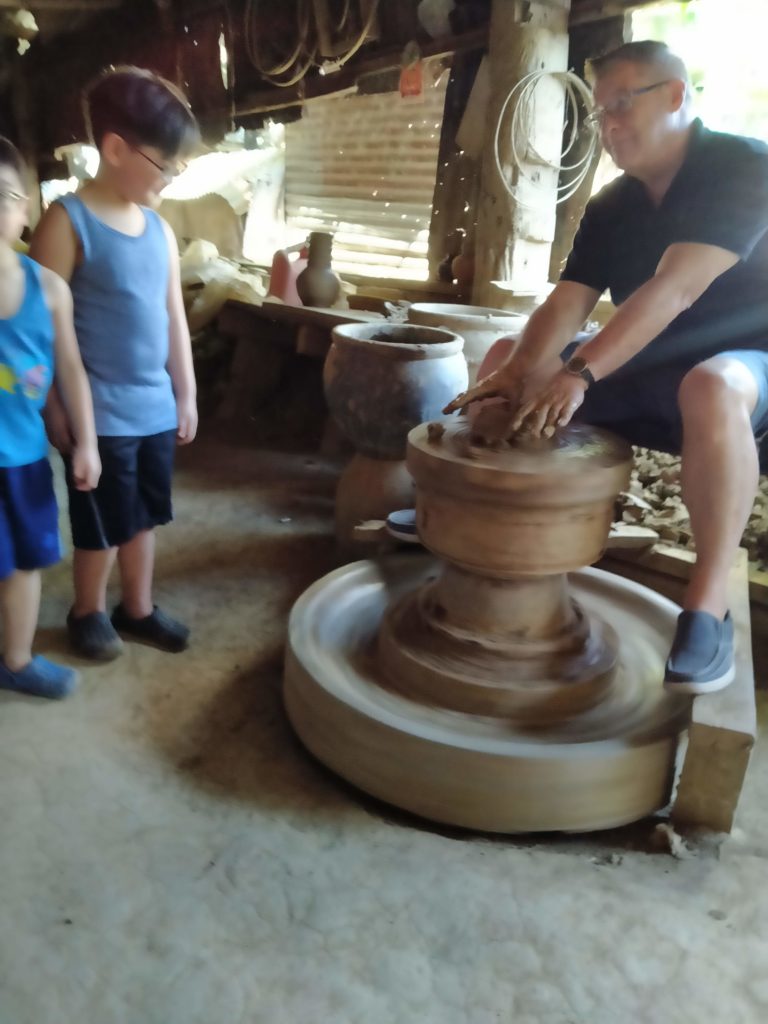 I was advised by a Filipina Lola to use my fingers gently yet firmly, just as if I was pleasing a woman. The woman's daughter, from Winnipeg, made no excuse for her mother.
After negotiating more cash from a BDO ATM we headed deeper into Ilocas territory, Ilocas Norte, the land of Ferdinand Marcos.