Week 18, February 25, Pagudpud
The tour continued to Pagudpud, our ultimate destination, to see the comparatively remote beaches there.
But the journey took us through the three Ilocas Provinces: Sur, Central, and Norte, home to Ferdinand Marcos. (Marcos was actually born in the even more remote town of Sarrat; he spent $13M (USD) to clean up the church and many buildings in order to hold daughter Irene's wedding in style. I wanted to make a side trip there but other priorities prevailed.)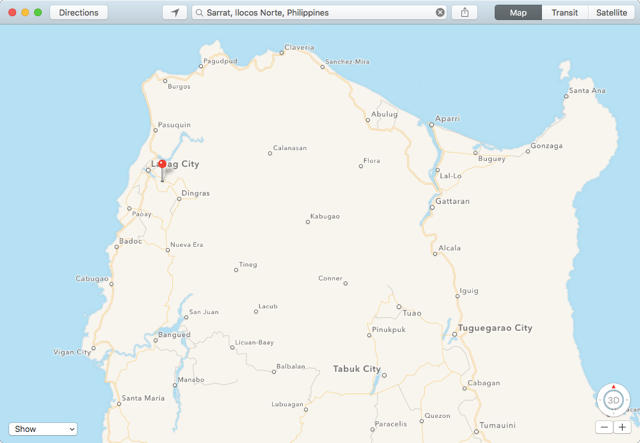 Signs of Marcos' contributions to this comparatively remote area are everywhere. It is no wonder that Ilocanos still revere his memory; some even believe he is not dead despite the fact his body lay in state for 33 years in a glass mausoleum in Malacañang North (the former second Presidential Palace now The Government Conference Centre) in Laoag. Imelda is still causing trouble but she isn't from Ilocas (she's from Leyte) and her attention is on preserving the ill-gotten gains from the Marcos regime (there are hundreds of lawsuits and prosecutions against her still) and on advancing the political futures of her sons Bongbong and Imee.
Here is the Malacañang of the North.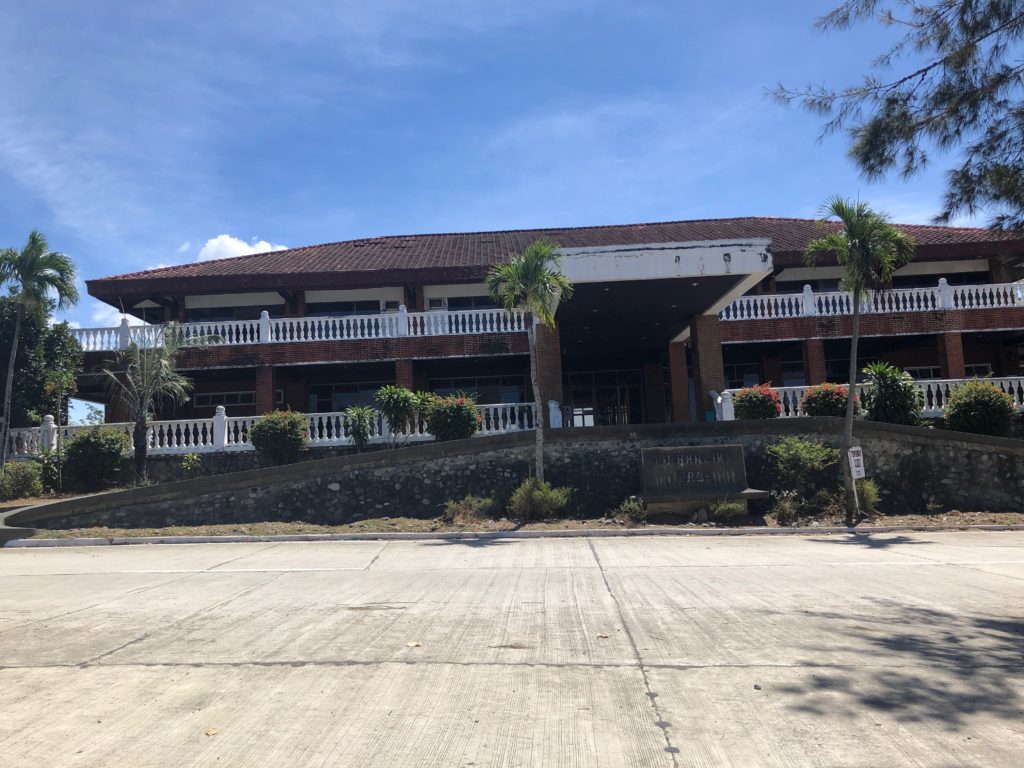 And here is the Fort Ilocandia Resort Hotel, still owned by the Marcos family, where we enjoyed an excellent lunch.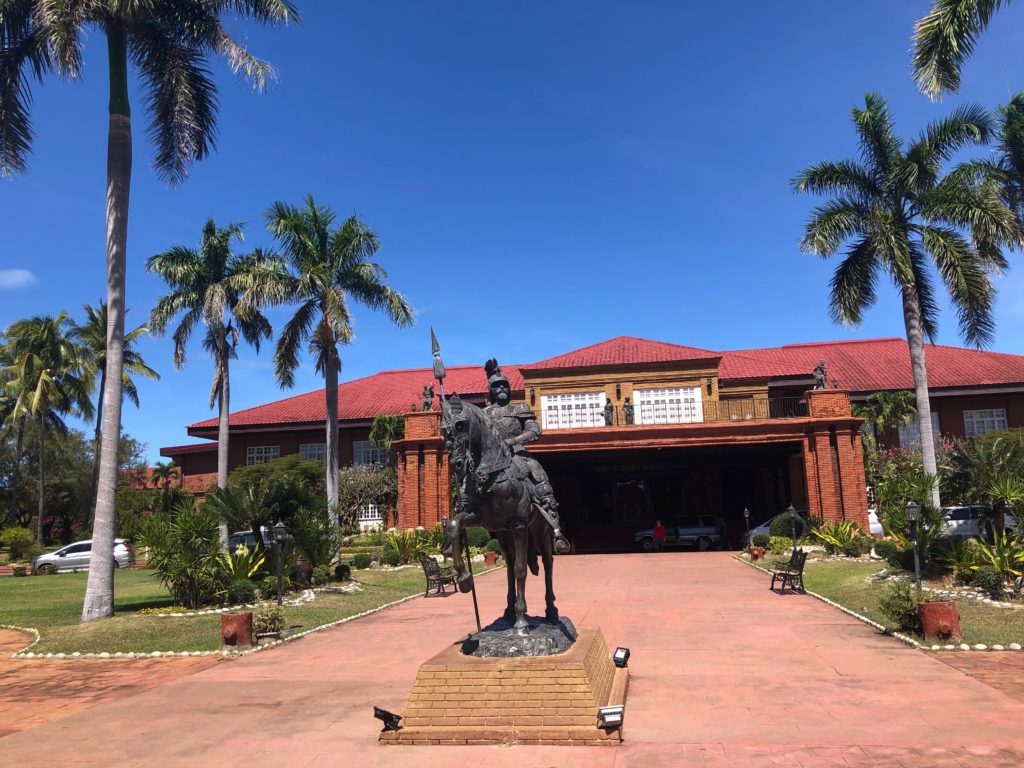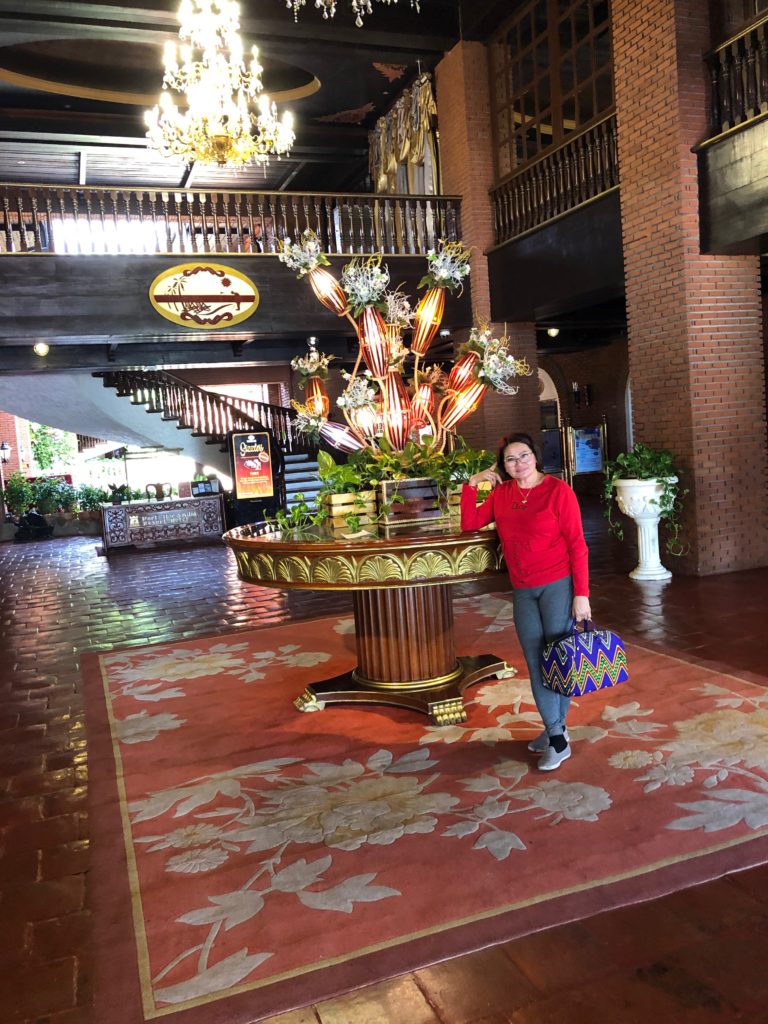 Next stop on our way to Pagudpud, a double treat: the coastal wind turbine farm first constructed by the visionary President for Life, Ferdinand Marcos in the early '80s, and an unusual sandstone natural wonder, first constructed perhaps 80,000 earlier. A few more pictures to save you and me thousands of words: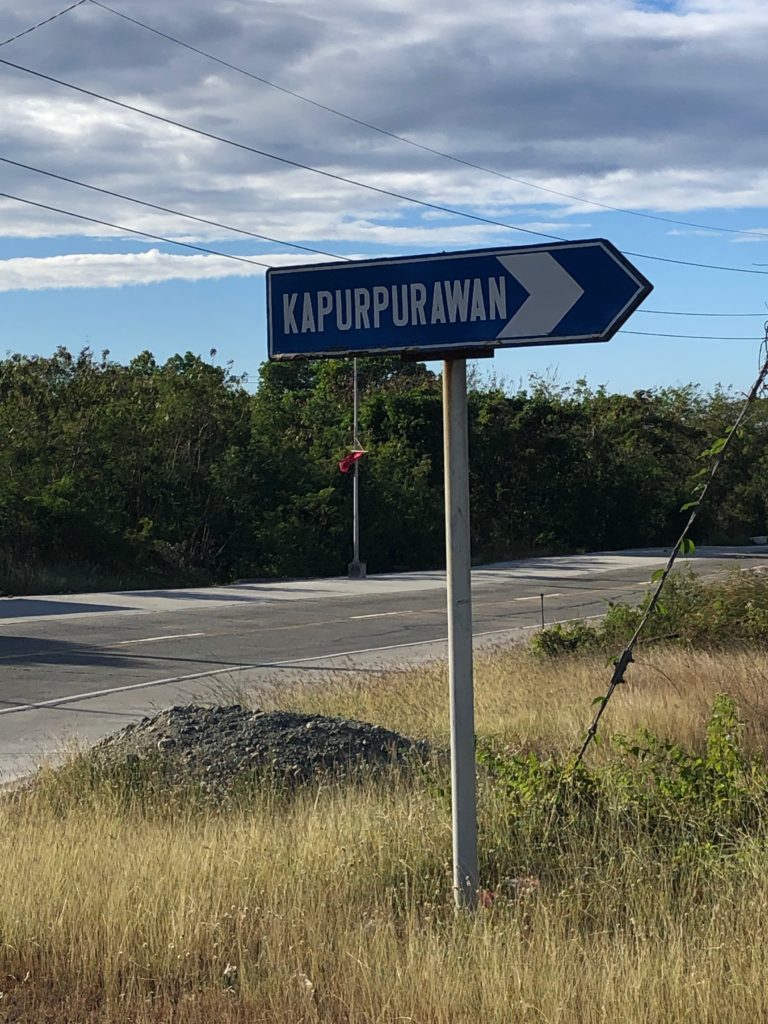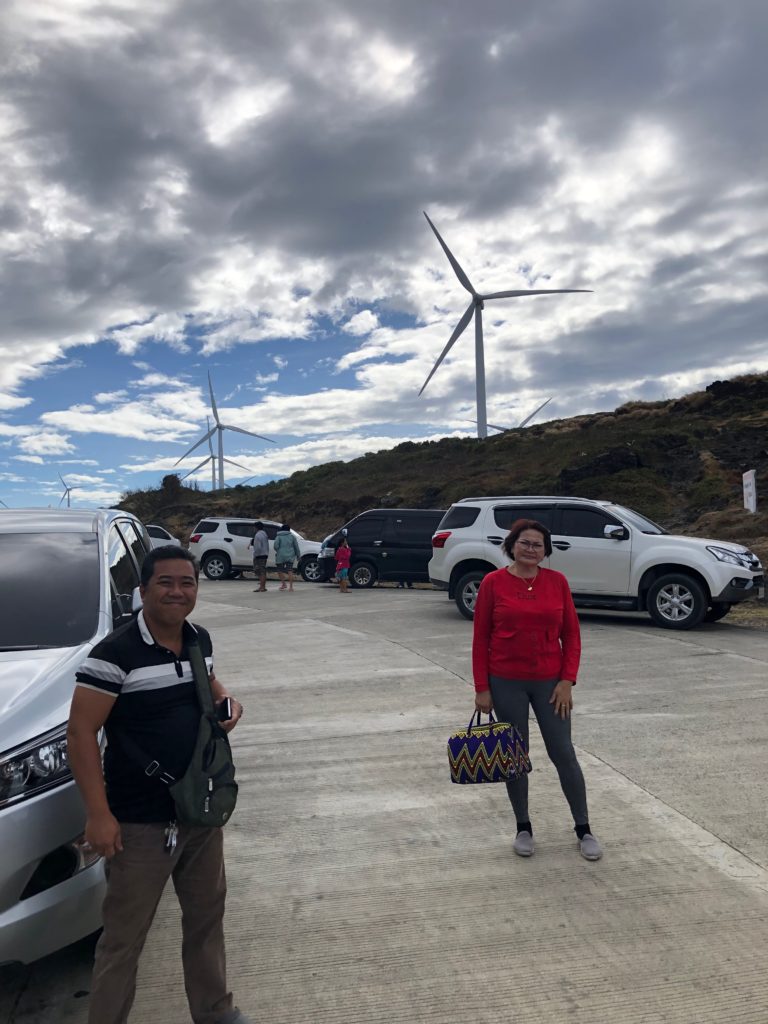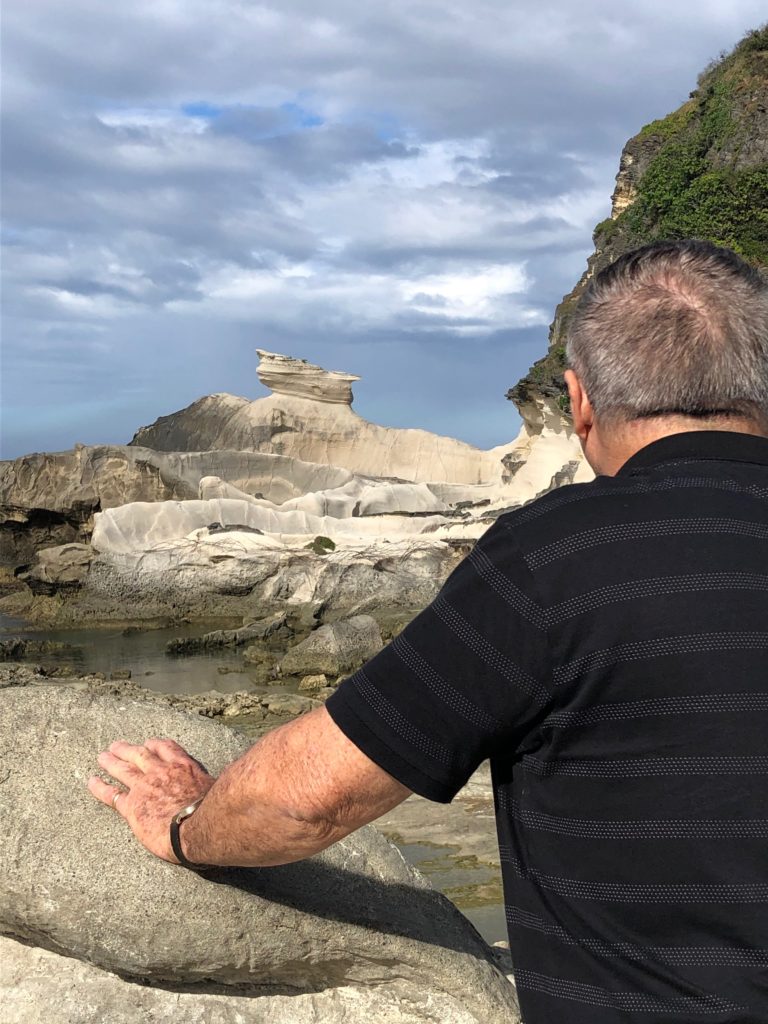 I'm personally not in favour of wind turbines as a power source for a variety of environmental and economic reasons (and if you want the long list of my reasons, drop me a line) but Marcos had his reasons and they were not for GHG. He wanted local sourced power generation – and there is plenty of wind blowing in Ilocas – and the symbols of progress that modern wind mills represent.
Leaving the controversy behind we soon arrived at Pagudpud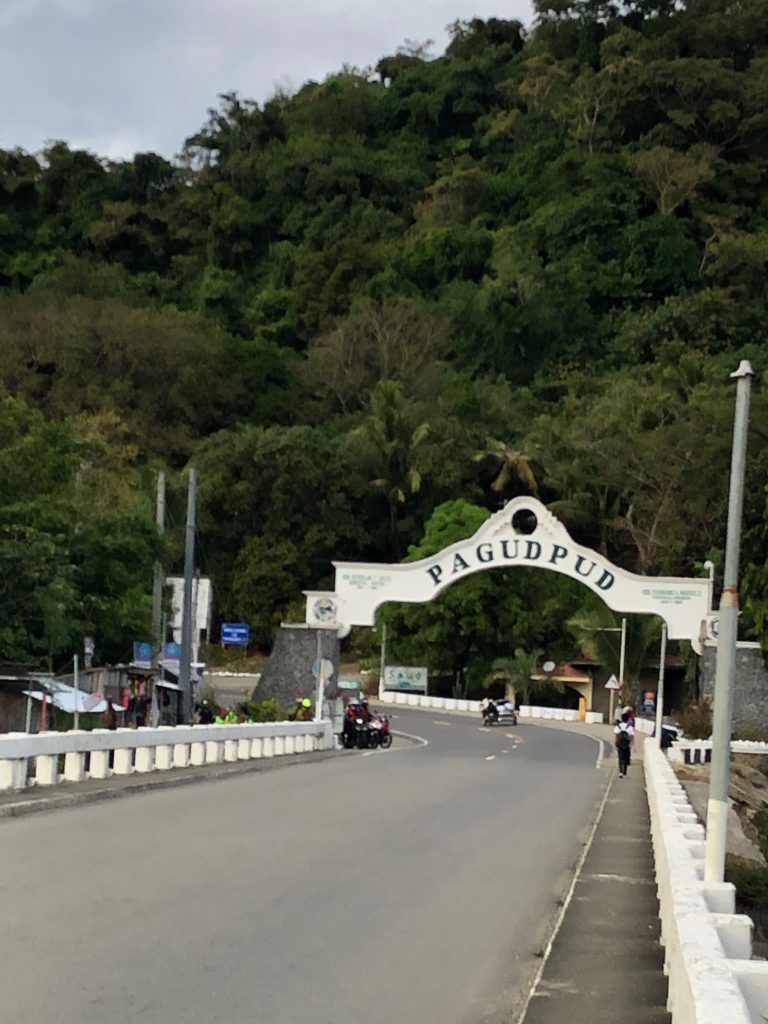 and soon after that the obscure little collection of inns and resorts around Saud Bay and Beach.
Our own hotel was squeezed into a fifty meter wide lot between a neighbouring hotel on one side and a cabana bunch on the other. But what a delight this hotel was, and our very spacious suite overlooking Saud Bay.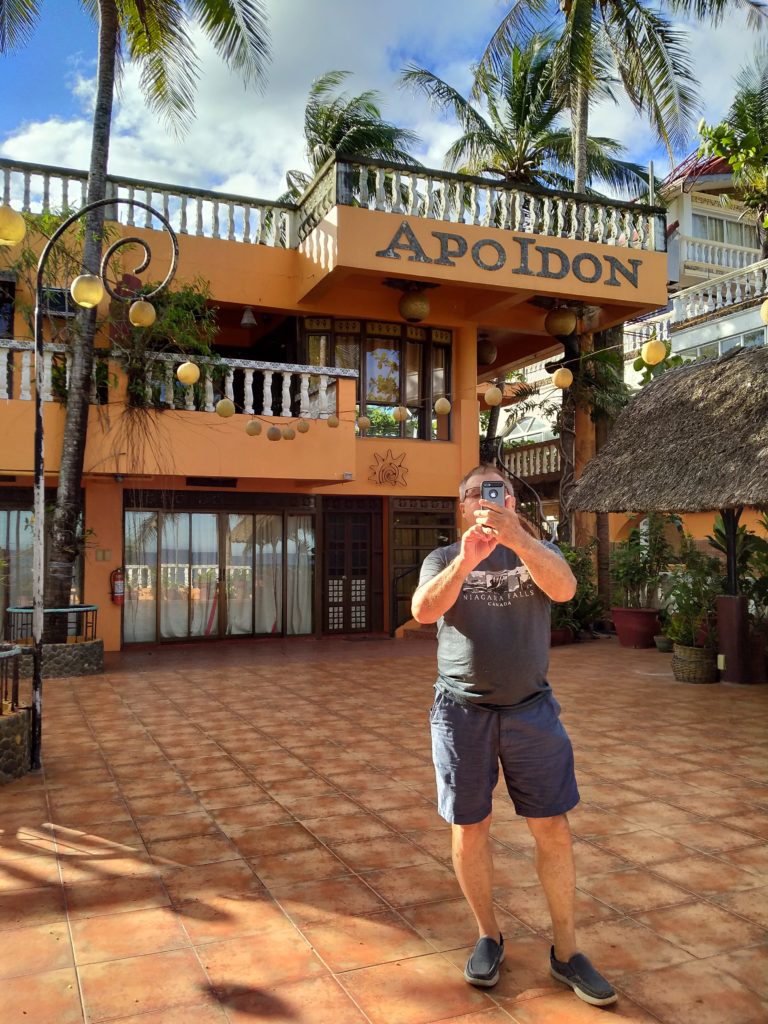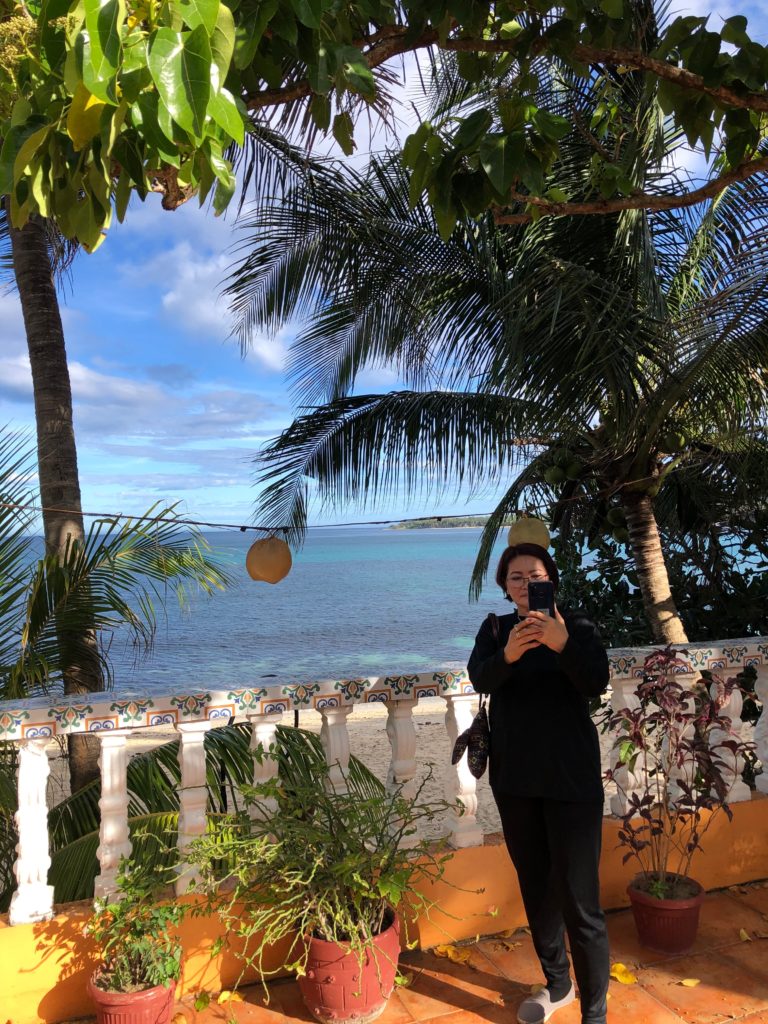 I was relieved to find it so welcoming and luxurious after the two previous nights of rather ordinary accommodation. And doubly so since we planned to stay here for two nights. It had its faults for the distance from a major centre (the hotel had good wifi but the internet is weak, and, no daily diario!), but that distance also gave some peace and tranquility.
It also felt quite safe as it was swarming with a platoon of Highway Patrol Officers. Evidently a senior official was occupying the hotel next door and this was his security detail. I'd show you a picture but they waved my iPhone away, even though smiling warmly in the best Filipino manner.
The next day was intended to be a down day – no traveling, just time to lounge on the beach with a couple of books, soak up the atmosphere and sand in my shorts. The beach experience lasted all of twenty minutes for lack of a nice beach chair and no desire to actually swim in The Philippines Sea. Even though the water was warm the current was strong making even wading slightly treacherous; the sand ridge dropped off precipitously and Carmen had yet another fright for my demise: she is determined that I not kill myself on her watch, she wouldn't be able to face my daughter Shannon and granddaughter Erin.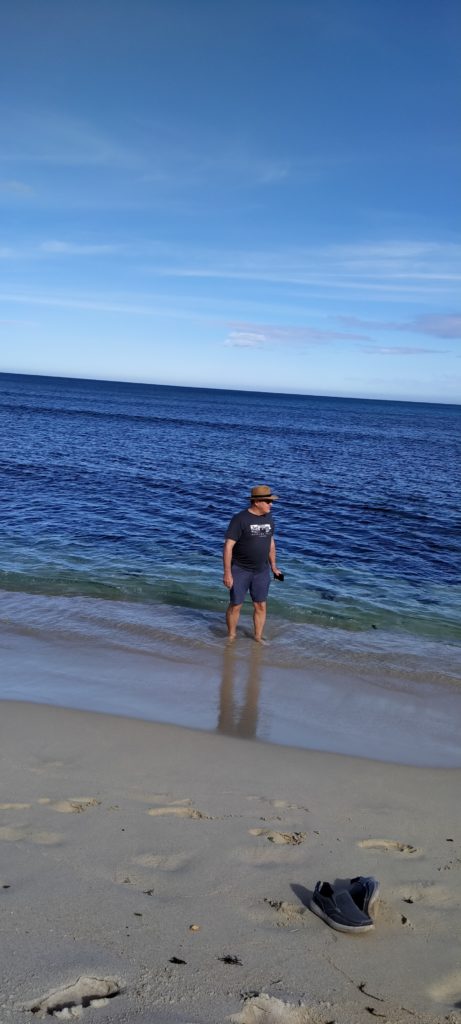 Besides, we had this lovely large balcony overlooking the beach so I was able to fire up my iPad and fire off my first instalment Volume 18 of the Dasma Diary, reporting on these travels to Ilocas Norte.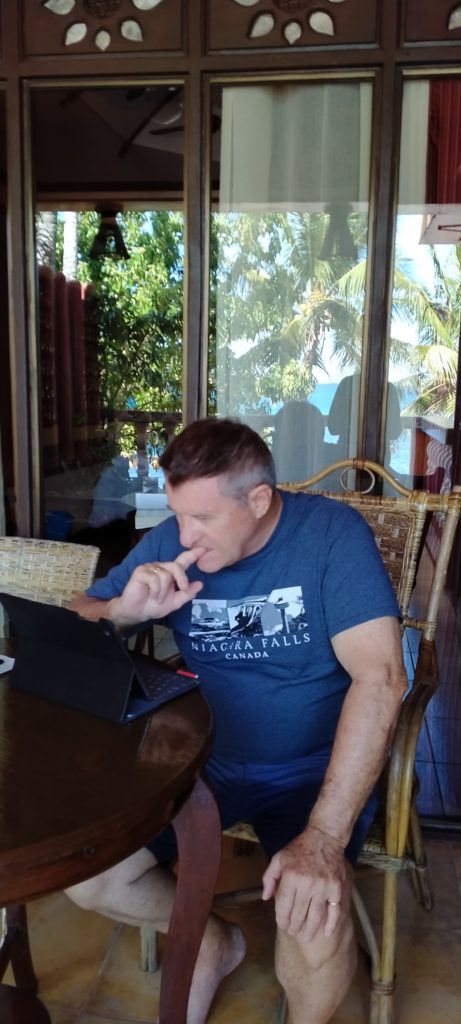 And besides that, I can't really sit still all day with my fomo meter on high, all these other places to see, many of which I had already missed. So at 1:00 or so we fired up the chariot and ventured even further up the coast to find The Blue Lagoon, Hannah Beach and observe yet another Marcos Marvel, the Ilocas Norte Viaduct.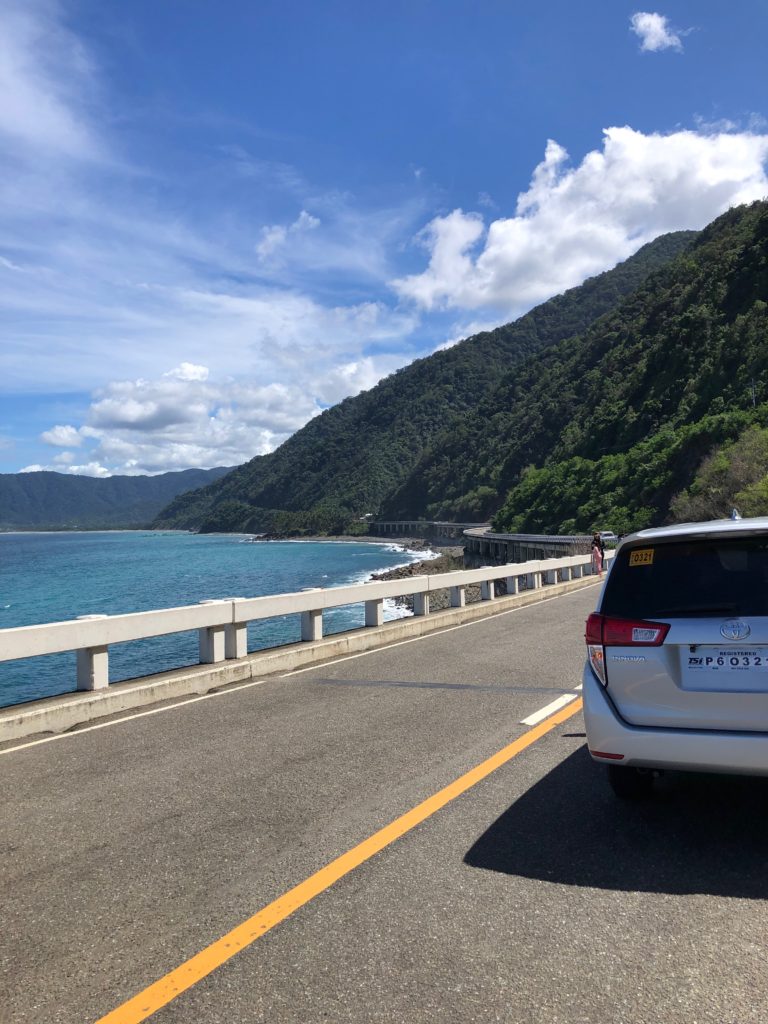 And not content with that I asked Rommel to take us to Fabigan Falls which I had read about in my trusty Rough Guide to The Philippines. Rommel was not familiar with this place and had his doubts but as it was in close proximity to The Blue Lagoon, he allowed as it might be all right. Yet he called ahead to satisfy himself there were no security issues for me (the NPA [New Peoples' Army] is quite active in the nearby Cordillera Mountains of Luzon). My security was never in doubt but safety was a question mark as the caribao cart lurched along the rutted path to the falls. And that proved to be a most worthwhile experience as these pictures will attest (and which travel guide Rommell added to his list of recommendations for future clients):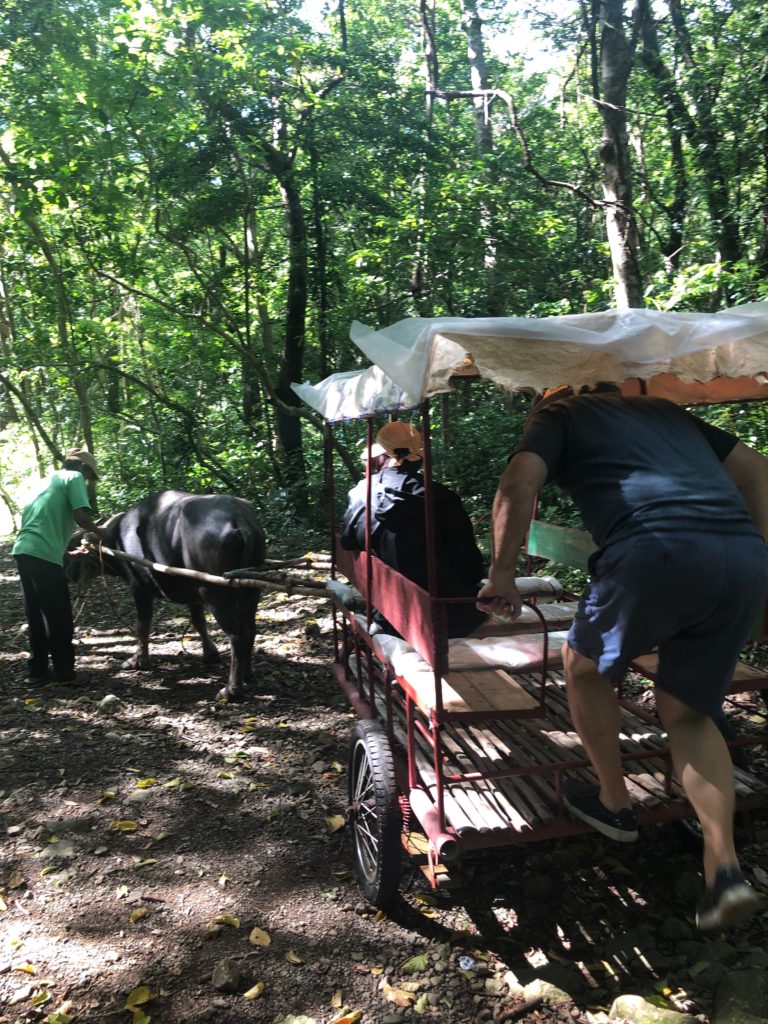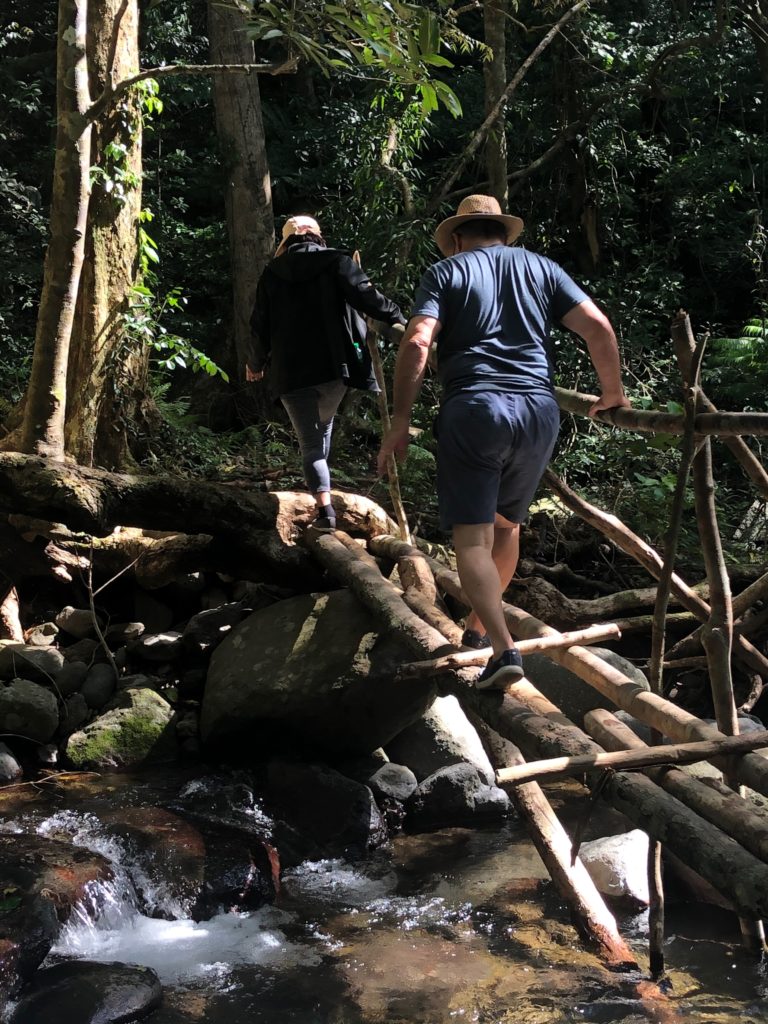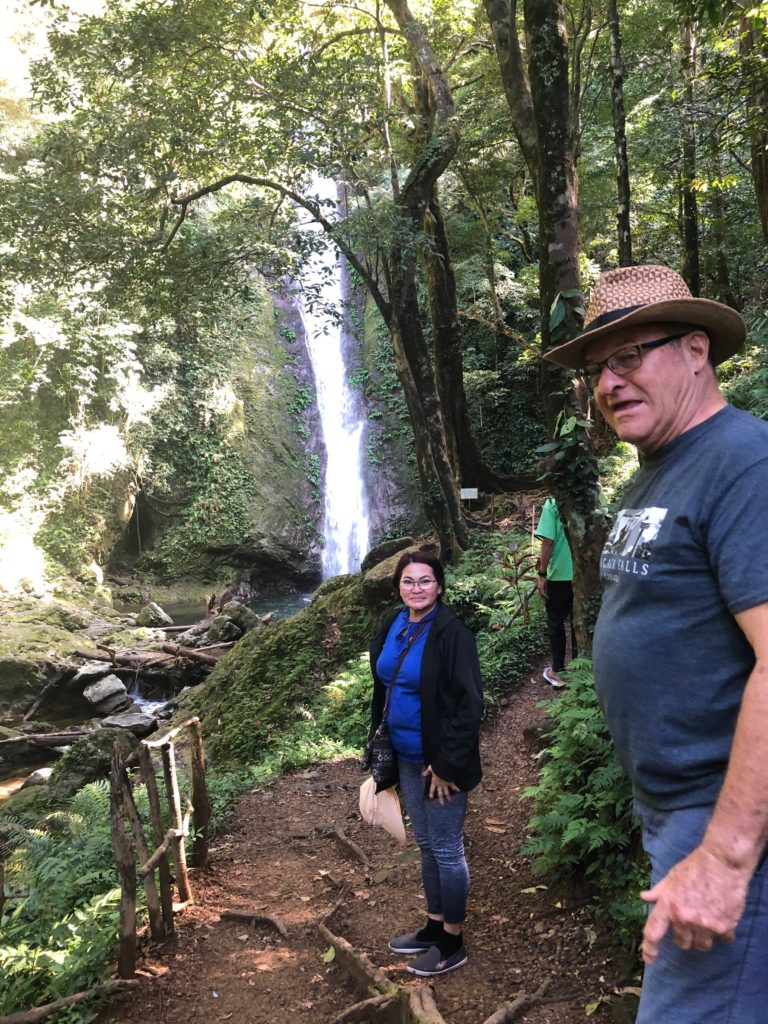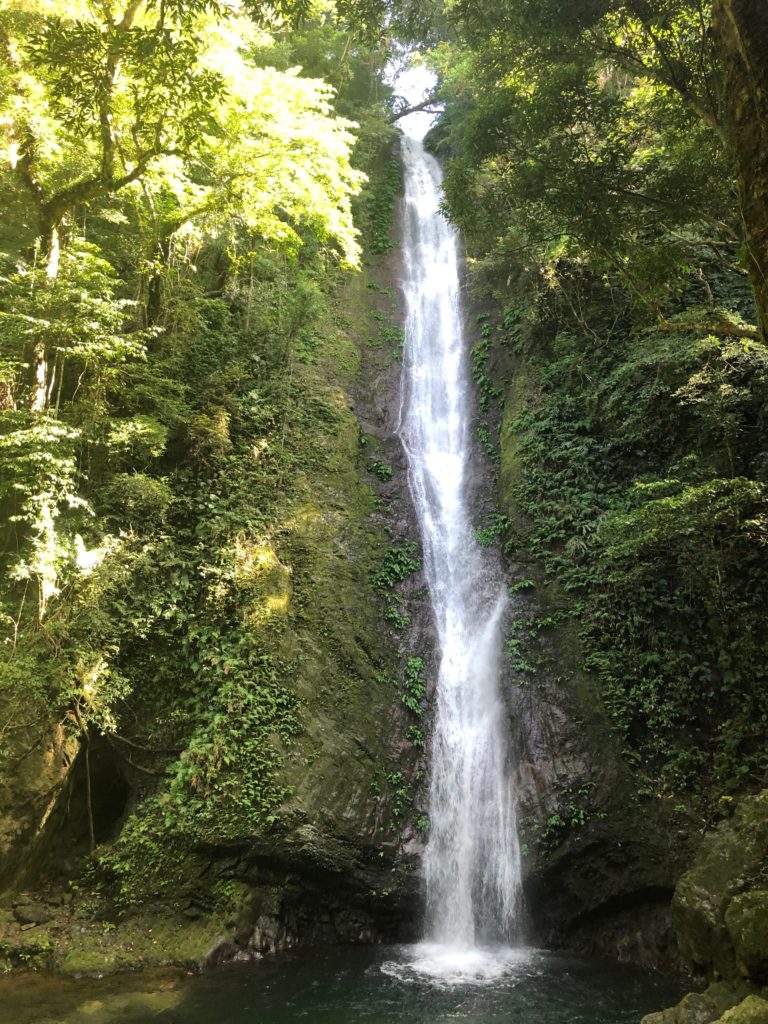 Finally we finished off our day at an obscure little restaurant of German heritage and definite cut above the local fare: BergBlick, another find from my Rough Guide tour book. Rommel took note of this find too.