Week 18, February 22 – 27, Baguio, Vigan, Pagudpud, and San Fernando
It was a very busy week in Ilocos, the land of Ferdinand Marcos.
Our five day tour began on February 22 in Dasmariñas, to Pagudpud and back. It was an ambitious agenda, and as it transpired, packed with both interest and boredom; consequently this volume may need multiple editions as there is much to report from five short/long days. But since this is a journal of my impressions of The Philippines, adjunct to my other journey, Travels with Myself, I need to make sure my stories are reasonably consistent with my intended theme of discovered insights. It is not, 'What I Did On My Summer Vacation'!
Why short/long? Interesting/boring? Because life is not one dimensional and neither should be this journal. Read on to see what I mean.
As I have related in earlier Volumes, The Philippines is a big country, bigger than you expect, though not as big as Canada of course. It is about 2100 kms from the southern end of Mindinao to the northern tip of Luzon. (There are a bunch of tiny islands north of that reaching almost to Taiwan but we won't consider that for our purposes here.) But it's extent is much greater even than that if you measure it in hours rather than in kilometres. I've mentioned before that a trip by bus (or car too, likely) from Manila (in central Luzon) to Tacloban in Leyte (about 860 kms) would take about 24 hours; to carry on to Davao and General Santos City in southern Mindinao would be at least another 10 hours; the trip from Manila to north to Pagudpud, would take about 12 total driving hours driving straight through with no tourist stops. It's a lot of hours in a car, even if the company of driver Romel is pleasant and his many monologues about the Philippines are largely educational, even entertaining. My original goal was Vigan, an old, old, Spanish colonial town, now a Unesco Word Heritage Site. But Romel convinced me, as we were going to be in the heart of Ilocos, we may as well travel even further north and see the wonderful beaches of Pagudpud; less famous than San Juan but that made them more appealing because of their relative remoteness. He was willing to drive straight through to Vigan in one day, but I wasn't. I thought we should break up the trip into more reasonable chunks. So I proposed Baguio for the first leg. Romel was puzzled but did not object; this is typical of most polite Filipinos – they don't say clearly why they think your idea may not be practical.
Baguio
I knew the trip through Manila would be tedious which is one of the reasons we chose to leave Dasma at 8:00 on a Saturday, to get through it in relatively low density traffic. Romel arrived at Qubo Qabana at about 9:15. Construction delays on the expressway from Manila, he said. It always troubled me that Romel lived in Malagayon in central Manila and had to drive to Dasmariñas (and previously, Tagaytay) to guide us on our tours, especially if it was back to Manila we were going. I often wondered if there was a local Cavite driver who could have provided this service just as well. But Romel always insisted this was no problem, this was his career.
I also came to realize that Filipino time was not the same as North American time. Filipinos are very used to unplanned delays and while they are not lying when they tell you a time for arrival or departure, they don't get upset when that time turns out otherwise. 'How long will it take to get to X?' I'd ask Romel. 'About an hour and a half, sir,' he would reply. 'Is that Canadian time of Filipino time?' 'Don't know sir.'
Despite the late start we got through Manila in record time, reaching The SM North Manila Mall by 11:30, only two hours from leaving Dasma. And by 11:30 Carmen is hungry for lunch so we stopped at this mega mall, itself a tourist attraction, the second largest mall in Asia. SMDC is a mega-corp owned by a Chinese-Filipino family. The founder, Henry Sy, died in January (2020) at age 94. He started SM Corp in 1958 as ShoeMart Company, and became one of the richest property developers in the Philippines by the time he died. SMDC was the developer of the Wind Residences in Tagaytay; when I first visited Carmen in Manila (Pasig, Ortigas) in 2018 December we visited the Mega Mall, a three story mall that covered an entire city block, also built by SM Corp. Mega Mall was once the largest Mall in Asia until it lost its title to SM North Manila, which has since lost its title to SM's ginormous Asia Mall on Manila Bay.
Since we were on Filipino time, no problem to visit the mall and have lunch; 'it's only about two hours to Baguio from here sir'. So we stopped for lunch and a little sight seeing; I must confess I was delighted to find an actual book store and added two more books about The Philippines to my collection: Jose Rizal's sequel to Noli Me Tangera, Il Fllibustros, and a book about the WWII Battle of Manila, Rampage, by James Scott. By 1:30 we were on the road again. Three hours later we began our assent into the mountains and that's when I realized my mistake. By 5:30 we were finally wending our way through the ravine passages rising zig-zag to Baguio. It was distressing to me that the daylight was failing as we arrived in the city and I had difficulty making sense of this city in the mountains. 'Never mind sir, you can see it tomorrow,' said the ever nonplussed Romel.
So why did my proposal to see Baguio on the way to Vigan draw a puzzled look from Romel? 'I don't want you to be disappointed sir. There's not much to see in Baguio really sir.' I said I kept reading about Baguio as the Philippines Camp David, and its history as the US Administration's retreat, and it seemed a good half way point to Vigan. It may have been half way to Vigan but it was also two hours out of our way. What also I didn't fully realize is that Baguio's cool climate results from being a mountainous region. Baguio City is a paradox, at least to my mind. The first problem is cognitive dissonance, trying to reconcile the actual city from the map of the city in my guide book. The town center, designed and constructed by Daniel Burnham, an American architect, in 1904 to pattern after Central Park and Washington, is located on a flat plain, a lovely tree-lined plaza with a small man-made lake in the middle of it. But the rest of the town is one maze of twisting roads and houses clinging to cliffs.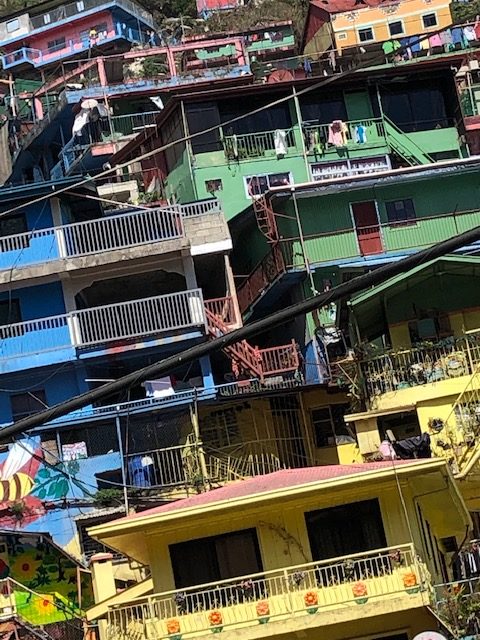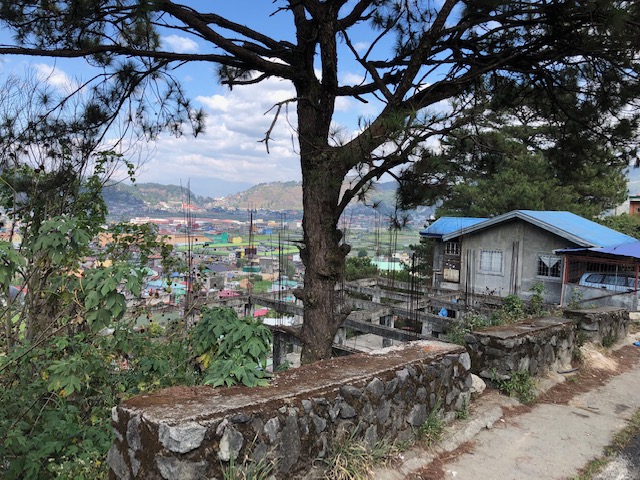 Another feature of Baguio, Summer Capital of the Philippines, is that it was developed by the Americans (especially the Governor-General and the Military) in the first decade of the 20th century as a summer retreat from the Manila heat. Like Tagaytay the ambient temperature is about 5+ degrees lower than Manila because of the elevation. The palm trees have given way to tall pines, reminded me of California, but reminded William Taft of The Adirondacks. Baguio had been a town long before the Americans usurped the land from the Spanish. The ubiquitous Spanish friars established a mission here in 1755. But why a mission in this remote mountainous region? Gold my son, gold. The Spanish Conquistadors plundered the world for gold, and there's gold in them there hills; and silver, and copper and manganese. The Conquistadors mined for gold and then the friars mined souls.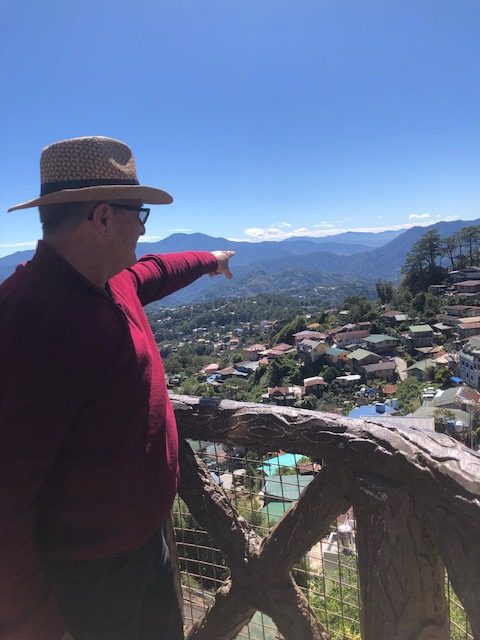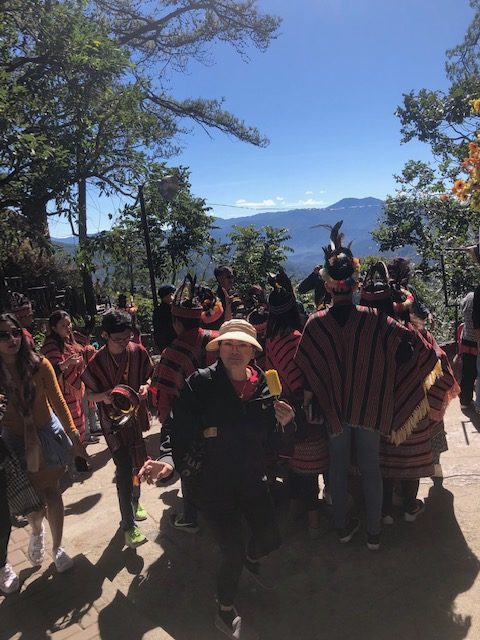 I didn't see a mine in Baguio but I did see a number of churches, though not the Basilica with its 235 steps to redemption. We toured around Camp John Hay, the military retreat established around 1903, and saw the remnants of its hay-day in the 20's and 30's; I wanted to see The Mansion (originally the Governor-General's Summer House) where General Yamashito signed the articles of surrender to the Americans, but it was closed to visitors. It's still the US Ambassador's summer house in the Philippines. 
We stopped for lunch at a 1950s throwback restaurant, Mario's, and I easily imagined myself anywhere in America in a different time.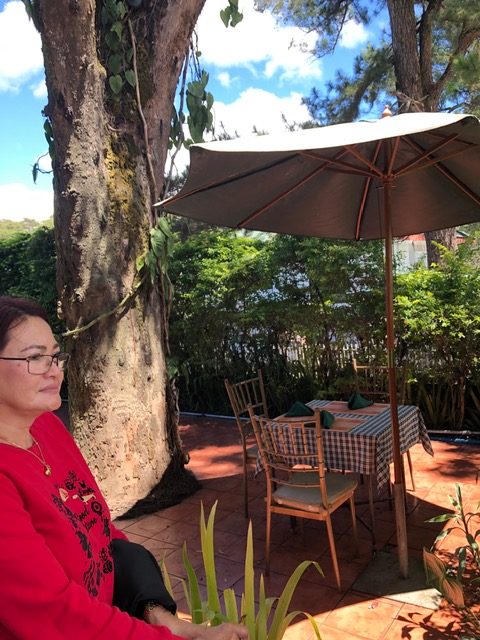 By 1:30 we were on the road again for our two-hour leg to Vigan. You can guess what time we arrived.