Week 17 – Dasmariñas
It was a quiet week in Dasmariñas. But really, despite John Lennon, planning is part of life and not without its thrills too…
One of my readers, confessing that he was not raised in North America and may miss some of my cultural references, asked about Lake Wobegon, alluded to in my weekly byline. I did make mention of it in an early Volume, with a nod to its creator Garrison Keillor, but my reader might have missed that, or forgotten. And it occurs to me that where one person mentions it, at least ten others are thinking it. What the devil is Lake Wobegon, and why is Doug always starting his journal with that line, 'It was a quiet week in Tagaytay/Dasmariñas'?
I've always been influenced by quirky humorists; my idols are Mark Twain, Stephen Leacock, Red Green, and, Garrison Keillor.
Garrison Keillor is the author of Lake Wobegon Days and begins each chapter with the line, 'It was a quiet week in Lake Wobegon'. A more insightful American commentator/ironist of middle American culture in the 60s we're not likely to see again. Still, it may be worth watching a few reruns of his radio show and reading his books. There was a movie made of his radio show. A Prairie Home Companionhttps://m.imdb.com/title/tt0420087/ Very droll.
PhilHealth & Dentistry
Last week I spoke of cosmetics and that bears repeat mention, though dental surgery is a little more drastic, and necessary, than a mere facial mask.
Carmen is missing her upper bicuspids, lost many years ago, and recently reported that one of the metal replacement crowns was giving her trouble and wanted the missing gaps corrected. She didn't discuss with me exactly what the procedure would be and I assumed she was going to be fitted with new crowns, or implants. And I wondered how much that would cost in the Philippines. A few weeks ago she and Arlyn went off to see Carmen's dentist of 19 years in Trece; she didn't want me to go with her as that might influence the dentist's estimate! Her dentist gave her a cleaning and x-rays and sent her away with an estimate – 23000 Pesos, very reasonable – and a demand Carmen get a release from her doctor concerning her bp meds before she would do the extraction. I wondered what the estimate would have been if I were present.
The following week I did accompany Carmen to Trece to the Medical Clinic The nurse took her BP – 110/65; she also took my BP – a respectable 130/85. We met her doctor who gave her a clearance note, and a bill for 200 Pesos, and told her to discontinue her daily dose of aspirin. The Philippines medical/health system continues to be a mystery to me despite my inquisition of Carmen's family. The Philippines is littered with medical clinics, every barangay has one or two. These are not hospitals but they are more than a doctor's office. You may have your own doctor at the clinic or you may just be walk-in. Regardless, they seem to provide great relief from Emergency Centres in hospitals. Canada has a system of walk-in clinics but they don't seem to be equipped for extended emergency as these in Philippines; Canada might be well advised to adopt such a system more widely. The clinics are not busy, and that's because the health system in Philippines appears to be more like the American system, there is universal coverage provided by PhilHealth, but it only covers basic things. People think twice, or more, before they go to see a doctor or go to the hospital. The system also appears to be two tier, like UK – public hospitals and private hospitals. The private hospitals are modern and well-equipped, and expensive. You only would go to one if you have full insurance coverage, or are wealthy. My young friend being treated for cancer goes to the Asian Hospital, a private hospital, but this would be completely untenable if she didn't have private coverage under her employer, the church, and being supplemented by private and family contributions. Public hospitals in Philippines are less modern and equipped, though the professional staff are apparently competent. But wait times are allegedly horrendous – and that sounds familiar. This chart depicts how health costs are covered by Filipinos, of which a large portion are prescription meds, and one of the consequences of this is that Filipinos often forego their meds, or self-meter them. (Pharmaceuticals are not less expensive in Philippines, and Carmen's hypertension prescriptions take a chunk out of her budget.) Any way you cut it >50% of costs are born directly by the patient: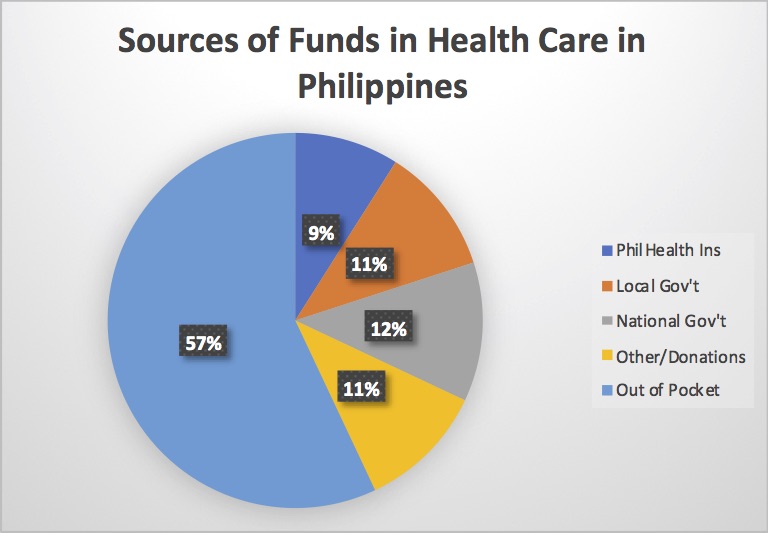 But to return to the dental saga, last week Carmen went with daughter Celca and had the offending crown and tooth extracted. She only cried with the anesthetic needle, though may have left finger nail impressions in the arm of the chair.
She gave the dentist 2000 PhP against the total cost of 23000 PhP. I thought this was a very reasonable price until I finally realized she was being fitted for a denture, not the implants I had thought. It immediately reminded me of my mother who wore an upper plate for her missing front teeth for most of her life. (Okay all you Freudians, settle down.)
Monday she went for her denture fitting and I had my first experience of this dental office, so different from what we might expect in Canada: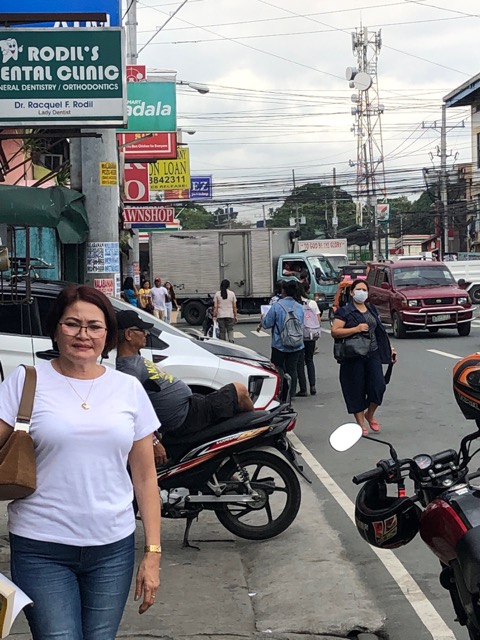 Busy San Augustin Street, Trece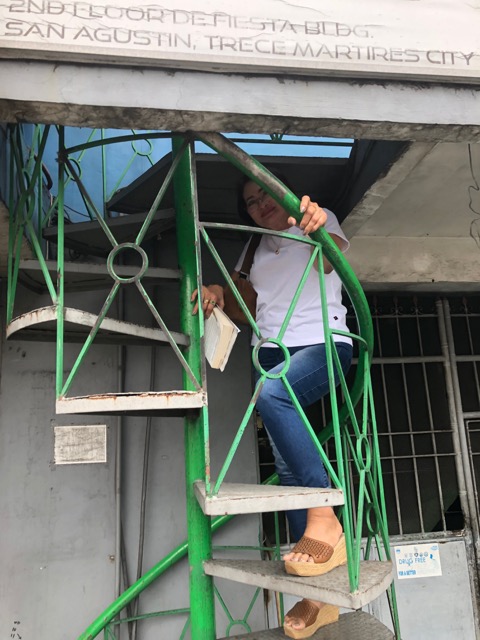 This way to the Dentist's office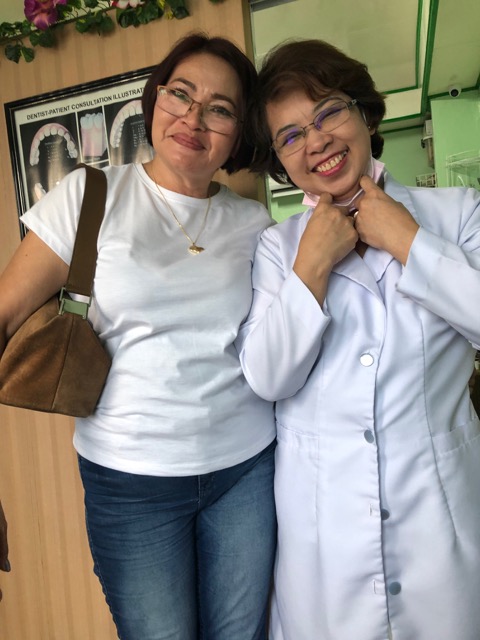 Carmen and Dr. Rodil
Carmen pleaded Senior Citizen and the good dentist knocked her fee down to 20000 PhP. Carmen gave her 10,000 Pesos and made an appointment for two weeks hence for installation and final fitting of her new denture. The balance due of 8000 Pesos will complete the transaction. I wonder how much this whole thing would have been in Canada. I hope she is satisfied with her new appliance once she has become used to them. The real test will be, is she happy with the look?
Planning an Excursion to Ilocas Norte
I then turned my attention to planning our excursion to Northern Luzon. I had booked driver Rommel for five days and negotiated his fees. Curiously, his fees and our airline costs to Singapore the month previous were about the same. Not so funny is that the 2391 kms to Singapore took about 4 hours and the trip to Vigan (404 kms) would take at least 10 hours if we drove straight through. And as I am unwilling to spend 12 hours in a car, we will break the trip up into more tolerable segments: Baguio (6 hours through Manila), Vigan (4 hours on from Baguio), Pagudpud (4 more hours north, staying two nights), San Juan (8 hours on the way back), home to Dasma, (7 hours through Manila).
I may have whined about on-line booking before so I won't repeat my rant here, save to say, this d-i-y business is a huge thief of time and not without risk. You never are completely sure the hotel will look as it appears on its photos pages, and whether they actually have your reservation on their system. Something I hadn't expected was to have my credit card compromised and suspended. And without a credit card things can get complicated when you are thousands of miles away from home and can only withdraw 10,000 PhP (~$225)/day from your bank account. I do not have cell service here in Philippines on my Telus Account; MasterCard allows collect calling to its 416 service number in Toronto, but that is impossible to access in the Philippines when nobody has a land line and there is no access to an International telephone operator on the cellular networks here. I emailed my personal banking angel at Scotiabank to intervene on my behalf, as she had once before, but this time she wasn't available and I had to take matters into my own hands. Carmen led me to the Globe Cellular office in SM Mall; a bored young man listened patiently to my dilemma and had no better idea how to call the 416 number collect. In the end he just let me use one of their own cell phones and I got hold of a MC agent directly. Turns out the MC Computer still thought I was in Canada, not Philippines (despite 3 months of transactions here, and when I tried to book two tickets to the Philippines Philharmonic Orchestra for March 13 on-line, it froze my account! But all is well now. The agent removed the freeze and made another note of my location. I still don't have my symphony tickets though – I'm going to go to the Box Office at the Cultural Center of the Philippines in Manila on Saturday on our way to Baguio and buy them in person.
The main object of our Luzon trip is the Spanish colonial town of Vigan, one of the few that have been largely untouched by calamity (war, volcanos and typhoons) in its 350 years of existence. It is a World Heritage Site and it seemed to me that not to take it in would be a fomo too great: who knows if I will ever be this way again. Another key Philippine attraction is beaches, of which there are countless. Many of my family and friends would think it odd that I would go to an exotic tropical place such as Pilipinas and not experience a beach. But I am not fond of beaches, except perhaps for the view: I am nervous about swimming in the ocean with its treacherous currents, and I do not enjoy sand in my shorts. Carmen too has no interest in beaches as she has a great apprehension of sun damage, as am I, increasingly. The beaches of Padugpud are world famous yet comparatively unfrequented by tourists because of their relative remoteness, unlike the surfing capital of the Philippines, San Juan/La Union, which is much closer to Manila, and which we will take in in passing on our way back to Manila and home. So I will take a good book, or two, find the shade of some leafy palms, and think of Marlene. Marlene loved beaches and we would certainly have gone to at least one if she were still with me.
I'll be giving a full report of our excursion in next week's edition of The Dasma Diary.