Of course it was surreal. I had never done anything like this in my life, quite, and it seems this was a completely new experience for Carmen too. But it struck me from the beginning, she may have been more certain of her goals than I was.
We spent the first day together in our suite. Breakfast was part of the Hotel package, and what a presentation it was: a dozen steam trays of traditional Filipino dishes, and another dozen stations of more familiar North American fair: cereals, bacon, sausage, scrambled eggs, and an omelet chef. Carmen moved immediately to the Filipino offerings and loaded her plate. I investigated those steam trays as well but the food was too foreign to me and looked too much like lunch, not breakfast.
We unpacked the necessities from our bags (my one, her three) but most of the things were extracted as needed. Over the ensuing seven days I was amazed at the quantity of outfits that kept emerging from her bags. She changed her clothes three times a day, sometimes three times before we finally emerged from our suite to encounter the outside world.
Right across the street from the Discovery Suites is a very new five story up-scale shopping mall: The Podium. We decided to check it out and see if there might be a restaurant there. It was the week before Christmas and the mall was decked out in all its seasonal finery.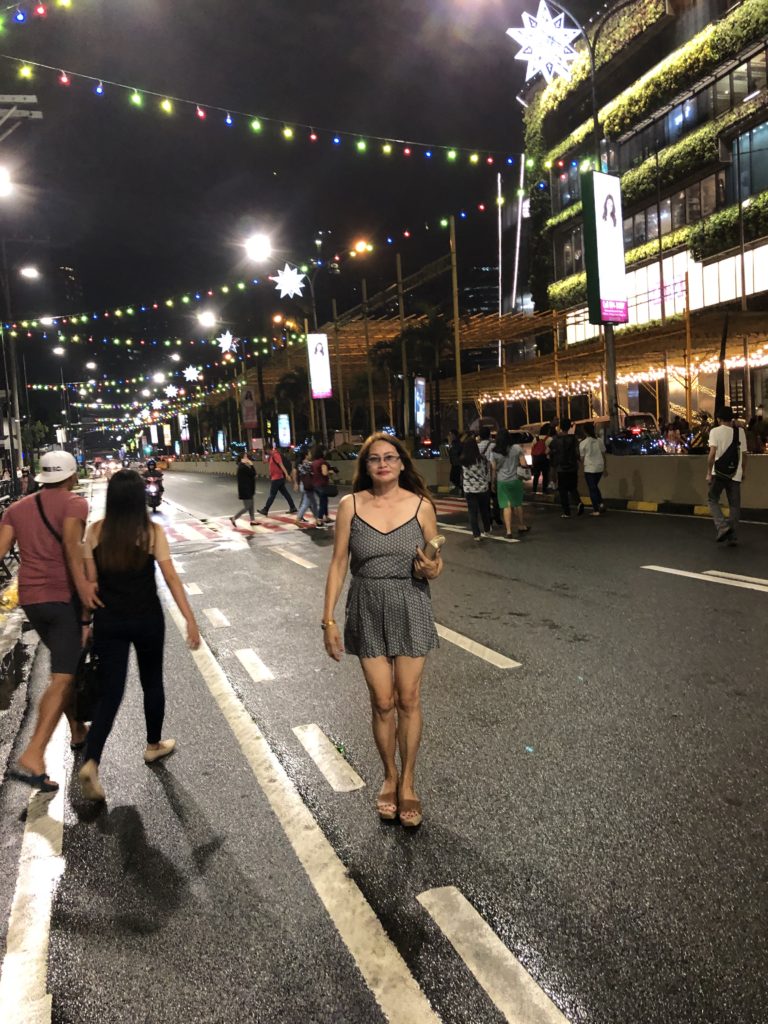 We developed a routine that continued for the rest of the week: a long breakfast – me absorbing the New York Times International Edition, Carmen taking selfies and posting to all her family and friends – making plans for the rest of the day, and where we should have dinner. We rapidly developed a definite comfort with each other's quiet company. I wondered what this signified.
After breakfast we would go exploring, shopping, wondering. Afternoons I spent in front of my i-Pad working on my manuscript, writing about and reliving my aborted affair with Emily, and no doubt constantly crabbing at my scabs. Yet it gave me some sort of satisfaction to be writing and expressing myself again. Carmen was perfectly content in letting me play the author role, perhaps not realizing it was the tortured version of this vocation. For her part, Carmen was constantly ln her Vivo taking to her extended family. One in particular seemed to be her most frequent contact. 'Who are you always talking to?' I asked her. 'It's my niece in Japan.' In the world of Skype and Whatsap and Messenger, no distance is too far. 'Let me talk to her,' I said. Genevieve spoke fairly decent English and I thought she might help in my communications with Carmen. I asked her for her email address and filed that away for another day.
Cognitive dissonance seemed my constant companion now: Christmas, and the outside temperature is 31oC; modern, tasteful shopping centre, the entrance guarded by armed guards; turning to speak to this Filipina cupid, and calling her Emily.
There was no avoiding it, I told Carmen everything about my misadventure with Emily, and my current broken heart, and broken mind. Naturally she wanted to l know what I thought our future was together. I told her I had come all this way to see her in The Philippines, that surely was significant. I wasn't so sure what my intentions were and I wanted her to be under no illusions.
We spent most of our days at The Podium, mostly window shopping, but I happily brought out my credit card, frequently: a new dress, some new shoes, even a new pair of glasses. I discovered Carmen was completely at home here in this chic centre, perhaps too comfortable. She was very familiar with big name brands, all present here: Louis Viton, Chanel, Coach; she seemed a classic fashionista with a taste for shoes and handbags. It gradually emerged that her husband had been a very wealthy industrialist (shipbuilding) and she was used to a significant high life. She had servants, a driver and a bodyguard (a necessity if you are rich in The Philippines), and a credit card with a 2M PhP limit (about $50,000!). No wonder she was familiar with upscale brands.
We found two attractive restaurants and ended up at each twice in the week: a Japanese restaurant for sushi, and a Spanish restaurant for chicken and paella. Discovery's own Steakhouse 22 got our commerce the rest of the time. It came as no surprise that Carmen was an expert with chop sticks but it was a surprise that she didn't like sake. We shared bottles of wine; she said she preferred red over white, but in reality probably neither, just trying to please me; she deferred to me when ordering from the menus, very European, flattering at first but increasingly annoying for me used to women making their own decisions; she had a way of looking past the wait staff, or not acknowledging their presence, so different from me who liked to engage those people who served us. These little idiosyncrasies gave me pause to think: I needed to know more about her history and background.
Carmen seemed reluctant to tell me her story. I only got fragments and partial answers. Some of the uncommunicativeness was no doubt language; and while I didn't think she was being deliberately evasive or secretive, it was plain that there was much to her story that would take time to tell. It struck me that it had taken a lifetime to know Marlene, and even then, I didn't know everything, I shouldn't expect to know everything about this Filipino woman's 63 years in just a few weeks.