The challenge of visas was only part of the problem, a metaphor for managing a long-distance relationship. When I returned with Carmen after her six month stint in Canada I had only 30 days to stay with her in The Philippines. In those 30 days Carmen and I had to come face to face with our futures.
Even before we left Canada we knew the original model of living together six months in Canada and six months in The Philippines had to change. We had come to accept that Carmen being granted Permanent Residency in Canada was unlikely; she needed to renew her visa which itself was going to take many months; I was running out of money; there were family problems emerging in Pilipiñas. Carmen, the realist awakened, knew that, even if we married, there would not be enough pension money for her to stay in Canada when I died; she knew she had to run her small businesses in The Philippines and try to build up a nest egg for her own retirement. For my part I knew I didn't want to live permanently in the Philippines and wanted to be buried with Marlene in Pinecrest Cemetery. Ultimately, Carmen wants to be with her family and be buried near them in The Philippines; in fact, she's already bought herself a family plot in Heavenly Gardens Cemetery in Trece Martires.
Our model now has to be the Filipino Balikbayan concept – working off-shore for ten months, home for a couple – Doug attending to his consulting business in Canada to earn extra funds to support his pamilya in the Philippines and join Carmen from time to time in Trece, or Kanata.
All of this I had foretold four years ago when I first went to Manila to meet Carmen. It gives me no joy to be proven right. Carmen didn't like to think about that then, but now she is more focused on the reality of our futures than I am, the fantasist.
So as we arrived in Manila on September 9, my 30 day Filipino visa clock began to tick, and our new reality daily crept closer.
It takes at least three days to adjust to jet lag in the twelve hour difference in clocks between Canada and Pilipiñas. Carmen finds it easier than I do: she's used to getting up at 4:00 a.m. and beginning the day's chores, taking a nap whenever she feels tired. I force myself to adopt regular daylight hours but it's a big adjustment.
It's tag-ulan season in the Philippines which means it rains almost every day, sometimes all day, often just afternoon showers but muggy always; and then it's the typhoons. Typhoons blow through The Philippines about twenty times a season. Most are 'merely' Signal 1 or 2 – hardly noticed by Filipinos so used to these strong tropical storms. Category 3 storms get more notice; Cat 4 or 5 Typhoons arrive a couple of times a year with loss of life and large property destruction, mostly from flooding and landslides.
And it's hot – not unbearable 40o hot but 31, 32, every day, with intense sun (when its not overcast and raining) and high humidity. It's debilitating. Few people are out and about except the obvious outdoors workers (construction, transportation, traffic cops); people head to the big malls for air-conditioning, or stay indoors and run their aircon, if they have one, or can afford the electricity. Carmen's family mostly lives indoors, in the eerie LED-lit rooms. It's worse than Canada in winter. You wonder if Filipinos are vitamin D deficient from lack of sunshine. And that includes me. I spent more time indoors, in a darkened sala, than I ever did in the dead of winter in Kanata.
I had many plans for excursions during my thirty day stay but we only managed one. Weather dictated the agenda. And since it is tag-ulan and typhoon season, that's not an insubstantial condition. I had two main targets: the bulcano at Bicol, called the most perfect cone in the world, and trip to a beach. Carmen's extended family by marriage hail from Bicol and they worry a lot about washed out roads and the PLA (People's Liberation Army) kidnapping me. And sure enough, Super Typhoon Karding wiped out our plans for Bicol.
But we did make it to a beach for a day, a lovely resort on the south shore of the vast Manila Bay. Miraculously it was a bright and sunny day.
I came to empathize with Carmen living with me in Kanata and feeling 'stuck' – no friends, and limited language and confidence to go out and about in the neighbourhood without me. There's only so much house cleaning and YouTubes one can handle. Luckily she had Messenger and could stay in contact with her family, scattered all over the world, overcoming the time zones. When her family in Philippines slept she still had London calling, and a cousin in Chicago. So now that I was in Philippines, immersed in Tagalog with limited language ability, I often felt isolated. I read the National Post online and jeered at the twitterverse, but that fills only so many hours.
Luckily I had my writing. I had brought the proof copy of My Story, Mostly, and laboured with my red pen over every line, every header, every footnote, every one of its 426 pages. I now have hundreds of changes to make but they have had to wait until I got back home to my computer; the i-Pad just doesn't cut it. And I put out two posts on my blog, though struggled mightily with my underpowered i-Pad.
But computer fatigue, and too many hours cramped over my i-Pad in my mini-office took its toll. I began to imagine many months and years in the same environment, and it holds little appeal.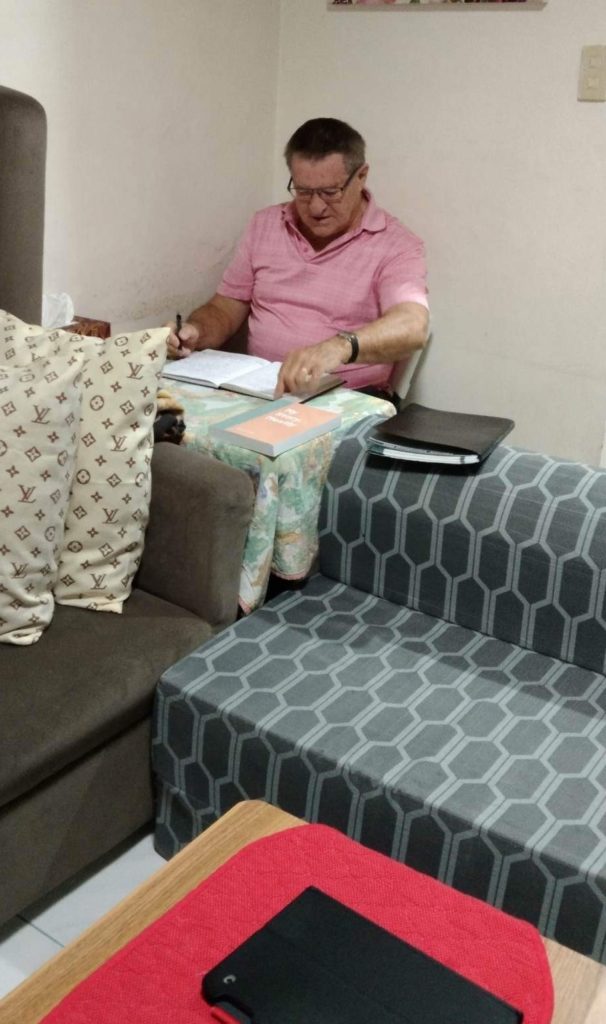 Carmen tried to give some relief: we went to the local gym 3 times a week – it's great to be in a well-equipped rooftop gym but the heat and humidity (think hot yoga) sucks the energy right out of you, and you wonder if this is healthy for a 75-year-old with hypertension.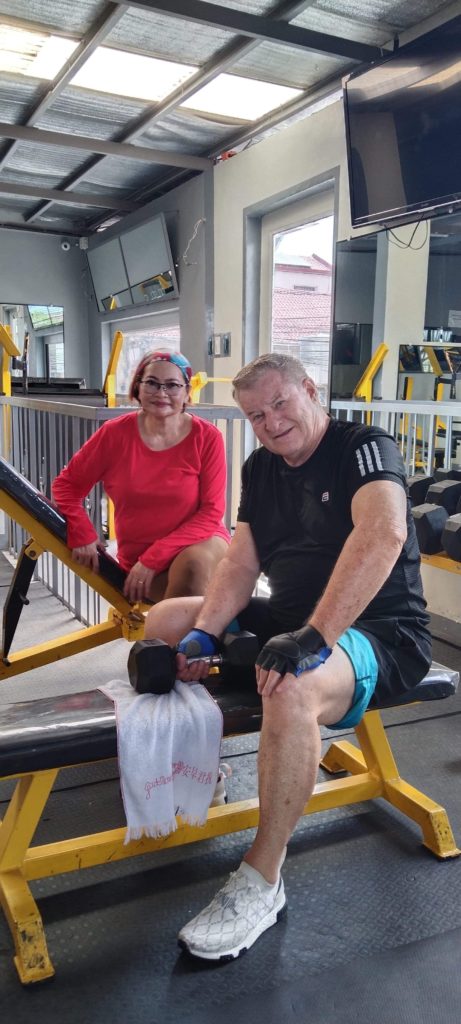 We take weekly excursions to the malls: Western Union to pick up cash, Waltermart to pick up groceries for a week. Groceries cost about 10,000PhP (about $250 CDN) so that should tell you it's not a lot cheaper in Philippines than in Canada where Carmen and I spent about the same amount, though that is for two, not six, or more. In 2019 when I came for a long stay I vowed I would never ride on a Jeepney bus, nor a tricycle, the two principal forms of public transit. The family travels everywhere by tricycle with the neighbourhood driver, Edwin, a body builder at our local gym; he daily transports baby Reine to kindergarten. Edwin serves two roles, an experienced navigator of the perilous streets of Trece Martires; and body guard. (They are constantly fearful of me being kidnapped.) With cheerful and and familiar Edwin driving you anywhere you need to go, it gets a lot easier to accept.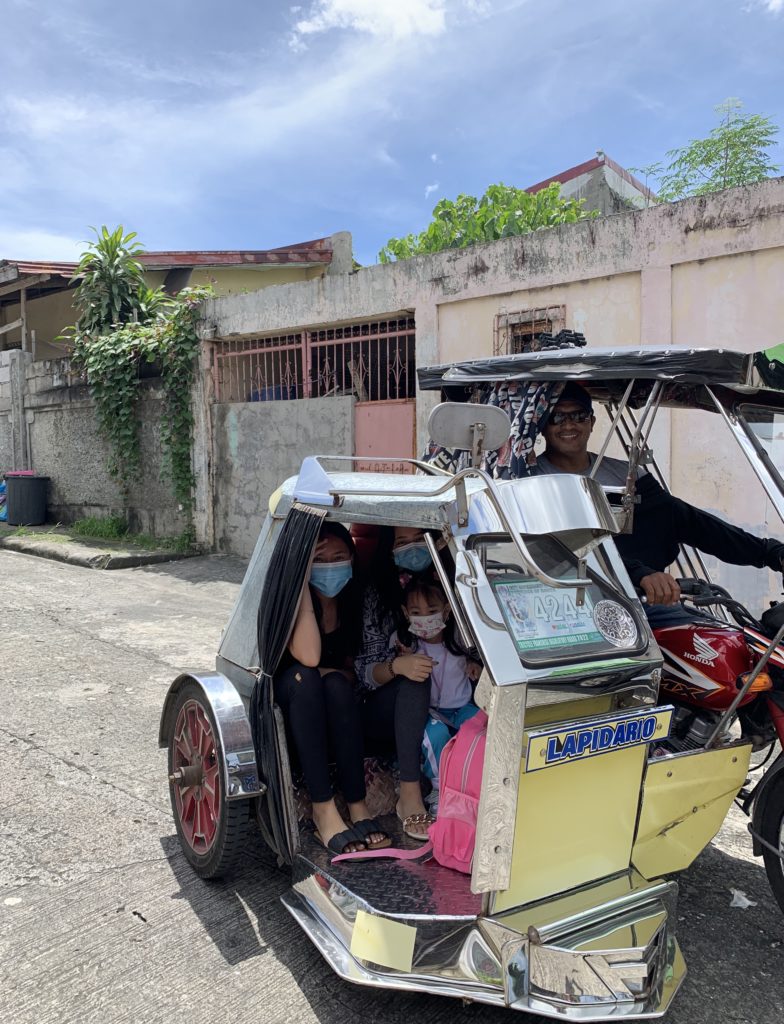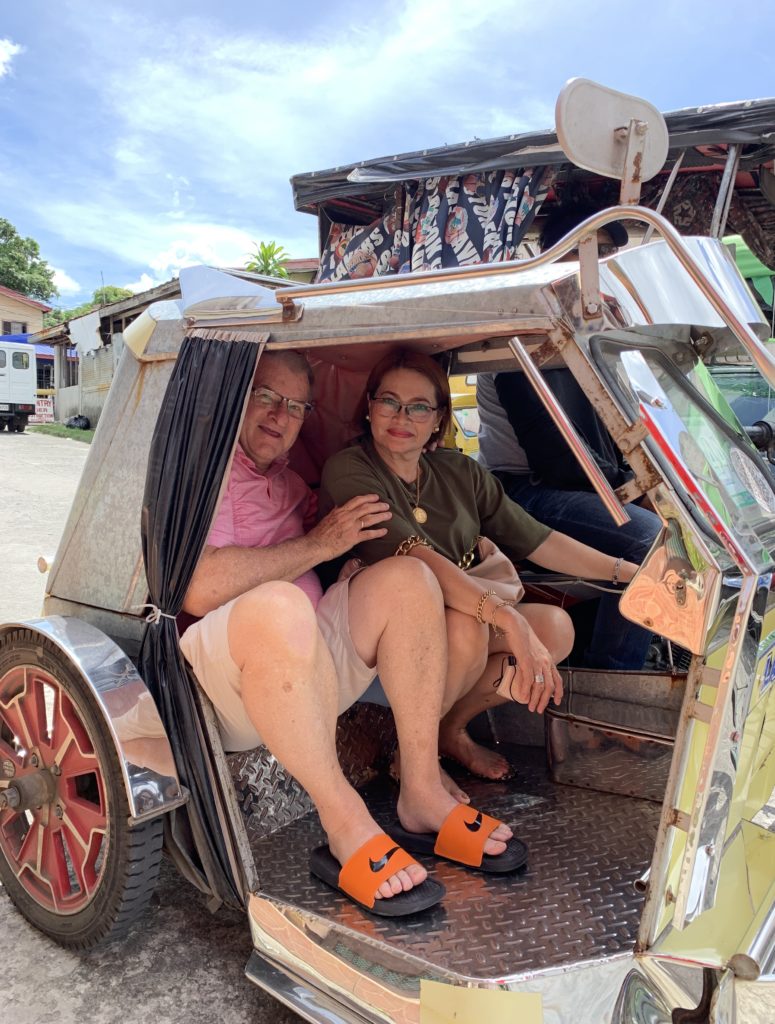 Amazing how adapted one becomes to one's environment. When I first came to Philippines in 2018 I suffered huge culture shock over the poverty, the congestion, the rubbish; the emaciated dogs. I was prepared for it cognitively, but not emotionally. After a while, though, you learn to accept the cIutter, the chaos and the conditions, even the tricycles.
And speaking of dogs, they are not all street curs. (Careful, watch your step!) Son JayR and wife Meilyn own two miniature poodles, partly as pets and partly for selling puppies. Luna had a litter last March when I was last there, but I guess the 'parents' weren't paying attention when Luna came into heat again in July and Teddy had his way with her again. And five puppies arrived September 21. Meilyn agrees with me Luna needs a rest.
Filipinos eat about six meals a day. The main meal is breakfast and I'm still not used to looking at fish, or corned beef, or adobo chicken (with the inevitable rice) first thing in the morning. Cereal with yoghurt for me, which no doubt seems strange to my Filipino family. They are just as apt to eat the same sort of meal at other times during the day, interspersed with 'merienda' (snacks). When I go to bed a 9:00 the kids are just breaking out all the leftovers.
As we counted down the days to October 9, the looming date of my departure for Canada, leaving Carmen and my Filipino family behind, the tension and the depression gradually increased.
When I met Carmen on filipinocupid.com I didn't realise then she was at the end of her rope, on the edge of destitution: business failing, zero balance in her bank account, her power cut off and her house being foreclosed; her immediate family without sufficient resources to help. She said in her profile that she had devoted her life to her family and now it was time for her. That resonated with me. I was moved. I clicked yes. It was a mistake of course. I didn't realize when you get involved with a Filipina you end up with the whole damn Barangay, as the saying goes. But we made each other happy. I didn't just save her from misery, she saved me too, though from a different sort of misery. Even 20 months of separation by Covid ordinance didn't end our relationship.
But family yet might. Carmen's first daughter (fourth child), to my great surprise and disappointment, has abandoned her two kids (15 and 12) for a new boyfriend and a roulette wheel. Carmen had to step into the void. Her youngest daughter, laid off from her call center job in Manila, has accepted a new job in Singapore, leaving her two kids, 14 and 5 with Lola Carmen. Carmen's life has been hijacked by family and she gets to be a caregiver all over again. Where are the fathers you might be asking? They are not in the picture. Even baby Reine's father, who isinvolved in his family, is separated from them, practically speaking; he works in Manila, and lives with his parents and sister in a Manila ravine, torn between caring for his parents and taking care of his own family in Trece Martires, a two hour commute. The other fathers are in Imus, Negros Occidental, and San Diego (California!). The San Diego dad sends a small allowance (~15000 pesos) monthly to his son Charles but, sad to tell, his mother tries to confiscate it to support her current instability. This is why Carmen has to be in Trece for the foreseeable future – which may be ten years.
So I do the math. In ten years Carmen will be 76 and needing to apply for another 10-year visa to Canada. I will be 85, out of money and out of options.
Is it any wonder, as we counted down the days of my time in the Philippines, that we wondered how our relationship will cope with these stresses. Pansamantala, nalang, we tell each other (it's only temporary)…
Doug Jordan, reporting to you from Kanata, Canada
© Douglas Jordan & AFS Publishing
All rights reserved. No part of these blogs and newsletters may be reproduced without the express permission of the author and/or the publisher, except upon payment of a small royalty, 5¢.