Week 15 – Dasmariñas
I suspect many of you missed the revised subject line so go back and take another look.
It was a quiet week in Dasmariñas.
Condo Conflict
First an update on my exodus from Tagaytay and my ongoing dispute with the landlord.
The decision to leave Wind Residences was not easy, made more complicated by the prospect of losing $4400CDN in the bargain, and still having to pay for new accommodations if I am to stay till the intended return to Canada date March 23. We would have stayed if it wasn't for the constant threat of Taal Balkano. It isn't good enough that the authorities have allowed people to go back. The threat continues and we might have faced another evacuation, or worse. I've made my case to the landlord, Ernesto Aguilar (a Filipino who lives in Silicon Valley, California) and he has discontinued discussions except to say that he will reimburse me for each day he is able to rent the unit to other tenants in February and March. And what are the chances of that in the face of Lake Taal Volcano? Carmen is incensed along with most of her clan and wants to go to her lawyer, and maybe take the case to Raffy Tulfo! (a famous crusader against injustice in the Philippines!)
[Returning to Canada early is an option except Air Canada would exact an additional penalty, as against the cost of the staying in Qubo for 52 days (PhP 91520 (~$2288CDN) (The daily rate, paid in advance, is 2200PhP but Carmen gets a 20% discount on her Philippines Seniors Card, if we pay cash.) Put another way, to stay in Qubo for the remaining period will cost me $6688 (or more if I include the costs of more restaurant meals, laundry and private taxi); returning to Canada early will still cost me the $4400 'stolen' by Ernesto plus an additional $750 to Air Canada.]
Qubo Cabana
Putting aside the matter of costs, and the fundamental question of safety because of Taal Volcano unrest, here is a comparative analysis of staying in Qubo Cabana vs Wind Residences. (Don't glaze over, this is interesting!):
Wind Residences is [a set of five] 24 story modern building[s] in the heart of touristy Tagaytay, perhaps <10 years old. Qubo Cabana is a rustic 17 unit hotel/restaurant/resort and karaoke club, at least 50 years old judging by the rusted out steel staircase, though otherwise reasonably well maintained. (For comparison, if you can, think Best Western Baron's Hotel in beautiful downtown Bells Corners, only smaller.)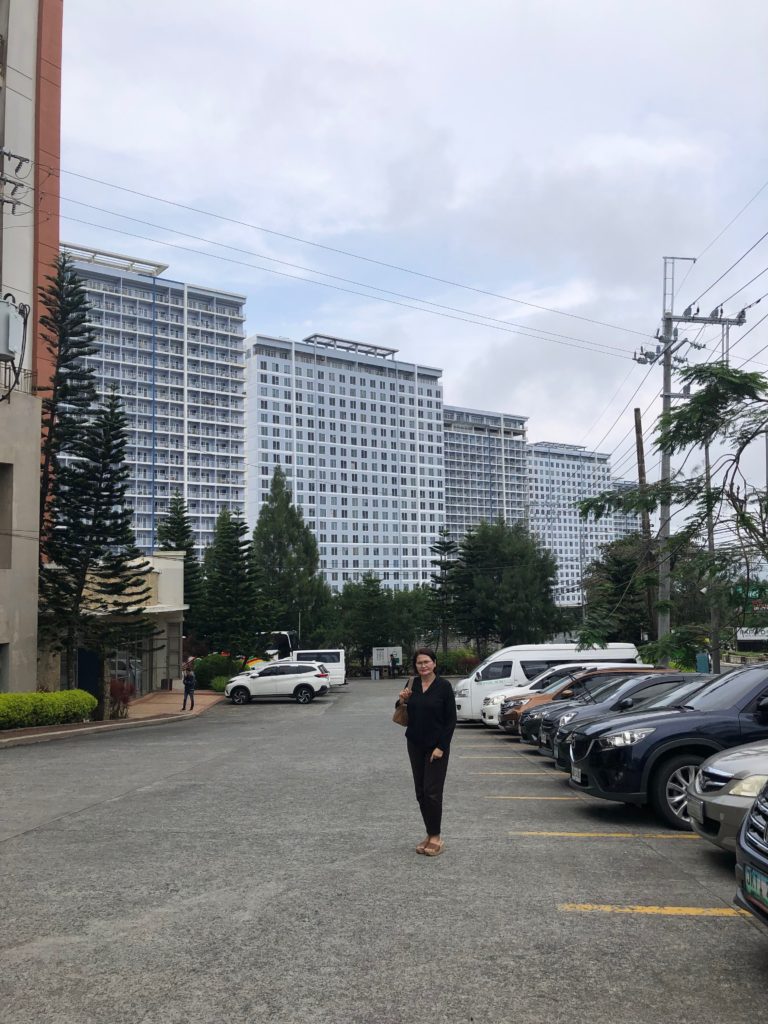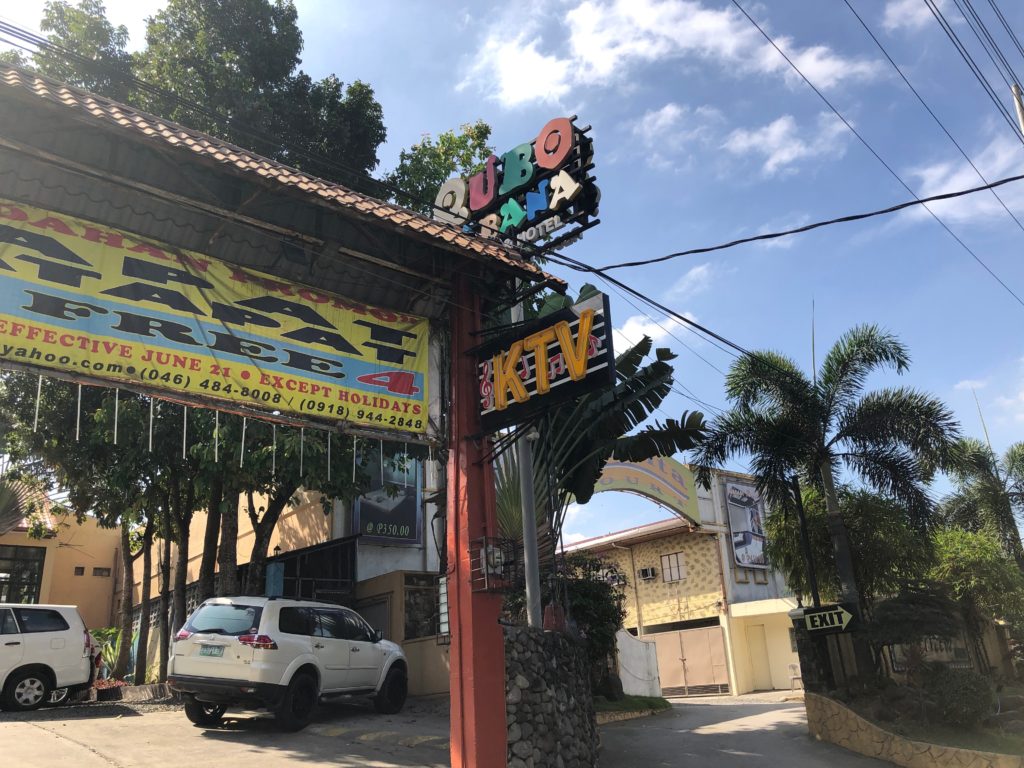 Wind is a condo but operates like a hotel since most of the owners rent out their units to itinerant guests most weekends. There are >1800 units in total and even though the complex is only bout 30% occupied any given weekend, that's still about 1500 guests. The constant moving in and out is disruptive. Qubo has relatively low guest traffic, at any given time only 4-5 units are occupied.
General Aguinaldo Highway outside Wind Residences is a busy road, especially on weekends, and the traffic noise and pedestrian conversations on the streets below carry up the building canyon walls and echo loudly in our suite, especially after 10, 11, 12 pm when I'd prefer to be sleeping, not watching the street and playing solitaire. Governor's Drive in front of Qubo is busy but we can't even hear it, not even the jeepney exhausts. I haven't got out my deck of cards since I got here.
The neighbour rooster in Tagaytay was loud and disturbing at all hours of the day or night. The Qubo neighbour rooster is civilized, crowing only half a dozen times, usually at the expected hour of 6:00 am! I've yet to hear a dog bark.
The 15th floor Wind apartment was, well, windy. The Juliette balcony door could not be left open for long for the stiff breeze it admitted, and the street noise was deafening though hardly worse than when the patio doors were closed since they were anything but sound proof. Qubo offers a lovely broad balcony that serves as our living room/dining room, overlooking the private pool, palm trees, and the rest of the resort. It faces north and so always in shade, a light breeze wafts across it; even when it's 30o it's quite pleasant on the balcony.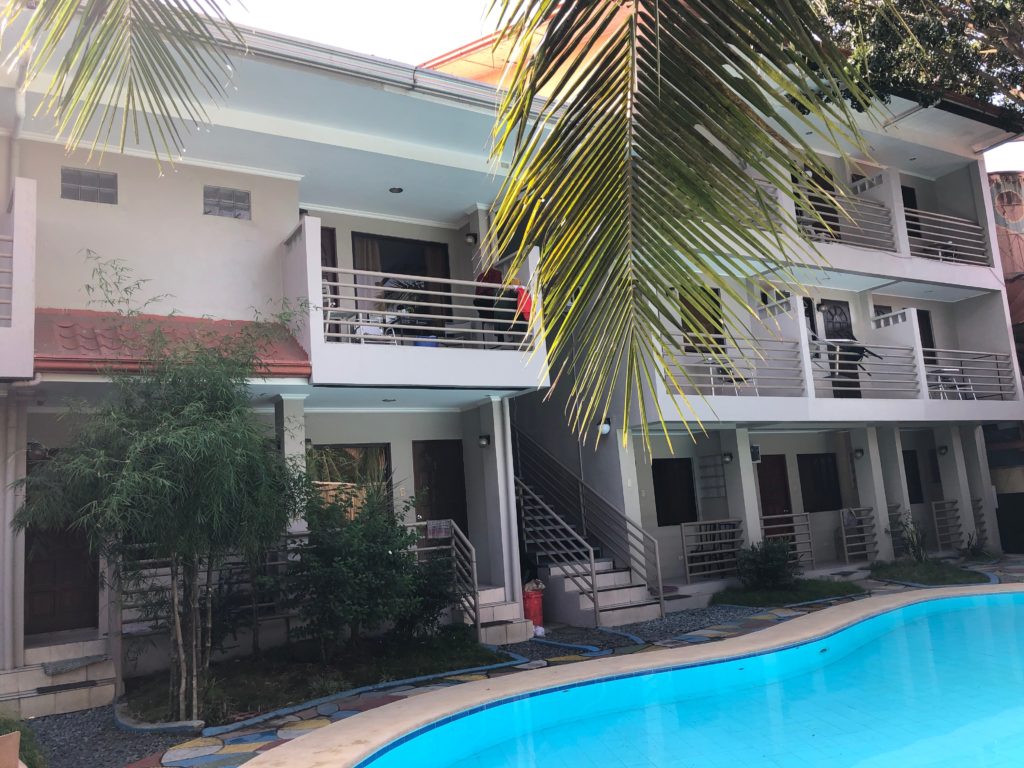 The outdoor set of pools at the Recreation Centre at Wind were very attractive, but somehow barren, and remote (a long walk or a shuttle ride way), and the indoor pool was olympic-sized and uninviting. Qubo has a lovely intimate shamrock-shaped pool for hotel guests and another recreational pool complete with slide for day guests. The proof of the pudding is in the eating; we never used the pool at Wind but have been in our private pool at Qubo almost every day.
Some of the guests at Qubo have provided us with free entertainment. Young families seem to come for a few days' vacation, any day of the week, the kids love the pool, even though the water is a bit cool; I get nervous watching the three-year olds tottering along the edge while their mothers are on their ubiquitous cell phones. The TV Karaoke Rooms are popular for groups of 4, 5, 8 or more. The music is loud when they open the doors, though otherwise quiet, and the singing is terrible. An occasional young woman will show her ambition as a pop singer. It seems every other Filipina (and every 4th Filipino) have similar ambitions.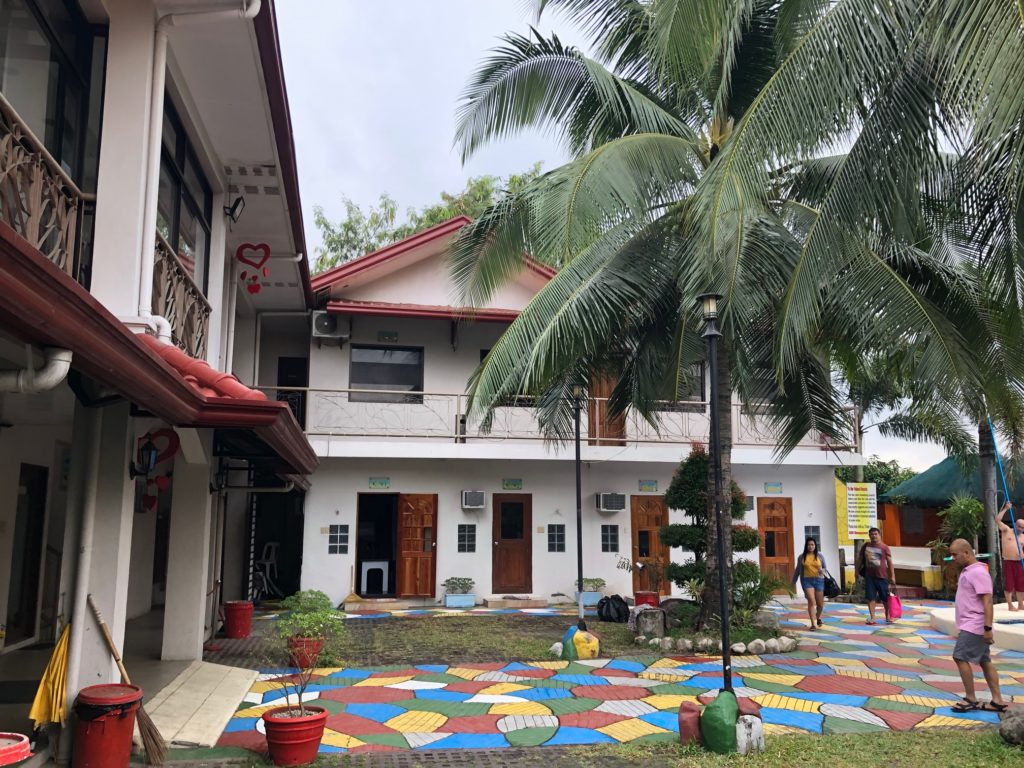 Qubo also has a small conference room and business meetings are on evidence 2 – 3 days a week.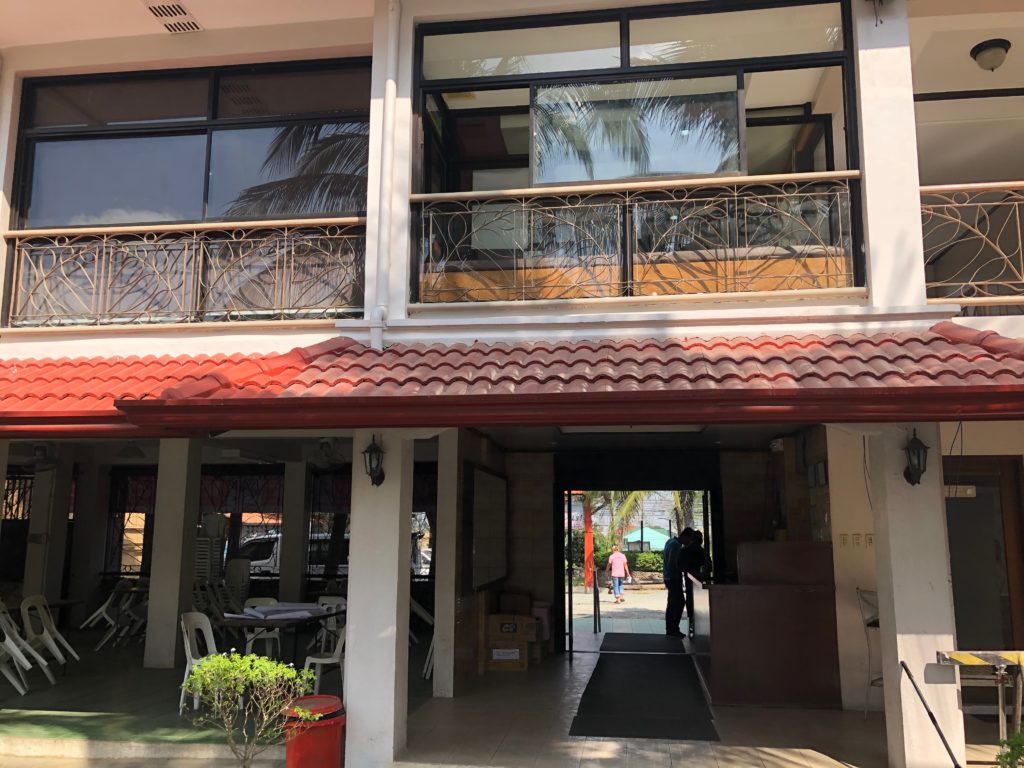 We had about 25 young Samsung cell phones sales people for two days last week, and some older businessmen of uncertain industry another. The distinguishing thing about the latter group was that around 4 in the afternoon, as the meeting ended ostensibly, four or five of the men were escorted to the hotel rooms by serious looking young women; evidently this hotel rents by the hour as well as by the day.
I miss the Fit F-X gym, just a short walk up the hill from Wind in Tagaytay. There is no gym in Qubo and the Anytime Fitness gym in the huge SM Mall nearby is expensive, and inconvenient if traveling by jeepney. As an alternative I've bought a yoga mat and some 8 and 10# dumbbells. No reason why pushups, sit-ups and shadow boxing, followed by a swim, can't provide the necessary fitness maintenance.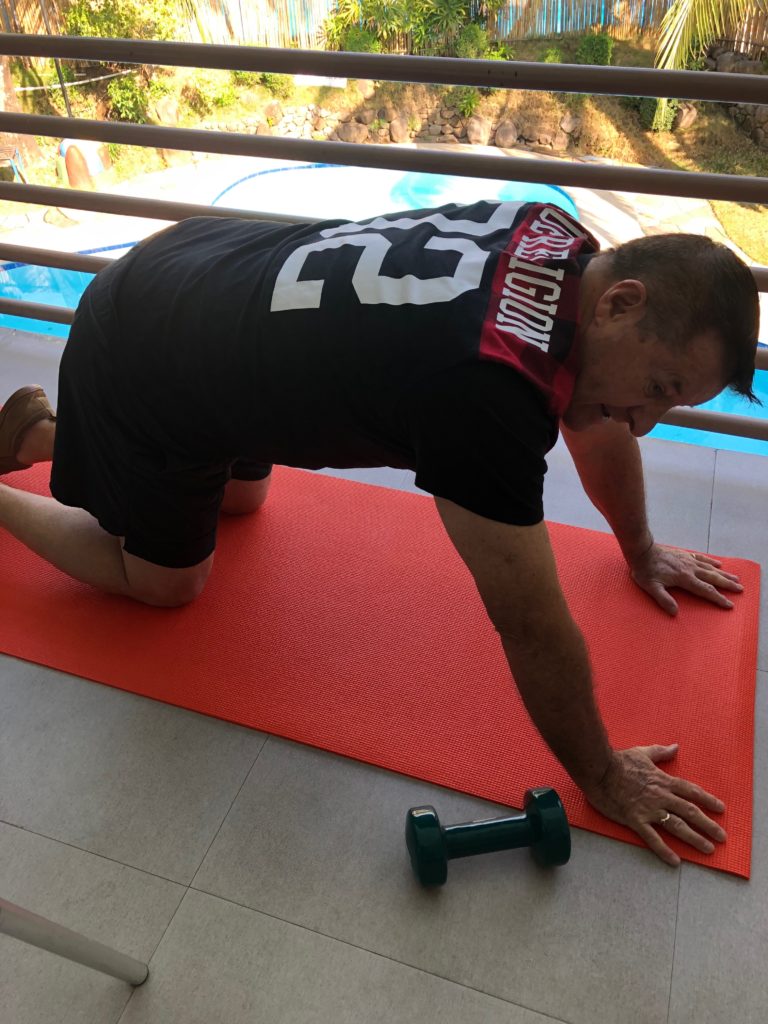 If you've now got the idea I prefer Qubo to Wind, I guess I've convinced you, and myself.
Lake Taal Volcano
Bowing to political pressure, and frantically practical life considerations, DILG agreed to lift the ban of migration in the 7 – 14 km zone, though most towns within the 7 km zone remain out of bounds. And this probably against the scientific opinion of The Philippines Volcanic and Seismic Institute. PHIVOLCS has noted increased tremor activity and steam/SO4 emission. Even the Filipina psychic, Mamau, predicted it would blow up on Pebrero 8! (linked somehow to the death of Kobe Bryant!). But we now know Mamau is no more certain than PHIVOLCS 😅 Regardless, it's no way to live and we are not moving back. Part of me hopes it does blow up again to make my case to Ernesto, but I am not that vindictive.
Here are a few shots of Taal Island from our apartment window. Note the ash covering the island, such a contrast from a month ago.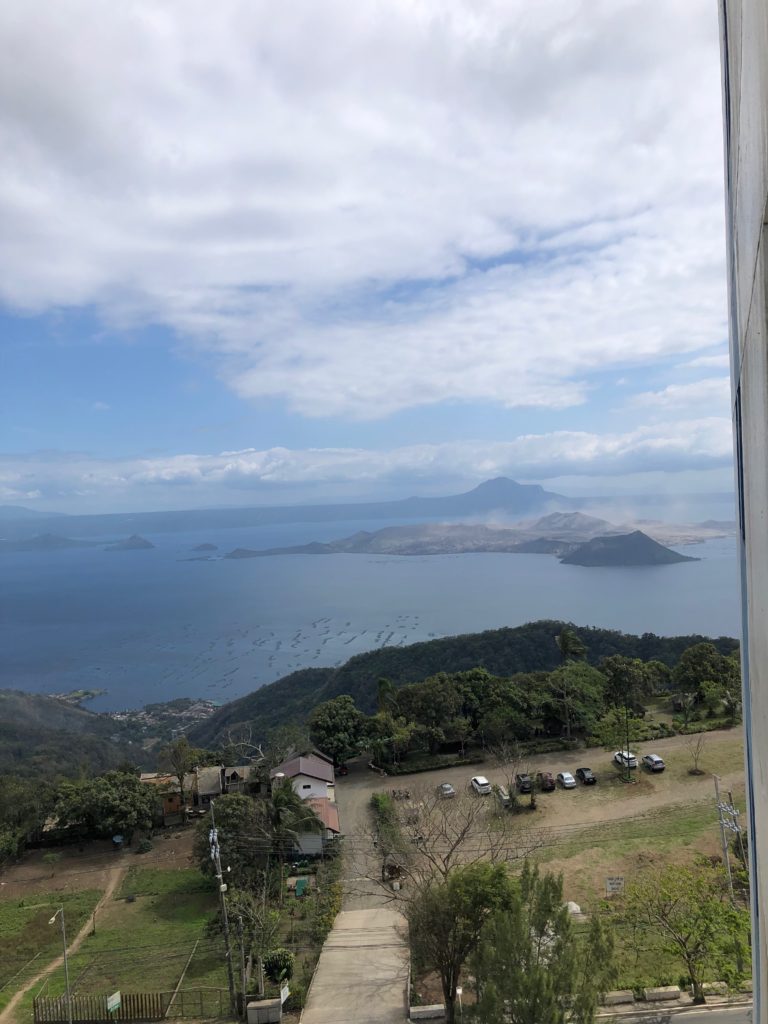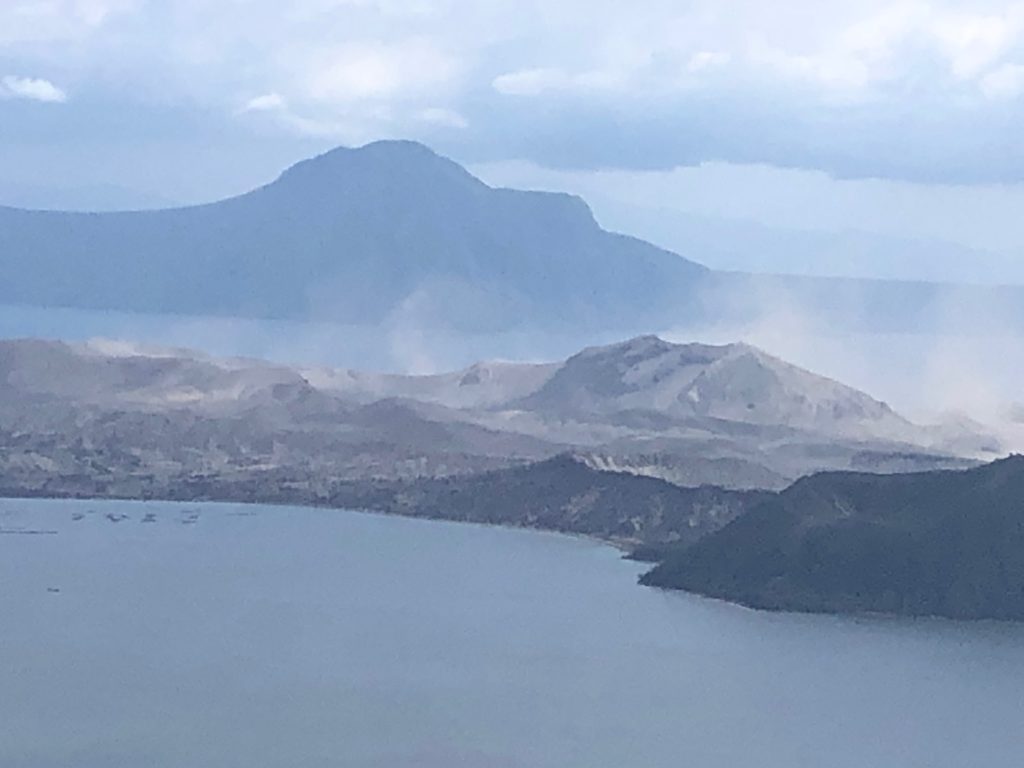 We returned to Tagaytay Wednesday to remove the last of our things from the apartment. But first we visited FX-Fitness for a workout and say goodbye to the supervisor and some of the familiar patrons, compared stories of our respective exoduses. Carmen and our new driver/pamangkin, Arlyn, remarked that the only muscle I exercised was my tongue. My membership was prepaid to the end of March and I didn't ask for a refund. We may visit Tagaytay from time to time for a workout yet and attend to other things, if Taal Balkano keeps its cool.
We said our goodbyes to Dian, Ernesto's niece, and bldg agent! She was very good to Carmen and me and I assured her my dispute with her tito had nothing to do with our regard for her. I've invited her for dinner sometime in the next six weeks at Dasma QQ.
Post Scripts:
1. Qubo Qabana reopened its two public pools on Thursday having emptied them of ash, scrubbed and repainted them the last two weeks. It had been pretty quiet here, but since Thursday it's been nothing but family parties. Saturday and Sunday the parties (30+ people ages 1 to 61) began to gather around 9:00 am and continued well into the evening. I still find it endearing, but after 3 – 4 weeks will I still think so? Good thing our room itself is comparatively soundproof, unlike Wind Residences.
2. Noise of nCOR RD gets louder daily. There are still only a few reported illnesses and one death here, all Chinese traveling to Philippines which has been stopped. But now, the government is evacuating Filipina (and I suppose Filipino) OFWs home to Philippines. Chartered planes will unload returnees at Clark Airport and they will then be quarantined for 14 days at the Clark Athletes Village recently used (November) for the South East Asian Nations games. How convenient. We're getting used to seeing people wearing surgical masks; this began with the Taal ash fall four weeks ago, but now it seems every second Filipino/Filipina is wearing one, including Carmen. But like Roddy Du30, I refuse to wear a mask.