Week 11 – Asian Hospital
It was a such a quiet week in Tagaytay that the Week 11 edition of my journal was full by the end of Thursday's adventures and needed this second entry just for the Friday. 
[Carmen's daughter] Celca's friend Arlyn had become our designated driver in her much traveled 2007 Mitsubishi Lancer. Arlyn's kids are teenagers, and her husband is a seaman, away until September, and says she is pleased to play driver for us. Of course we pay for her gas and a stipend for her time. She seems happy with the arrangement, but it is clear, she does it mostly out of loyalty to her friend Celca.
We had been back and forth between Tagaytay and Trece a number of times, and already this week twice to City Hall. The Lancer rattled and lurched over Cavite's lumpy roads but Arlyn didn't seem worried. So why should I? Yet, each outing squeaks and moans emanating from the undercarriage sounded louder, and Arlyn seemed to be driving slower. Certainly the shocks were shot and we all felt every bump, 'sorry Tito'. But was it also the front bumper loose in its carriage? No, said Arlyn, just brake pads! But that seemed very doubtful to me.
We hired Arlyn to take us to the Asian Hospital in Alabang, a city by Lake Laguna on the way to Manila. It would be a 30 minute drive, maybe, by National Highway (AH26) from Tagaytay via Santa Rosa. But Arlyn chose another, familiar to her, route, back through General Trias City and some intermediary territory. It took us about 90 minutes. The closer we got to our destination, according to google maps, the more unsure she was of our route. And me, not being fond of Android, or google maps, became even more frustrated trying to help navigate on Carmen's phone. I admit to punching her phone at one point. 😏
Why were we going to Asian Hospital? I wanted to visit my friend, Adette Tapel, the young pastor of the Yahweh Church of Christ. She had just been diagnosed with cancer of the liver, shocking news from this wonderful woman of 23! But liver cancer? What was really going on?
You may recall from your reading of Travels with Myself I had first met Adette when I came to see Carmen in December 2018. We talked about her flock and books and we became pen-pals  I sent her copies of my books (you know the ones, she especially liked The Dynamics of Management!) and we talked about religion (I told her I was an agnostic Unitarian and I was gentle in expressing my views, as she was in her missionary work). She had two degrees already, in English and Divinity, and had plans to do graduate studies in the USA, or Canada!
When I returned to Philippines with Carmen in November I was keen on seeing Adette again. She officiated at the Sunday Service in which Kaycee's baby was dedicated, but we had almost no chance to chat afterwards.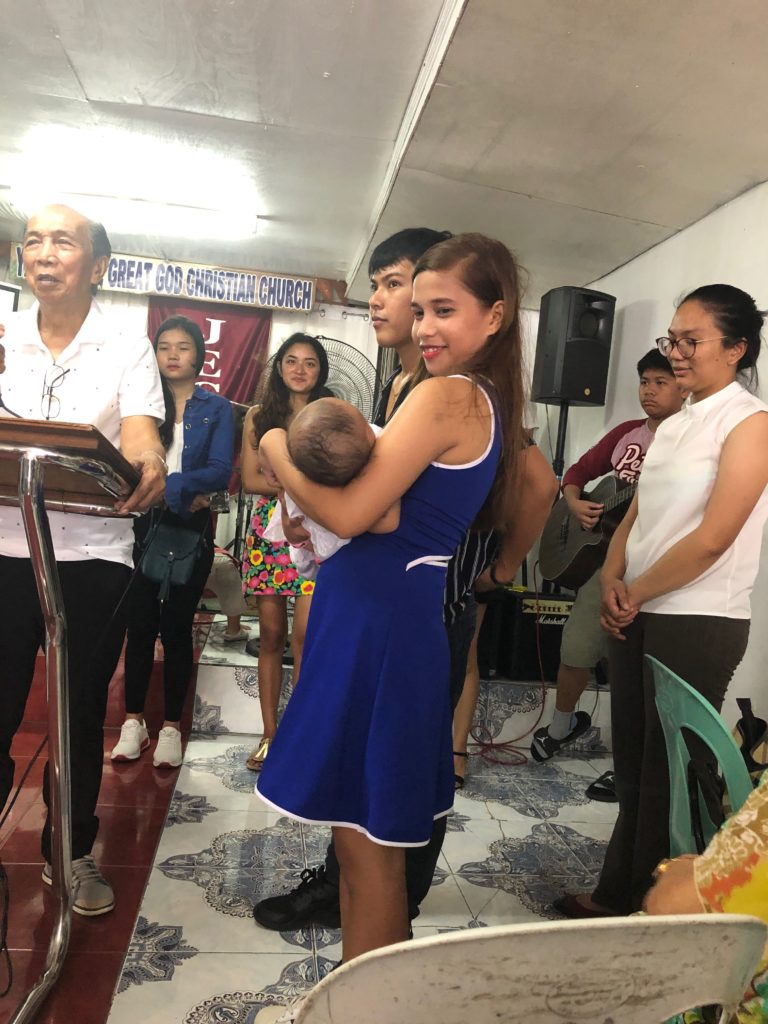 At the next two services I attended, Adette was not in attendance; at the Christmas party service her mother told me Adette was in hospital with a stomach problem. Oh. Adette had already told me months earlier that she was having problems with her stomach but I didn't think anything of it. A CT scan though discovered shadows on her liver, and that prompted an investigation. Stomach cancer, and migrated to her esophagus.
I knew too much about cancer, with Marlene's illness and even with Marlene's mother, who had oesophageal cancer. I had to visit my young friend in hospital. And Carmen readily agreed. Hence the journey to Asian Hospital my means of Arlyn's chariot.
Asian Hospital is a modern facility, two towers and a parking garage hidden somewhere in its bowels. It was built and operated by Koreans, and affiliated with an Asian Hospital in Seoul Arlyn drove tentatively to the back of the hospital and down a ramp to the valet area. They take your keys in exchange for a receipt. Where were we going? we were asked, 'to visit a patient on the cancer ward'; ah, no charge. I was amazed. I thought of the thousands of dollars I spent on parking fees in Ottawa during Marlene's three and a half year journey with cancer.
We found the elevator and the eighth floor and soon enough Room 810, a private room. This must cost a bundle, even by Philippines standards and it does, 4100PhP/day. There is no public health insurance in the Philippines, more like the American model, and many Filipinos (most?) have no private coverage. Adette is luckier than most. The church, of which she is an employed pastor, is affiliated with the larger organization, Jesus Is Lord Worldwide; her 'boss', as I understand it, is Korean and has connections in Korea. There is some limited insurance coverage, and the church itself is providing an allowance, and there is a rich uncle somewhere contributing. But this is going to be an expensive journey. Not to mention the expense that Adette's mother, Rowena, will incur commuting and caring for her daughter.
As we entered the room we were given face masks. Adette has already started a regime of cytotoxin (fluorouracil) and her immune system is now being compromised. As soon as I saw her, sitting in the all too familiar leather treatment chair, porta-cath installed in her upper chest, two iv drips dripping, it was all I could do to hold back tears. But the patient doesn't need to see my tears. She has no doubt shed enough of her own already. I don't know what made me think I had priority but I took my seat on the hassock in front of her and looked her in the eye, smiled behind my mask, touched her arm, and started to talk to her. She was very candid about her diagnosis and prognosis. There seemed to be an instant connection between the two of us, from our previous correspondence and shared confidences, and from her being an avid follower of my two blogs. She knew about Marlene's journey with cancer and wanted to know more. Tears again crowded my eyes; my breath behind my mask clouded my glasses and this was my excuse to take them off and rub my eyes.
After about twenty minutes of this comfortable conversation, Adette was tiring and her mother intervened and brought our conversation to a halt, and helped Adette back to bed. I must say, I enjoyed speaking at length with another person in fluid and complete English on complex topics. It reinforced for me that I have been feeling isolated from colleagues, and blogging and writing is a poor substitute.
So we said our goodbyes, and I promised Adette we would pay her another visit in a few weeks, after our trip to Singapore. This of course will depend on her condition and her mother will be the gatekeeper on that. She has a difficult twelve weeks ahead, followed by even more difficult treatments. But she wants to live and still make the contributions she had hoped to make in her life of altruism. I so hope for her sake she gets the chance, otherwise cheated at such a young age.
We retrieved the car from the mysterious parking garage and began our return journey in this wheezing car. We hadn't made five kilometres when Arlyn noticed her engine was overheating, the temperature gauge on H. Turns out she had had her car in for repairs to the radiator but she needed a new radiator fan. I encouraged her to pull in to the nearest service station. The very helpful team of three attendants quickly had water cans out cooling off the rad, removing the cap and refilling the rad. Completely empty. The 'mechanic' had forgotten to refill the rad when he had soldered the leaks. The friendly attendants assured me that once we were well on the road we wouldn't need the fan, stop and go traffic was the enemy. And they were right. We made it home without further incident. But my BP took some time to return to normal I'm sure. It is very stressful, at least for someone like me, to not be able to control the situation, to make sense of it, or solve it.

And speaking of having no control over life's events, even as I am writing this blog about the unfairness of cancer which has no regard to a person's age or circumstances, we experienced yet another example:
Lake Taal Volcano decided to let off steam this afternoon. Great plumes of steam and ash are belching from the volcano, seen easily from our window.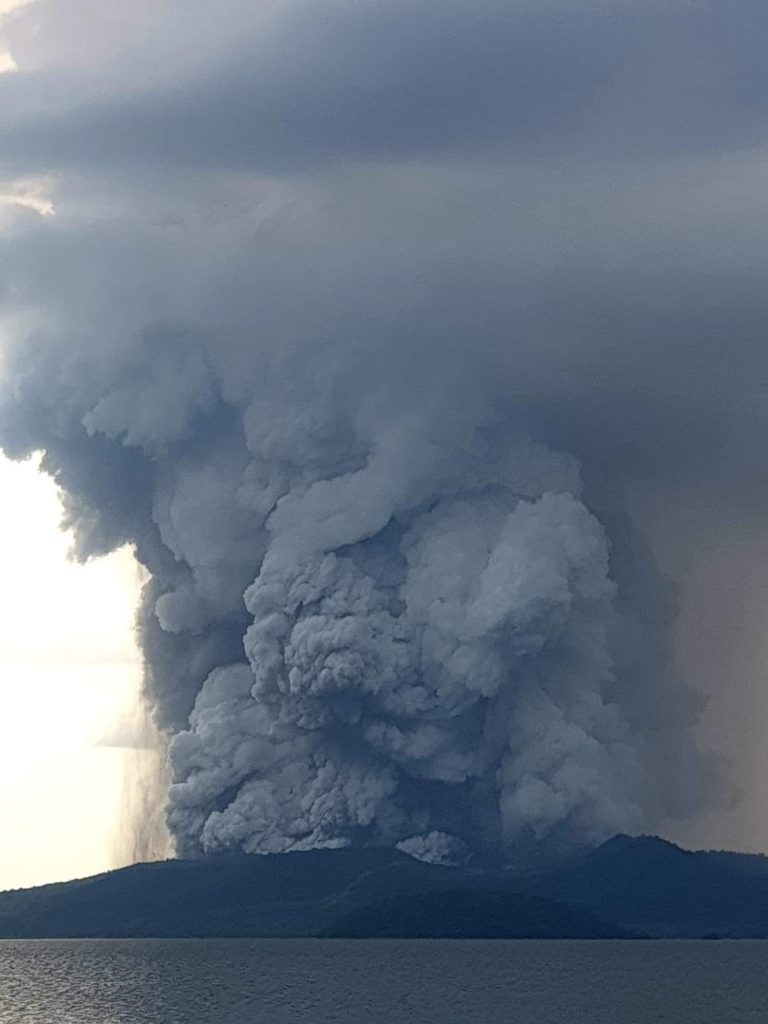 The building management advises this is not a serious eruption but we should stay inside the building. The plume of ash seems to be blowing west, rather than towards Tagaytay. You can hear loud low booms every few minutes, but can feel no shocks. No need to evacuate. I suspect that would be next thing to impossible anyway as it is Sunday afternoon in Tagaytay and General Emilio Aguinaldo Hwy is already clogged. And we have no car anyway. Time for stoicism and acceptance.

So, it was a quiet week in Tagaytay, and there's nothing more to say.